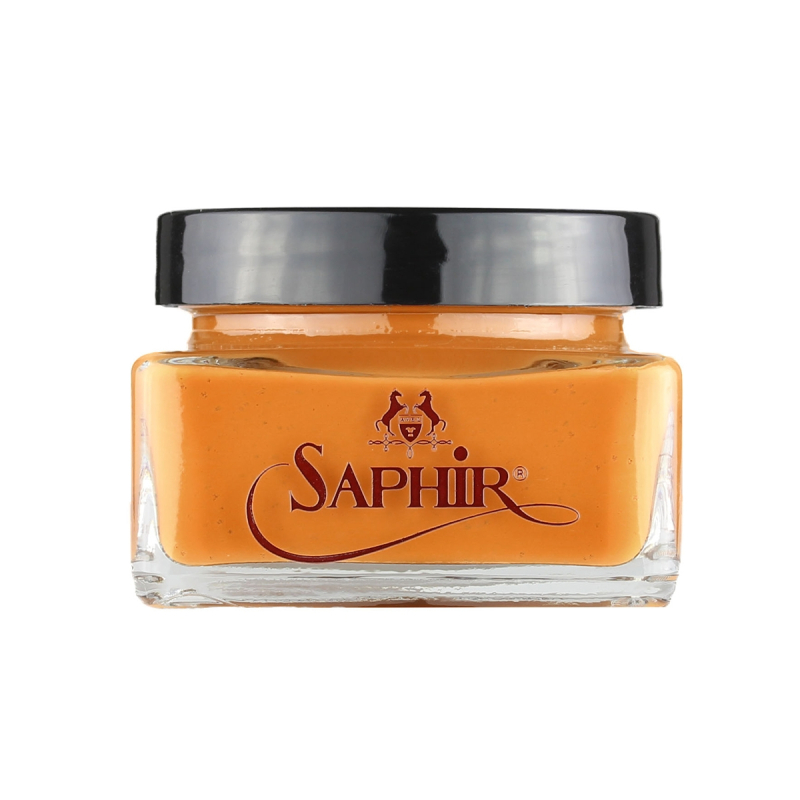 Saphir Medaille d'Or Light Brown Shoe Cream
Saphir Médaille d'Or
Warning: Last items in stock!
Availability date:
Free delivery starting from 100 £ purchase for UK.
Questions : at your disposal on +33 9 8080 8989
The light brown luxury shoe cream by Saphir Medaille d'Or hydrates and protects your smooth leather shoes.
This award-winning light brown luxury shoe cream by Saphir Medaille d'Or (Gold medal) helps nourish the leather of your shoes to restore their natural attractiveness. The Saphir Medaille d'Or brand offers high-quality shoe creams that are widely recognised by professionals in the leather industry for their exceptional softening and hydrating properties. It is applied after dusting and cleaning the shoes to nourish and soften the leather and prevent it from drying out and becoming creased. This shoe cream is also enriched with beeswax to give the shoes a shine and provide waterproof protection. The light brown tint will revive the shade of similarly-coloured smooth leather articles, such as a bag or a belt.
The 1925 luxury shoe cream should only be applied after having dusted and cleaned the leather to ensure that any dirt and old shoe polish is eliminated. Apply the shoe cream with a soft cloth over the entire leather surface using small circular strokes until it is fully absorbed. Repeat the application until the leather is saturated with the nourishing shoe cream, then remove any excess product with soft cloth. To complete your leather care, use a shoe polish to give the leather a shine and increase its useful life.
Always make sure to properly close the lid of the shoe cream jar after use to prevent the contents from drying out. Store the shoe cream in a cool, dry place.
Colour: Light brown
Volume: 75ml
Contents:
Packaging material: Glass
Shelf life:
Country of origin:
Our Shoemaker
His Advice
Personalized advice
Similar product suggestions
Approvals
Usage advice
Related products
Order tracking