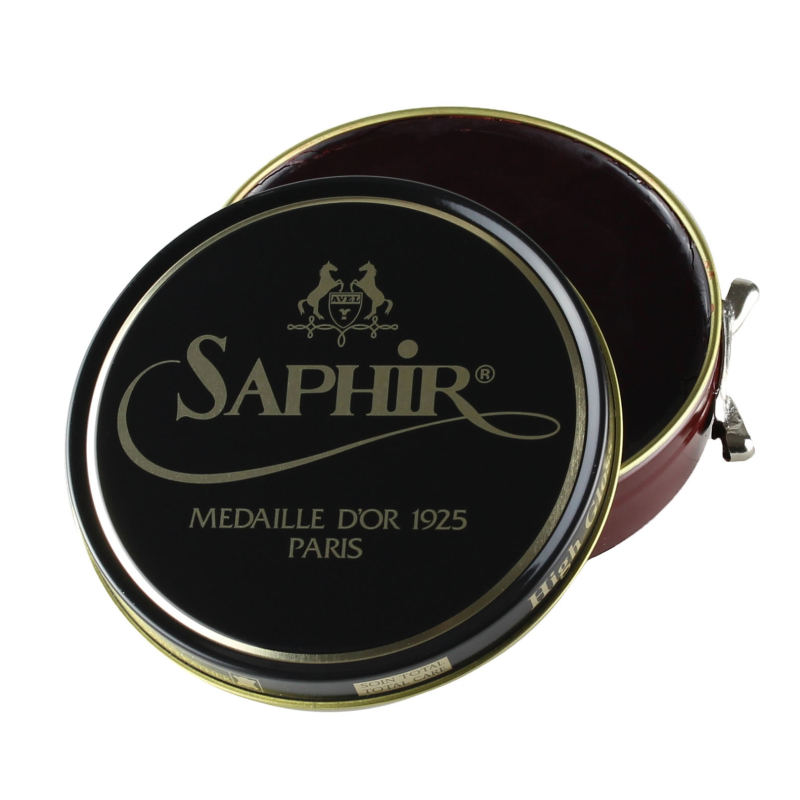 Similar products

Saphir Medaille d'Or Mahogany Shoe Polish 100ml
Saphir Médaille d'Or
Warning: Last items in stock!
Availability date:
Free delivery starting from 100 £ purchase for UK.
Questions : at your disposal on +33 9 8080 8989
The mahogany luxury shoe polish by Saphir Medaille d'Or gives an intense shine to smooth leather shoes and protects them against damage.
This award-winning mahogany luxury shoe polish by Saphir Medaille d'Or (Gold medal) adds the final touch to your leather care to give your favourite dress shoes a smart shine. This shoe polish should only be applied to leather that you have previously cleaned and treated with a shoe cream, as it does not nourish the leather. Its primary purpose is to restore the original shiny look. The shoe polish was formulated using French expertise and has a complex formula containing a mixture of several natural wax extracts known for their exceptional shining properties. The beeswax contained in the shoe polish guarantees a perfect shine and creates an extremely strong protective layer over the surface of the leather to prevent stains, moisture and water from penetrating the leather's pores. This shoe polish will intensify the shade of mahogany-coloured leather shoes and highlight their colour contrast.
Your leather shoes should always be dusted and cleaned before applying the Saphir Medaille d'Or luxury shoe polish to ensure that all dirt and stains are eliminated. After the cleaning phase, the leather will need nourishing with an appropriate shoe cream before you proceed to the final polishing stage. Make sure that you are in a well-ventilated area and apply your luxury shoe polish gently and evenly with a polishing cloth using small circular strokes. Allow to dry for a few minutes, then brush your shoes to activate the wax content for a brilliant shine.
Store the Saphir Medaille d'Or luxury shoe polish in a cool, dry place to prevent it from drying out and ensure a longer shelf life.
Colour: Mahogany
Volume: 100ml
Contents:
Packaging material: Metal
Shelf life:
Country of origin:
Your Shoemaker
His Advice
Personalized advice
Similar product suggestions
Approvals
Usage advice
Related products
Order tracking