The art of comfort: Monsieur Chaussure's socks
Monsieur Chaussure unveils its collection of men's socks
Men's socks by Monsieur Chaussure are made in France with hand-knitting for maximum comfort.
Return - News
See the products used
This advice file reads in
4 min
Elegance in detail
When it comes to fashion, shoes and clothes tend to get all the attention, but never underestimate the essential role of socks. Socks play a crucial role in the elegance and originality of our outfits. A quality pair of socks can add a subtle touch of sophistication to any outfit.

But making them requires real expertise and innovation to find the best possible design. Monsieur Chaussure has teamed up with a traditional French factory to bring you the very best.

In this article, we invite you to discover Monsieur Chaussure's collection of "Made in France, hand-knit" socks, a perfect example of French know-how.
See men socks
French design and manufacture
In order to offer a collection of men's knee socks that was different from the existing range, our team decided to design and manufacture them entirely in France.

Aware of the importance of quality and craftsmanship in the fashion industry, we decided to focus on local production in Burgundy to create unique socks.

This decision reflects our commitment to sustainability, high quality and the preservation of traditional French craftsmanship. With this in mind, we have chosen to partner with a traditional French factory. Our factory Every pair of Monsieur Chaussure men's socks embodies the perfect blend of industrial innovation and authentic craftsmanship.
See men socks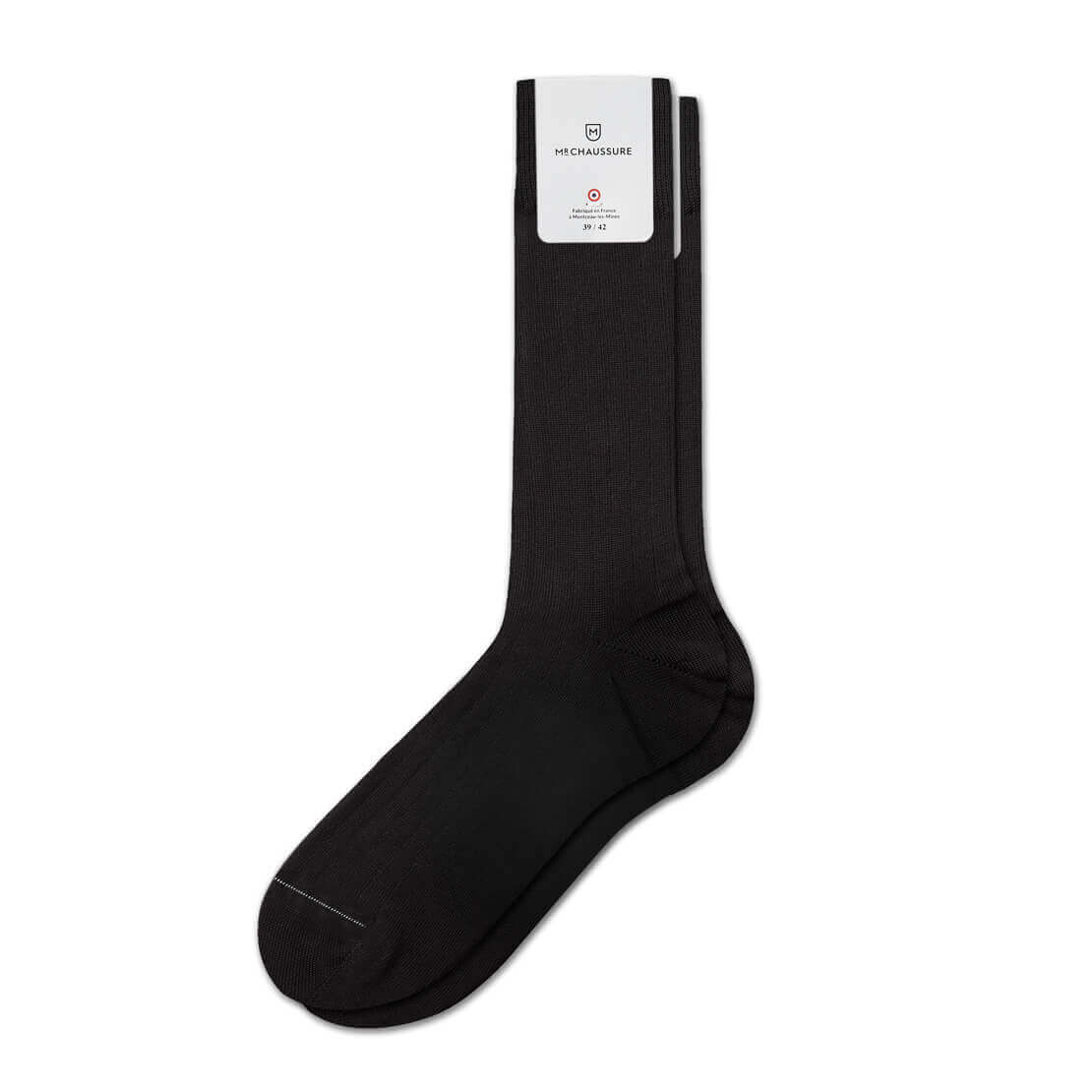 Hard-wearing socks
This collection of men's socks has been designed to be durable and hard wearing.

The heel and toe are areas that wear out quickly and shorten the life of footwear. To prevent premature wear and tear, we have paid particular attention to these areas.

We also asked that they be steamed during the manufacturing process. This unique step in the design process ensures that your sock stays in perfect shape over many washes. This step simulates multiple washes to maintain shape and size over time.

The combination of these elements significantly extends the life of your footwear.
See men socks
Hand-knitted socks
Another aim of the new men's sock range is to offer particularly comfortable styles. To be comfortable, the socks need to have no seams in the toe area. That's why we asked for our men's socks to be finished by hand.

This finish is called hand-stitching! Hand-stitched socks are extremely comfortable to wear. This step is carried out by a dedicated team who work meticulously every day.

Monsieur Chaussure's hand stitching has a twist. We use a charcoal grey Scottish thread with blue undertones. You'll find it in all our colours.

It's our signature!
See men socks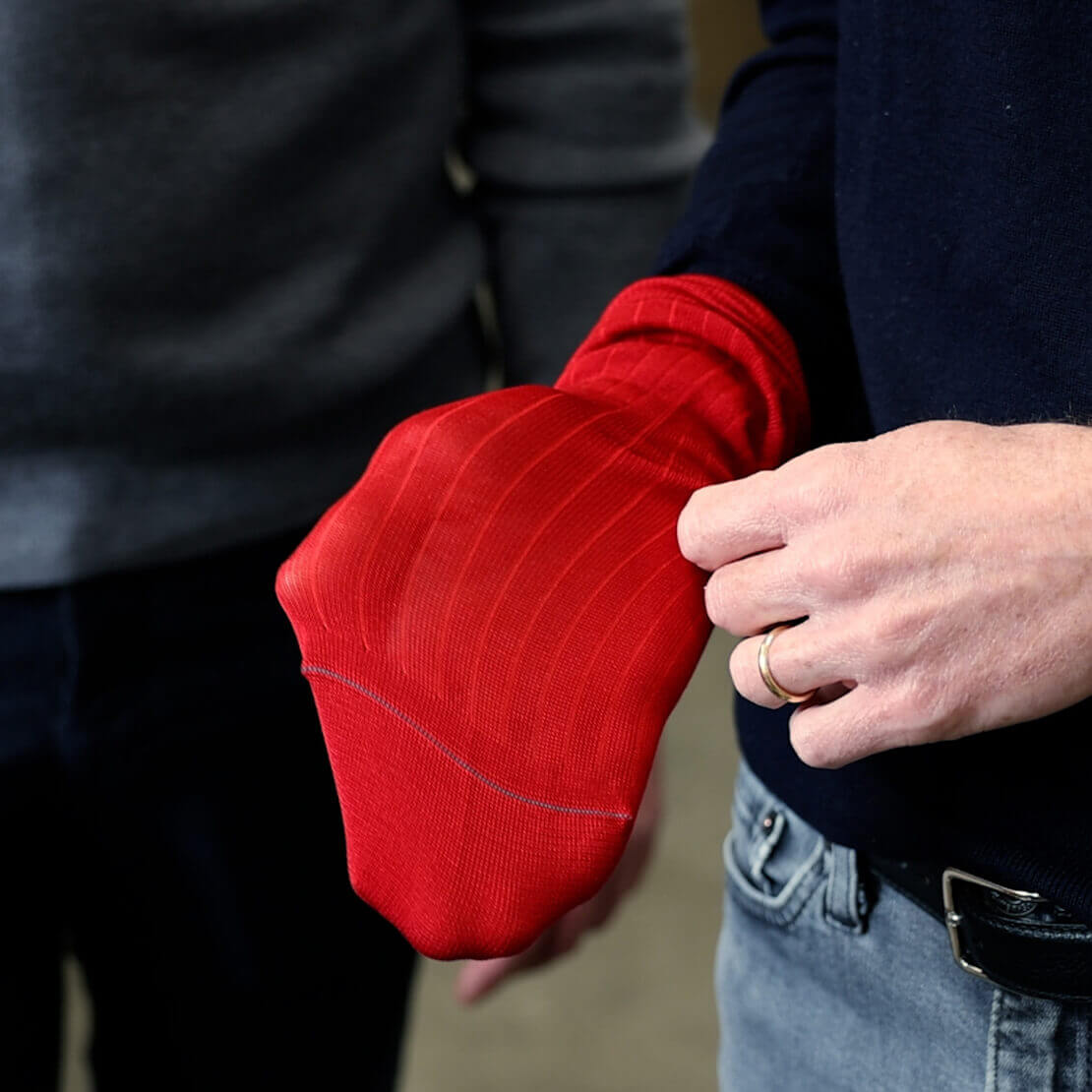 Details matter
In conclusion, at Monsieur Chaussure, we believe in the importance of details to perfect the elegance of your outfit.

Our "Made in France, hand-knit" men's socks embody this commitment by combining quality, durability and comfort. The entirely French design and manufacture highlight the rich craftsmanship of our country. Thanks to meticulous finishing, our men's socks stand up to wear and tear, extending the life of your favourite shoes. Our signature hand-knitting ensures unrivalled comfort.
So if you're looking for men's knee-high socks that add a subtle touch of sophistication to your style while preserving the heritage of French fashion, look no further.

Explore our collection and discover the elegance of detail, one step at a time.
See men socks
Products used.
Our users can't live without it! Find here the essential best-sellers, recommended by our community.