Guides & Advices
MasterClass
Shoes
Sneakers
Everything you need to know about the different types of shoe trees, according to the experts.
A shoe tree is without a doubt, the most important accessory for the upkeep of your shoes and boots. They come in many styles but not all advice regarding their use comes from reliable sources. Monsieur Chaussure has therefore taken the initiative of partnering with shoe manufacturers and cobblers to come up with the "shoe tree bible".
Return - Guides & advices
See the products used
This advice file reads in
10min
THE FUNCTION OF THE SHOE TREE
While wearing your leather or suede shoes, your feet perspire. This, unfortunately, is an unavoidable occurrence. Each part of a shoe that is made of a hide, whether it be leather, suede, calfskin, nubuck, reptile leather etc., will absorb the moisture from your feet.

As you wear your shoes, each step that you take bends certain areas of the shoe to varying degrees. Some materials such as rubber undergo "plastic" deformations, meaning that there is no deterioration of the material. Others, such as leather, will clearly show wear and tear marks in the most-used areas.

These effects adversely affect your shoes when you take them off. Just like a rumpled shirt taken out of the washing machine, your shoes will have a number of creases and deformations.

Apart from proper care, cleaning and hydration, the only way to maintain the shape of your shoes is to use shoe trees as soon as your take them off. Just as you would iron a rumpled shirt, your shoe leather should be stretched as it dries out. This is where the shoe tree comes into play.

Note: We often speak of shoe trees as a means of drying shoes. While shoes or boots must indeed be dry before you put them back on, this is not the main function of a shoe tree. It can speed up the drying process while you are not wearing your shoes, but its primary function consists of maintaining the shape of a shoe as it dries.
Shoe trees
CHOOSING THE RIGHT SHOE TREE
There are many different types of shoe trees, including those made in natural wood, varnished wood, beechwood, cedar, and plastic, and they can be pointed, narrow, double-sized, etc. Keep in mind that there is no all-in-one shoe tree, but that there are shoe trees for every situation.

The following table displays the different shoe tree uses: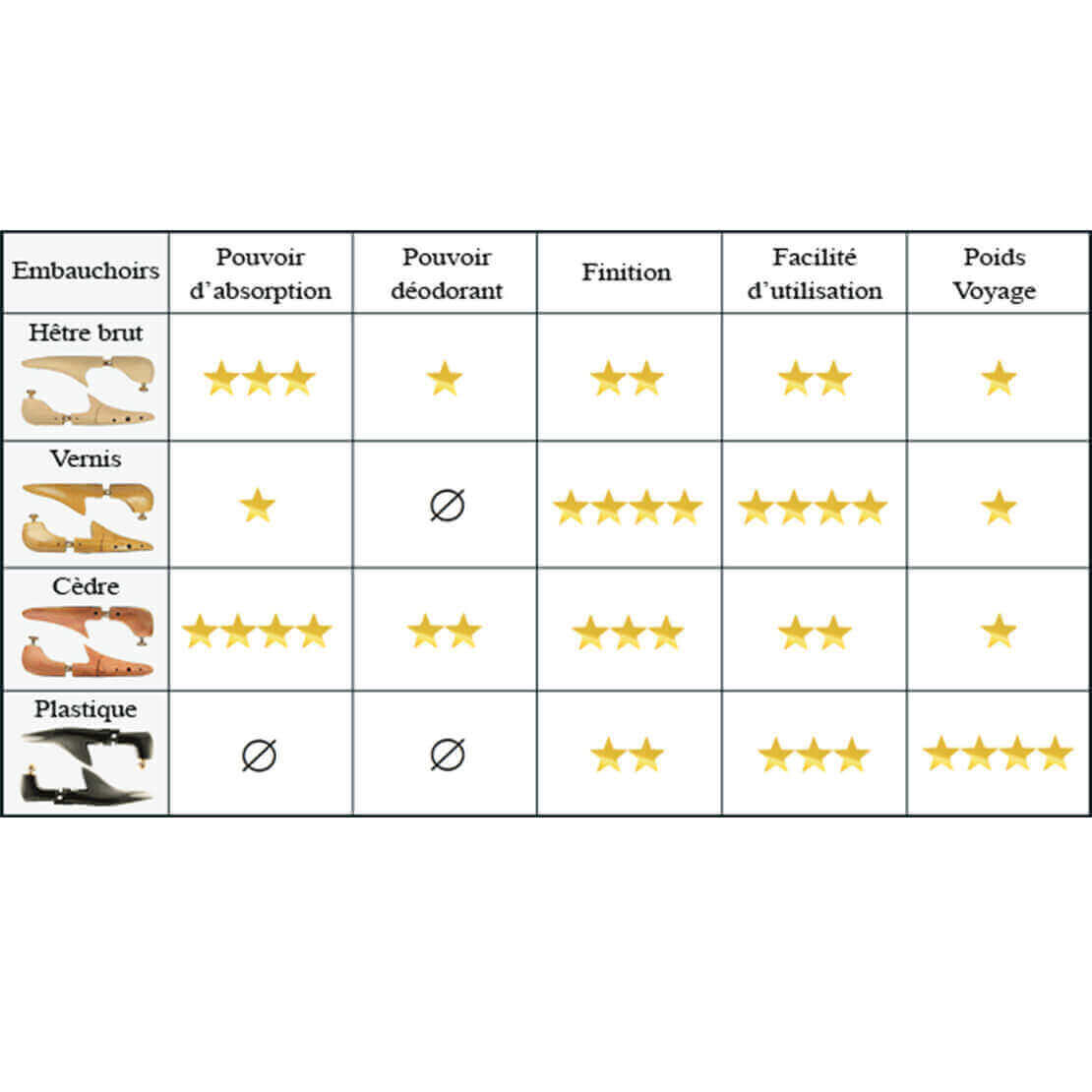 EXAMPLES
The purpose of the above table is to explain how different shoe trees fulfill different functions.

Example 1:
Charles owns 7 pairs of leather shoes and wears a different pair on each day of the week. He is a shoe lover who enjoys admiring his well-polished shoes equipped with their shoe trees every morning. For this reason, he chose varnished beechwood shoe trees with a high-quality and attractive finish. The fact that each pair has a full 6 days to dry makes up for the lower absorbency of these shoe trees.

Example 2:
Paul, on the other hand, owns two pairs of shoes and alternates from one day to another. He has a long walk to get to his office, so his feet sweat more than average. He bought two pairs of cedar shoe trees as their high absorbency helps each pair to dry out on the day when they are not being worn.

We recommend choosing the material of the shoe tree according to your own usage, rather than relying on popular opinion.

Nowadays, most shoe trees have springs along their length and width.

The width offered is often sufficient for fitting any shoe type. For the length, you simply need to choose shoe trees in the same size as your shoes.

The right-sized shoe tree is one that, when placed into the shoe, stretches it out enough to smoothen the creases without having to fully compress the shoe tree.
We strongly advise requesting an in-store trial with your own shoes before purchasing your shoe trees. For online purchases, be sure to read the exchange policy.
INSERTING THE SHOE TREE
Begin by placing the front part of the shoe tree into your shoe. When you feel it has reached the tip without forcing, squeeze the two front sides of the shoe tree from the shoe's exterior to reduce the width. You can then insert the shoe tree a little further into the shoe.

Compress the springs connecting the front and back of the shoe tree and place the back piece into the shoe. The shoe tree will then be at its minimum length to avoid wearing down the heel with each insertion. Afterwards, release the shoe tree carefully to ensure that the heel stays on the sole of the shoe.

If you have worn your shoes in heavy rain, we advise leaving them on their sides with their shoe trees for about an hour. This will help the soles, which are often made of leather, to expel the maximum amount of moisture.
CONCLUSION
Even the most basic shoe leather care treatments require the use of shoe trees. You just need to choose the right ones and use them correctly.

If you have any further questions on shoe trees, write to us via the contact form at MonsieurChaussure.com and our advisors will respond to you within 24 hours.
Products used.
Our users can't live without it! Find here the essential best-sellers, recommended by our community.