Your wedding basics with Monsieur Chaussure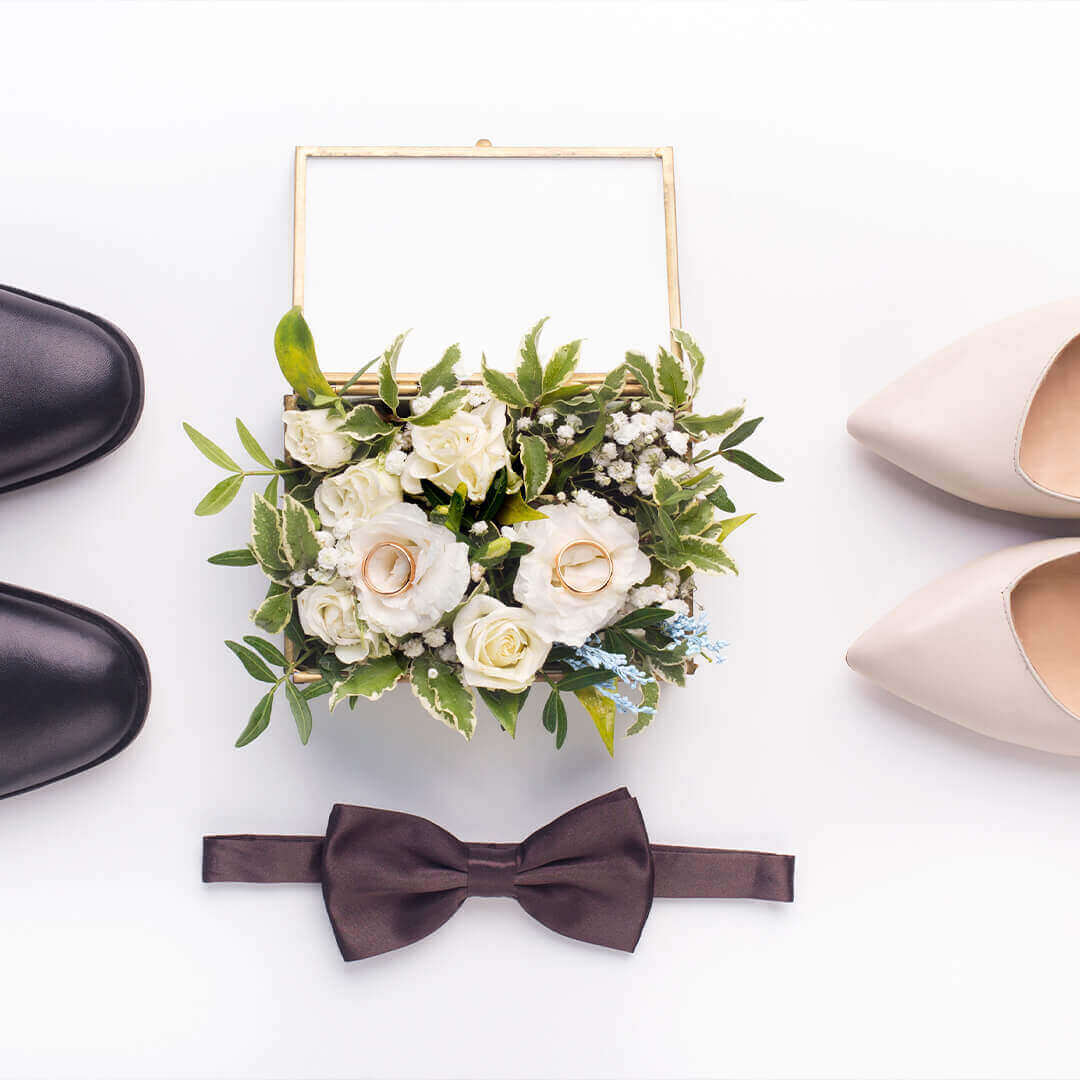 Summer is with no doubt wedding season
And since the sun is shining, the birds singing, the shoulders uncovering, and party celebrations going all night long, Monsieur Chaussure has decided to bring this little (and essential) guide for the best shape your feet could never ask for. But also, to make this special day, the best one of your life.
Return - Decodings
See the products used
This advice file reads in
5min
The right shoes for your wedding
Shoes are an important part of your wedding outfit. Whether you decide to wear trainers, heels or shoes, there are a few rules to follow!
Some tips if you choose to wear baskets
More and more trendy, sneaker weddings are breaking the codes. It's out of the question to wear dirty trainers!

A classic that goes with any outfit: white trainers. Whether you choose leather or fabric, you will be in the theme.

So the big question is: how do I clean my white trainers? It's easy, just 3 steps!
First, clean the laces by soaking them in sneaker cleaner. Then start with the sole using the sole brush and cleaner. Finally, clean the upper with the universal brush and cleaner. Whether you choose the foam or the liquid cleaner, you'll get your shoes back to their white glory. For white Nike and Veja trainers, we recommend using the cleaning gel.
Some tips if you wear high heels
For those who wear heels, we recommend non-slip silicone soles. Woly's Disco Queen insoles will prevent blisters and other minor inconveniences that could keep you from dancing all night.

The soles are often thin and can be more fragile than other shoes. So you can protect them. We tend not to think about it, but at weddings, the soles get a lot of knocks (gravel, the dance floor, etc.). By wearing skates, you can avoid having to change the soles in the days after the wedding.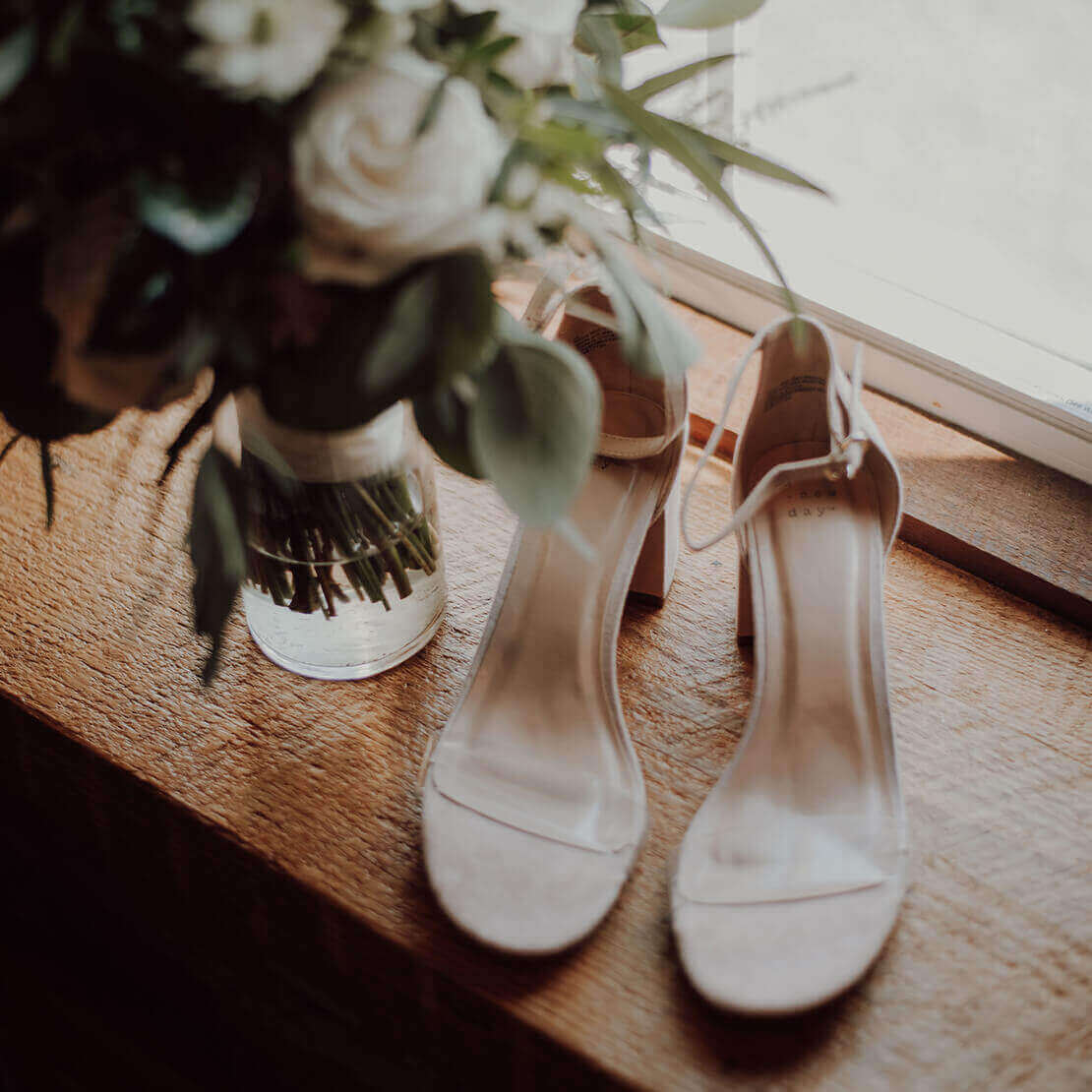 Some things to do if you wear shoes
Step 1: Get your shoes in shape. Shoes that compress all day long will eventually cause your feet to bleed. Consider wearing them at home with thick socks soaked in Shoe Eze. The leather will take the shape of your foot. You gain comfort.

This method doesn't work for your pair? Give them to us! We will put them on our machines to work the leather for at least 24 hours. Your shoes are finally comfortable again.
How to polish leather shoes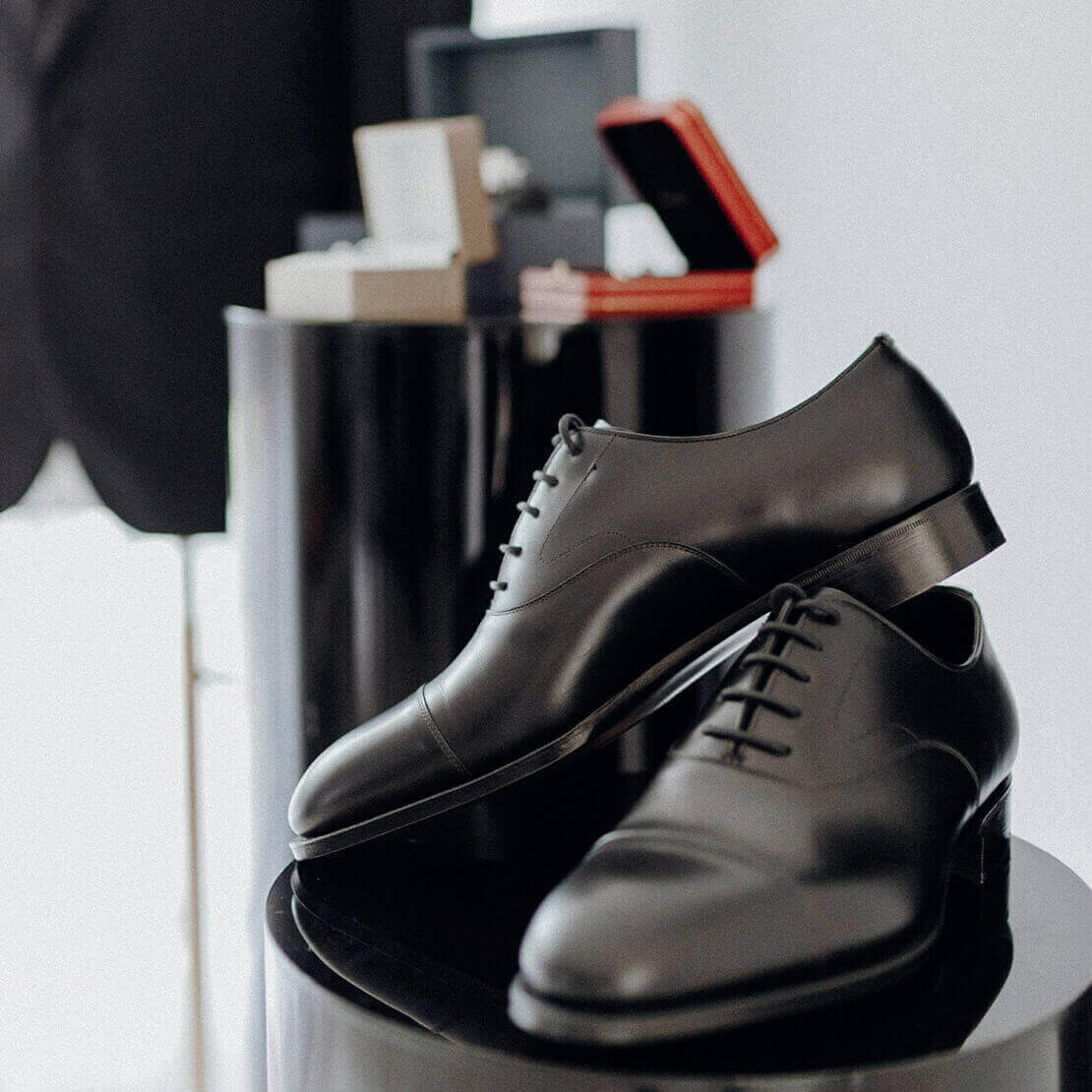 Step 2: Protect the sole
We can't stress this enough. It is essential that you do not damage your shoes during the day.

Nothing could be easier than asking our shoemaker to fit your shoes with skids. The bespoke crepe skids cover the entire sole. This way you can protect your shoes from knocks, stones, etc. You will be able to wear your pair on special occasions.
Step 3: Stop the odours
Whether you are the groom or a guest, we (strongly) advise you to wear anti-odour insoles. Saphir's guarantee freshness and comfort. The other option is to simply deodorise your shoes.

This is an important step at a wedding because you will be moving around all day and on the dance floor in the evening.

This step is necessary to freshen up both your feet and your shoes. It helps to neutralise bad odours from sweat. It would be annoying to scare off the bride on your wedding night just by taking your shoes off... Red cedar shoe trees will be your best friend! Slip them into your shoes to remove bad odours.
Step 4: Take care of your shoes
The choice of shoes is a very important step to finalise the groom's outfit, we'll talk about it a little further down.

Whether you choose a pair of richelieus, derbies, double buckles or even chukkas, we recommend that you take care of them and respect their maintenance ritual in order to guarantee them a beautiful shine on the big day. Waxing pastes ensure an intense result. Finally, a nice glaze will be the ideal finish to sublimate your shoes on this sacred day.
Polish your shoes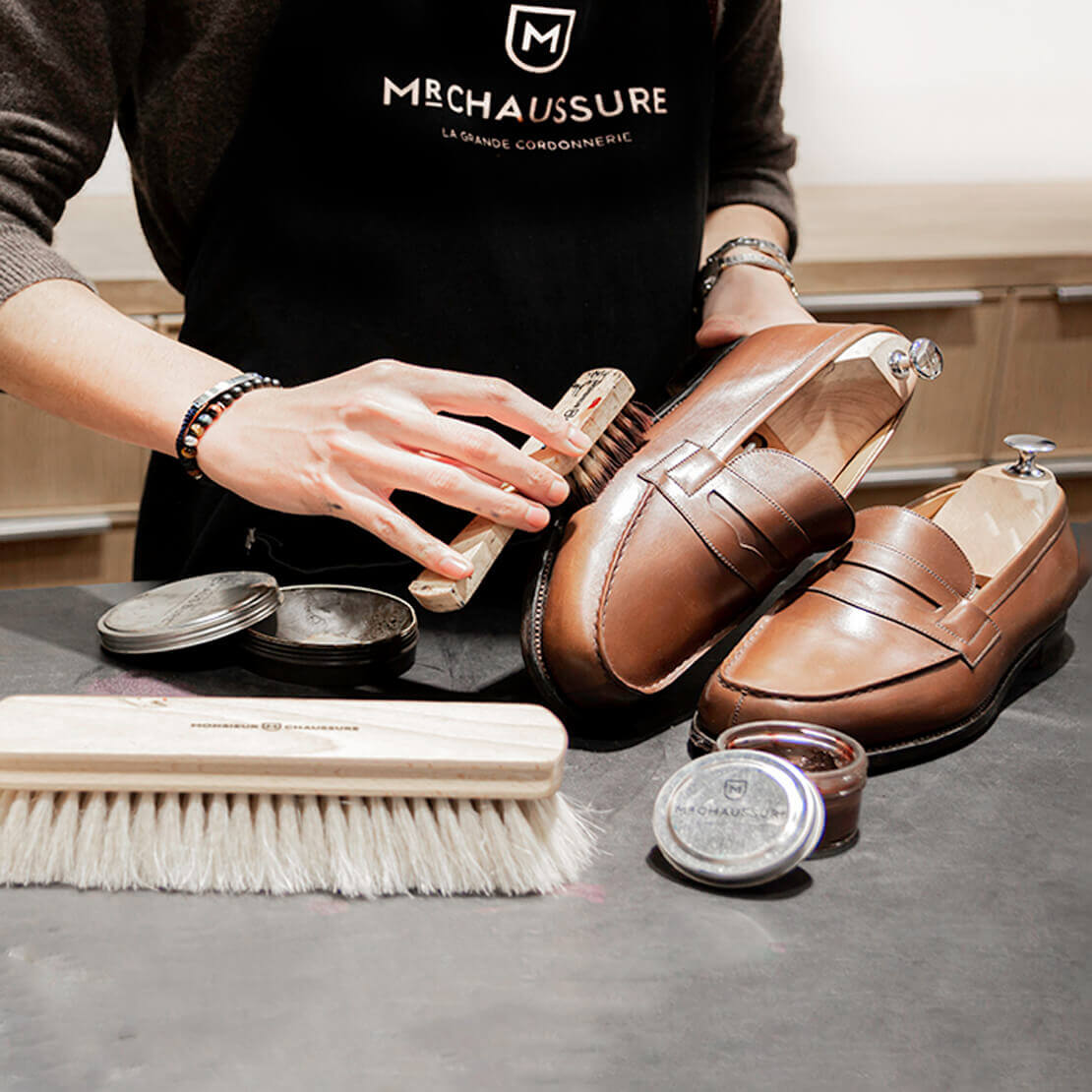 Men's shoe selection
This is a crucial choice! It will set the tone for your suit. They bring elegance, comfort and even originality.

Monsieur Chaussure offers a selection of men's shoes that will suit all your desires and styles. Whether you prefer one cut for elegance or double buckles for originality, you will find the pair you need.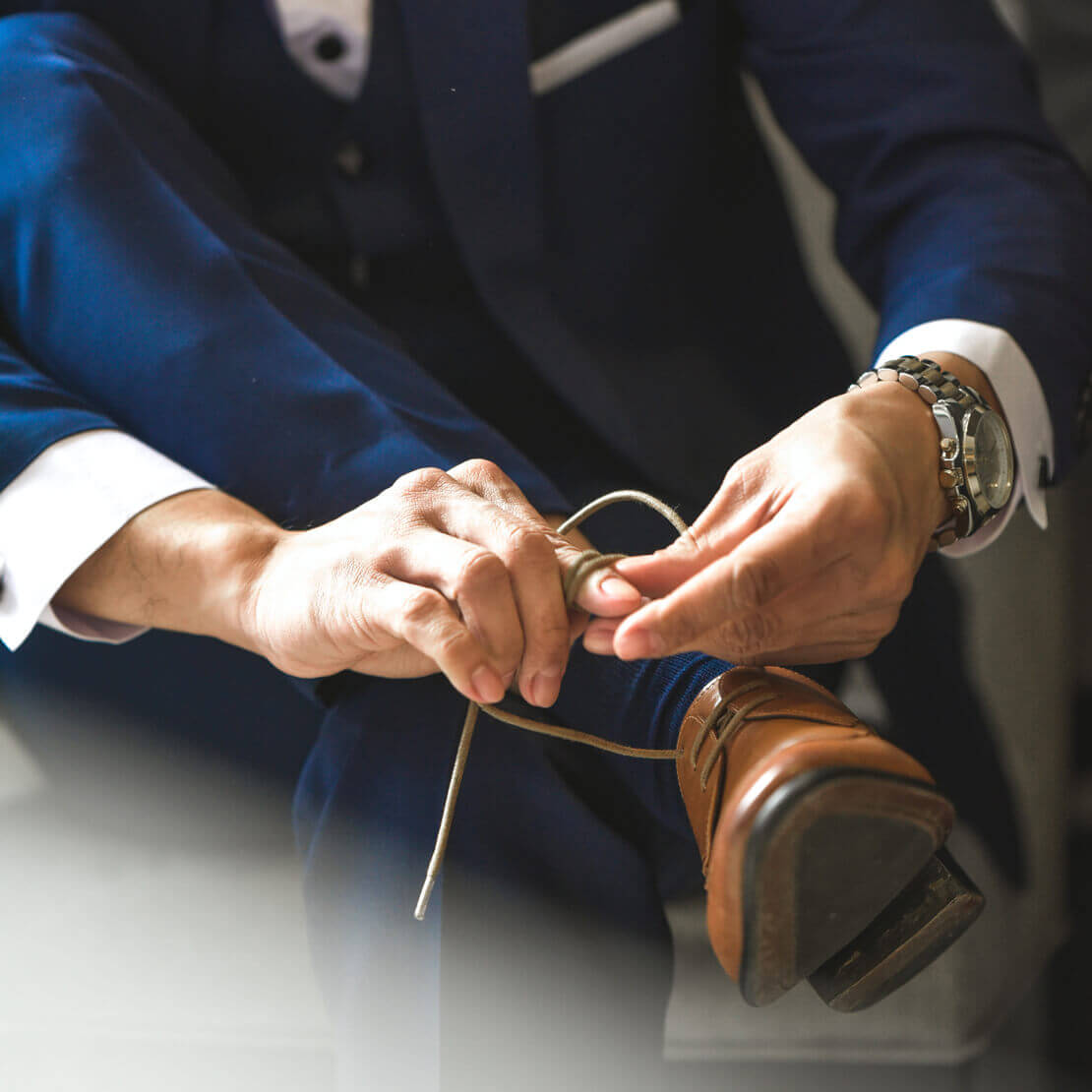 Accessorise your shoes
To add a touch of originality and colour to your outfit, shoelaces are a great alternative. Whether they are black, red or petrol blue, they will add a touch of pep to your shoes.

Or, if you want to stay discreet, socks are a good ally. Colored or patterned, they break up the serious look and add a touch of originality.
Products used.
Our users can't live without it! Find here the essential best-sellers, recommended by our community.