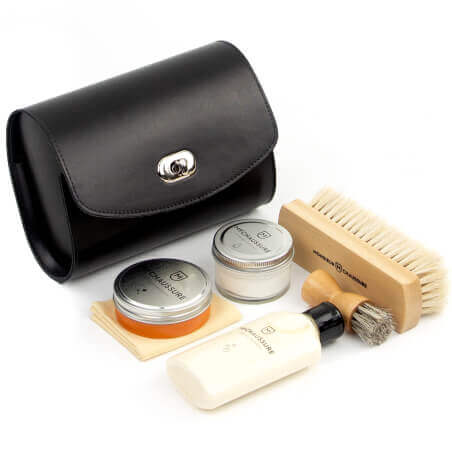  
Club Shoe Shine Leather Starter Kit
Kit filled with the essential products of the apprentice maintenance kit to accompany you everywhere and always have impeccable shoes whatever the conditions. Kit and products are made in France according to the Monsieur Chaussure guidelines.
Details
This product is
Tested . Checked . Approved
7 products in this kit.
Kit composed by our workshops so you don't forget anything! Find here the care products and accessories that make up this kit.
Description.
Leather case with a stainless steel closure to give strength and support to your products. Made in France by our partner respecting the French know-how and our quality charter. It offers the ideal conditions for a better conservation of your products.

The kit is composed of the following products:

- The cleaning milk strongly enriched with carnauba wax to clean without damaging the shoe leather.
- The colourless shoe polish cream to intensely nourish the leather and to adapt to all shoe colours.
- Yellow shoe polish paste to make your shoes shine.
- the cotton chamois to remove dust and apply the cleaning milk.
- the badger brush to apply the cream and the polishing paste.
- the polishing brush to activate the polishing paste and enhance the shine of your shoes.

Monsieur Chaussure's advice: maintain your kit from the marks of time. To take care of your smooth leather case, you can use the Bōme range of products, specially designed for leather goods. Check out the related lesson in our Tips & Videos section, lesson #3 "Maintaining leather goods.

Width: 19cm
Height: 14cm
Depth: 10cm
Colour: Black
Material: 100% Leather
Country of origin: France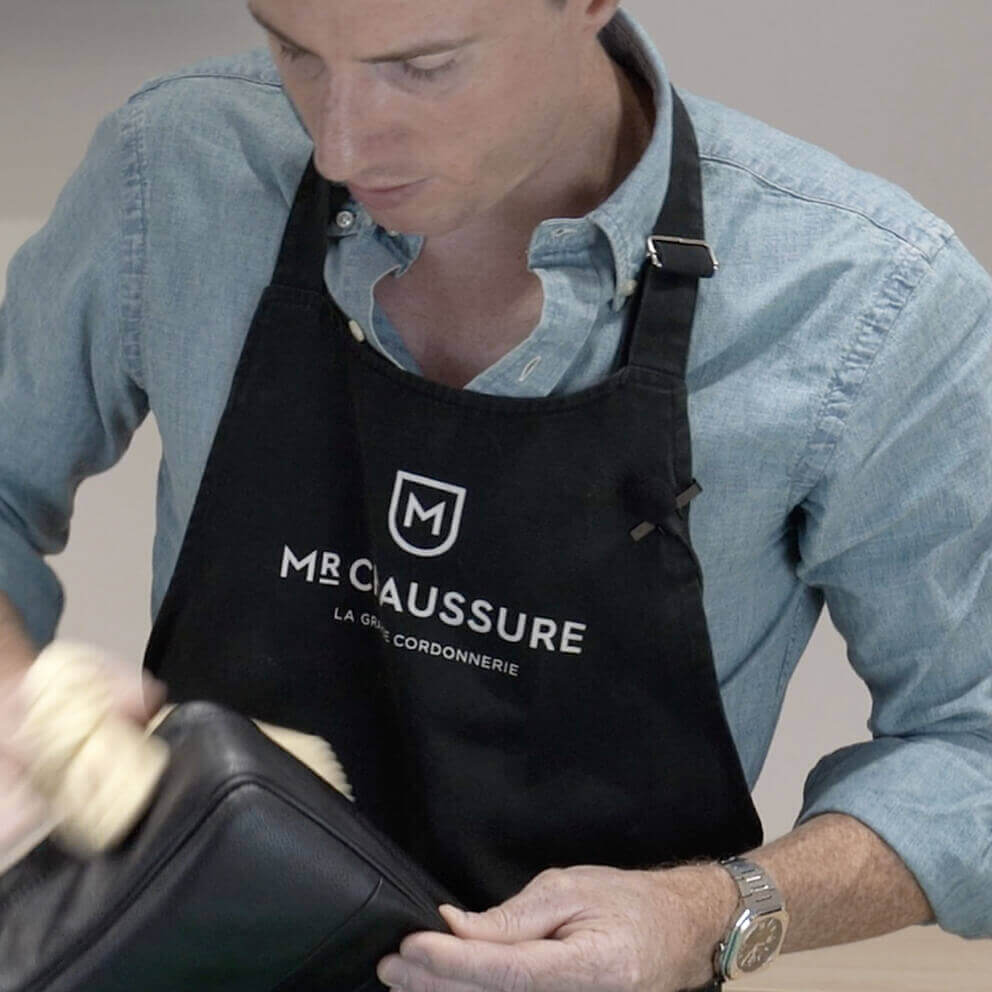 2 reviews / 5 stars
The rating for this product is 5 out of 5 stars.
We collected nearly 2 reviews from verified buyers.
Oliver B.
Verified buyer
Jan 29 2016
Very satisfied!
It all came very quickly and on time as well, great experience
James H.
Verified buyer
Jan 26 2016
Quick and efficient service, no problems at all!
Details.
Find all the details for the product:
Club Shoe Shine Leather Starter Kit.
For more information on the use of this product you can consult the associated tutorials
Category :

Shoe Shine Boxes

Materials :

Leather

Type :

Case

Products included :

Leather