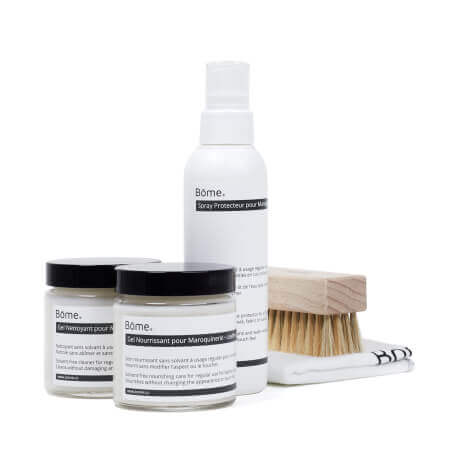  
Leather Goods Care Full Kit
Essential kit to clean, maintain and protect all your leather goods, from the bag to the jacket, not forgetting the wallet, composed of products made in France by the brand Bōme. Tested and approved in the Monsieur Chaussure workshops according to the quality guidelines.
Details
This product is
Tested . Checked . Approved
6 products in this kit.
Kit composed by our workshops so you don't forget anything! Find here the care products and accessories that make up this kit.
How to use this product.
The kit includes all the essential Bōme brand products and accessories to preserve your leather goods from the marks of time. Products are specifically developed for the materials used in leather goods to avoid degradation and cracking of the leather.

This kit contains:

- The Bōme scraper removes dust, and dirt present on the surface of leather or suede.
- The Bōme Cleaning Gel deeply cleans the leather of accumulated and regular impurities.
- The Bōme Nourishing Gel nourishes the leather or canvas coating to reduce the marks of time and snags on the surface. To remove all the marks, the product team recommends using Bōme Renovating Milk to repigment the material.
- The Protective Spray is used to create a light, transparent protective barrier to protect against the weather and other accidents (e.g. spilled soda).
- The chamois cloth allows you to apply all the products gently.

Store your products in a trap away from heat and humidity.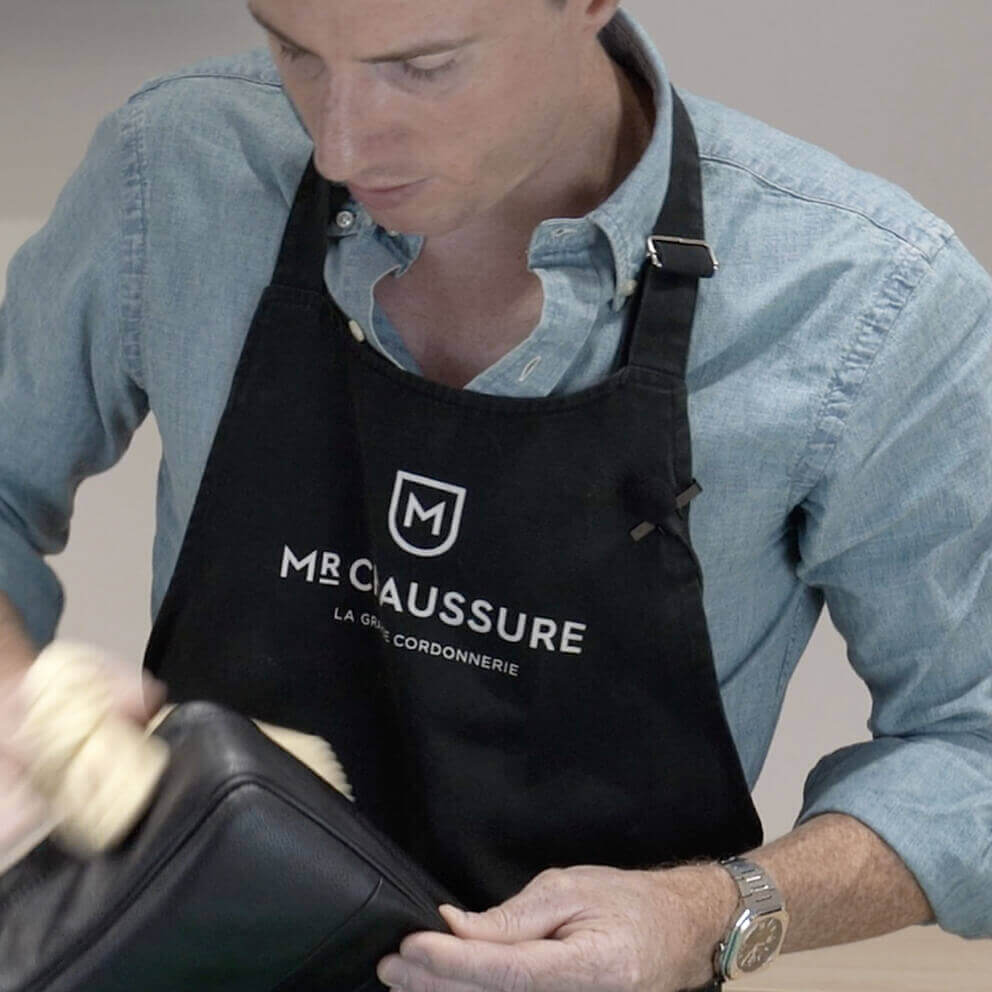 3 reviews / 5 stars
The rating for this product is 5 out of 5 stars.
We collected nearly 3 reviews from verified buyers.
Evangeline N.
Verified buyer
Fresnes, May 28 2023
Parfait
Kit pratique, remplit sa mission !
Pieter V.
Verified buyer
Zottegem, Feb 13 2023
Leather care kit
This leather goods care kit has exceeded my expectations and has become a staple in my leather maintenance routine. Not only is the kit comprehensive, with everything I need to clean, condition, and protect my leather items, but the products themselves are of high quality and effective. I've used it on all of my leather goods, from my shoes to my bags, and have noticed a significant improvement in their appearance and longevity. The kit is also very easy to use and comes with clear instructions, making it accessible to leather care beginners like myself. I highly recommend this kit to anyone looking to invest in the proper care of their leather items and ensure their longevity for years to come."
Thomas S.
Verified buyer
Oct 11 2021
Unique
Déjà essayé de nombreux produits et je n'ai jamais trouvé aussi efficace sur mes sacs, bravo
Details.
Find all the details for the product:
Leather Goods Care Full Kit.
For more information on the use of this product you can consult the associated tutorials
Colour range :

All Colours

Category :

Shoe Care Kits

Materials :

Leather Goods Only

Use :

Kit / Multiple

Quick Access :

The Workers' Choice

Weight :

0,824 g

Length :

16 cm

Width :

16 cm

Height :

7 cm