All-in-One Suede Brush
The trio of care brushes for suede, nubuck and suede in one brush. Monsieur Chaussure appreciates the ingenuity of this system, which is very practical for all your travels.
Details
This product is
Tested . Checked . Approved
You may also like.
Here are our recommendations that you may need in addition to this product to ensure optimal results.
How to use this product.
The brush is very easy to use and resides as per its appearance in three steps. Start by using its first nylon and brass side.

For gentle cleaning, prefer nylon and reserve brass for more intense cleaning. The second side in crepe makes it possible to delustre the hair of the suede, not leaving it flat and to clean more effectively encrusted stains. The third side is an eraser to use on surface stains, use the edge of it to cover a larger area of the suede.

The eraser allows you to gently sand most of the suede.

You can combine this brush with our Monsieur Chaussure suede cleaning spray to obtain optimal cleaning and results.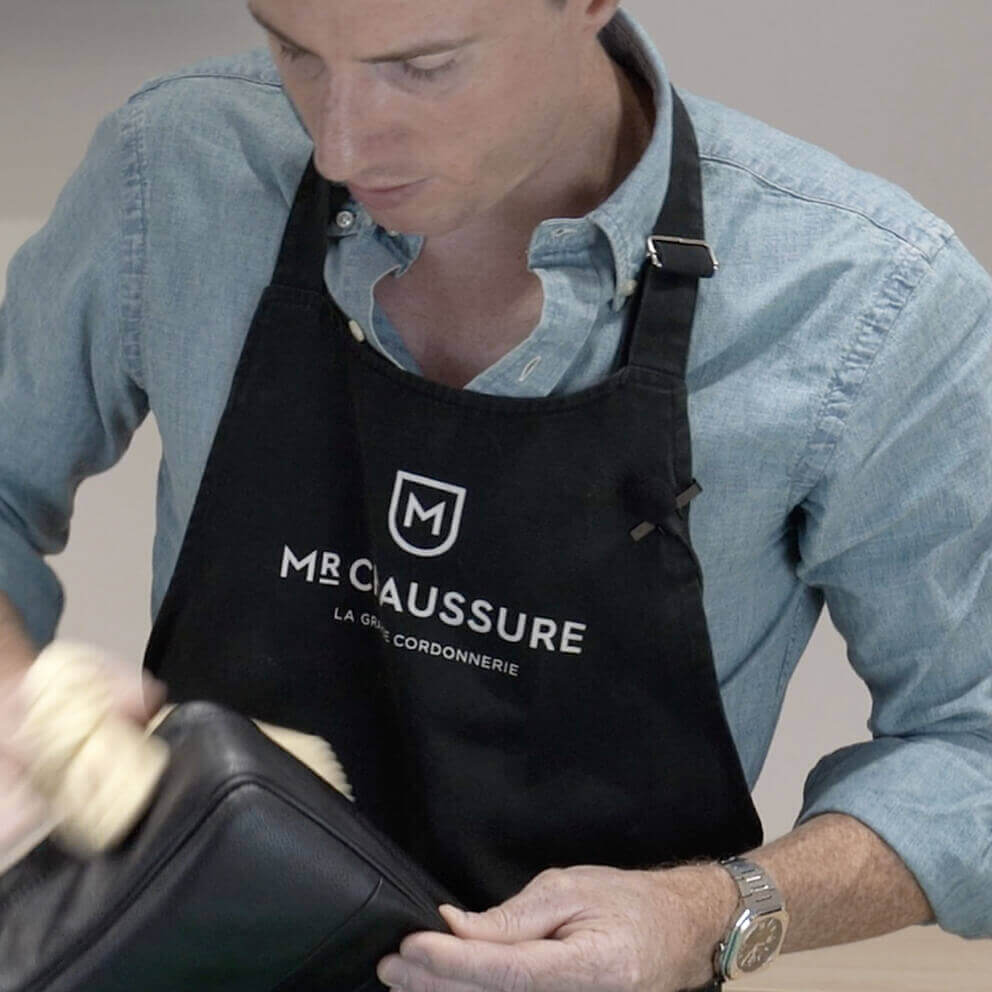 2 reviews / 5 stars
The rating for this product is 5 out of 5 stars.
We collected nearly 2 reviews from verified buyers.
Josef P.
Verified buyer
Budapest, Nov 29 2023
Josef P.
Great product. With a very helpful user's manual from Monsieur Chaussure which helped a lot in reviving my boots !
Amir M.
Verified buyer
Borehamwood, Sep 09 2023
Amazing
I recently found myself in a bit of a shoe crisis when I realized I had improperly cleaned my Todds, leaving the suede and nubuck in a less than ideal state. I thought I'd ruined them for good. After much research and considering sending my shoes to a repair specialist, I stumbled upon Mr Chaussure's website. What struck me immediately was not just the premium quality of their products, but also the detailed instructions and explanations on how to properly use them. I decided to take the plunge and make a purchase. When the items arrived, I followed the guidelines closely and was absolutely blown away by the results. My Todds were restored to their original color and texture—it was like magic. The service from Mr Chaussure was impeccable, and the quality of their products exceeded all expectations. I wholeheartedly recommend both the specific item I purchased and the company overall. They saved me a trip to a specialist and helped restore my Todds to their former glory. 100% recommend
Details.
Find all the details for the product:
All-in-One Suede Brush.
For more information on the use of this product you can consult the associated tutorials
Shape :

Universal Brush

Category :

Shoe Brushes

Use :

All Uses

Weight :

0,75 g

Length :

6,7 cm

Width :

2,6 cm

Height :

7,5 cm