Monsieur Chaussure Black Shoe Cream
Protects and hydrates your smooth leathers, this cream based on beeswax, carnauba wax and lanolin is an invariable product for the maintenance of your smooth leathers. Our Monsieur Chaussure workshops use this cream daily for all our smooth leather maintenance.
Details
This product is
Tested . Checked . Approved
You may also like.
Here are our recommendations that you may need in addition to this product to ensure optimal results.
How to use this product.
Before using the cream, make sure you have first dusted and cleaned your leather with a scraper and cleaning milk.

Use a chamoisine to take a small amount of cream then make small circular movements on the whole leather until the cream penetrates. This operation is repeated until your leather can no longer absorb the cream. Leave to rest for 30 minutes then, using a clean chamoisine, remove the excess cream.

We advise you to use a shoe polish afterwards to perfect the maintenance of your smooth leathers.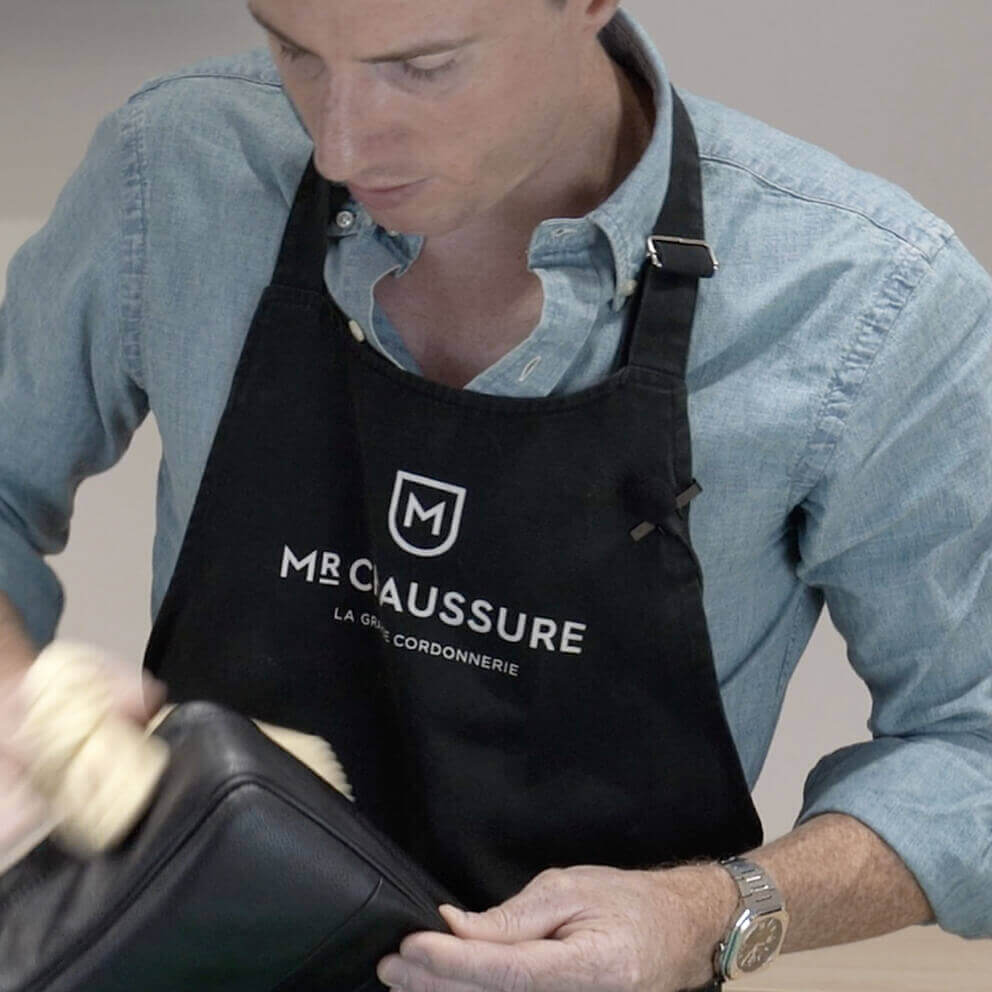 3 reviews / 4.5 stars
The rating for this product is 4.5 out of 5 stars.
We collected nearly 3 reviews from verified buyers.
Guillaume C.
Verified buyer
Nice, Nov 18 2023
Produit d'une grande qualité
J'ai acheté ce produit pour compléter ma boîte de cirage et je ne suis jamais déçu par la qualité de Monsieur Chaussure
Mstislavs Z.
Verified buyer
Riga, Nov 14 2022
My opinion about Black Shoe Cream
Shoe cream Black Shoe Cream is well absorbed by shoe leather and is easily polished after application. Thank you !
Lucas A.
Verified buyer
London, Aug 17 2018
Ade
Highly quality product,you will not be disappointed I recommend
Details.
Find all the details for the product:
Monsieur Chaussure Black Shoe Cream.
For more information on the use of this product you can consult the associated tutorials
Colour range :

Black / Grey

Category :

Care Products

Materials :

Smooth Leather

Type :

Jar

Volume :

50 ml

Use :

Hydrating & Recoloring

Quick Access :

The Workers' Choice

Weight :

0,137 g

Length :

6,2 cm

Width :

6,2 cm

Height :

4,1 cm