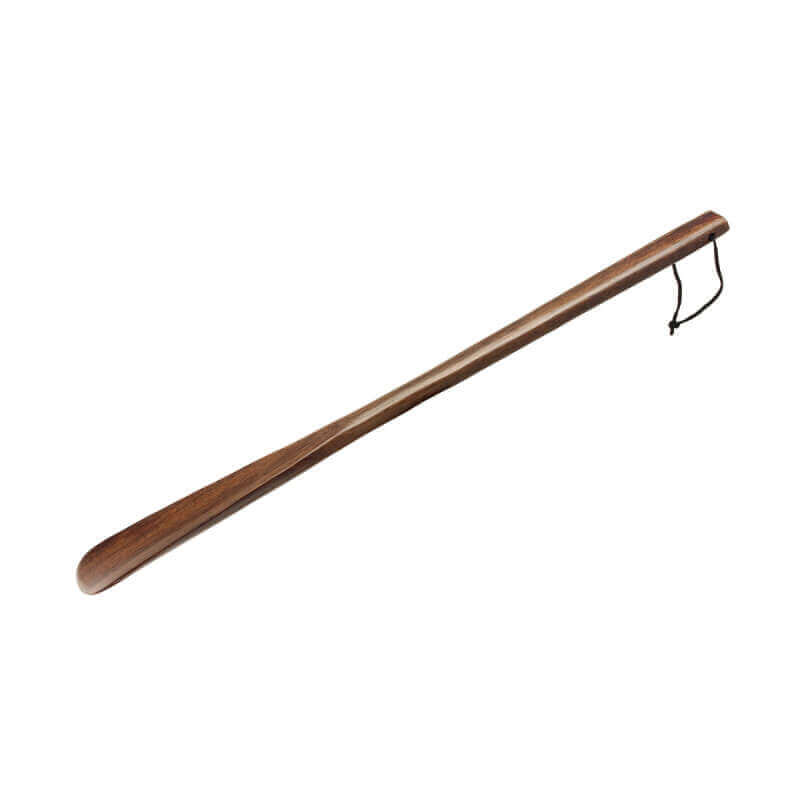 Deluxe Shoe Horn 55cm
M. Chaussure
Warning: Last items in stock!
Availability date:
Your order will be shipped on 03 Décembre
Free Shipping from 55 € for France, Belgium and Luxembourg
Payment in 3x 4x by credit card from 100 €
The deluxe rosewood shoe horn makes it easy to put on your shoes.
This deluxe rosewood high quality shoe horn helps you easily put on your shoes and boots, including those made of hard leather. Its rosewood is particularly durable and will stand the test of time. By choosing the deluxe rosewood shoe horn, you are investing in a luxury item and a strong accessory at the same time. Its large size is perfect for putting on leather shoes while seated, or for helping you put on your leather boots, including hard leather ones such as riding boots. The end of the shoe horn is perfectly shaped to fit your heel and to slide it gently into the shoe without deforming or creasing the leather. The gorgeous varnished finish of this black-marbled redwood makes it a truly long-lasting collector's item.
To use this rosewood shoe horn, simply slide it down your shoe or boot until it reaches the sole. Place your foot into the shoe and then your heel onto the wood of the shoe horn and slide it down until reaching the bottom of the shoe. The polished, varnished wood of this luxury shoe horn lets you put on your shoes with just one quick and effortless movement. Due to the large size of the shoe horn, you don't need to bend over. This helps prevent back pain and relieves your joints.
There is a red thong strap attached to the end of the shoe horn for hanging it up to ensure easy storage. If the rosewood becomes dirty, clean it with a damp cloth to restore its shine.
Length: 55cm
Weight:
Colour:
Material: Rosewood
Country of origin:
Your Shoemaker
His Advice
Personalized advice
Similar product suggestions
Approvals
Usage advice
Related products
Order tracking