Guides & Advices
MasterClass
Shoes
All our advice to protect your new shoes as much as possible against stains or snags and to delay or even prevent wear of certain parts.
You've just bought a new pair of shoes and want to do everything possible to keep them in top condition for as long as possible.

In this lesson we will provide you with a routine for your shoes, sneakers and other types of shoes to perform immediately after purchase.

The objective is to protect them as much as possible against stains or snags and to delay or even prevent wear of certain parts.
Return - Guides & advices
See the products used
This advice file reads in
10min
NEVER WITHOUT SHOE TREES
Your first goal is to maintain the shape of your shoes. If you don't do anything early on, your shoes will gradually experience the "slipper" effect. This means that the front will go up, creases and wrinkles will appear and the heel will sag.

To avoid this, you can use two essential accessories:

1 - A pair of shoe trees suitable for shoes with arch, shape, and size. We recommend our lesson dedicated to the choice of shoe trees to avoid mistakes.

2 - A shoehorn to be used systematically. It must be thin so as not to deform the shoe (no sheathed leather and other decorations) and made of a material sufficiently slippery such as metal so as not to damage the heel grips (heel lining).
See the products used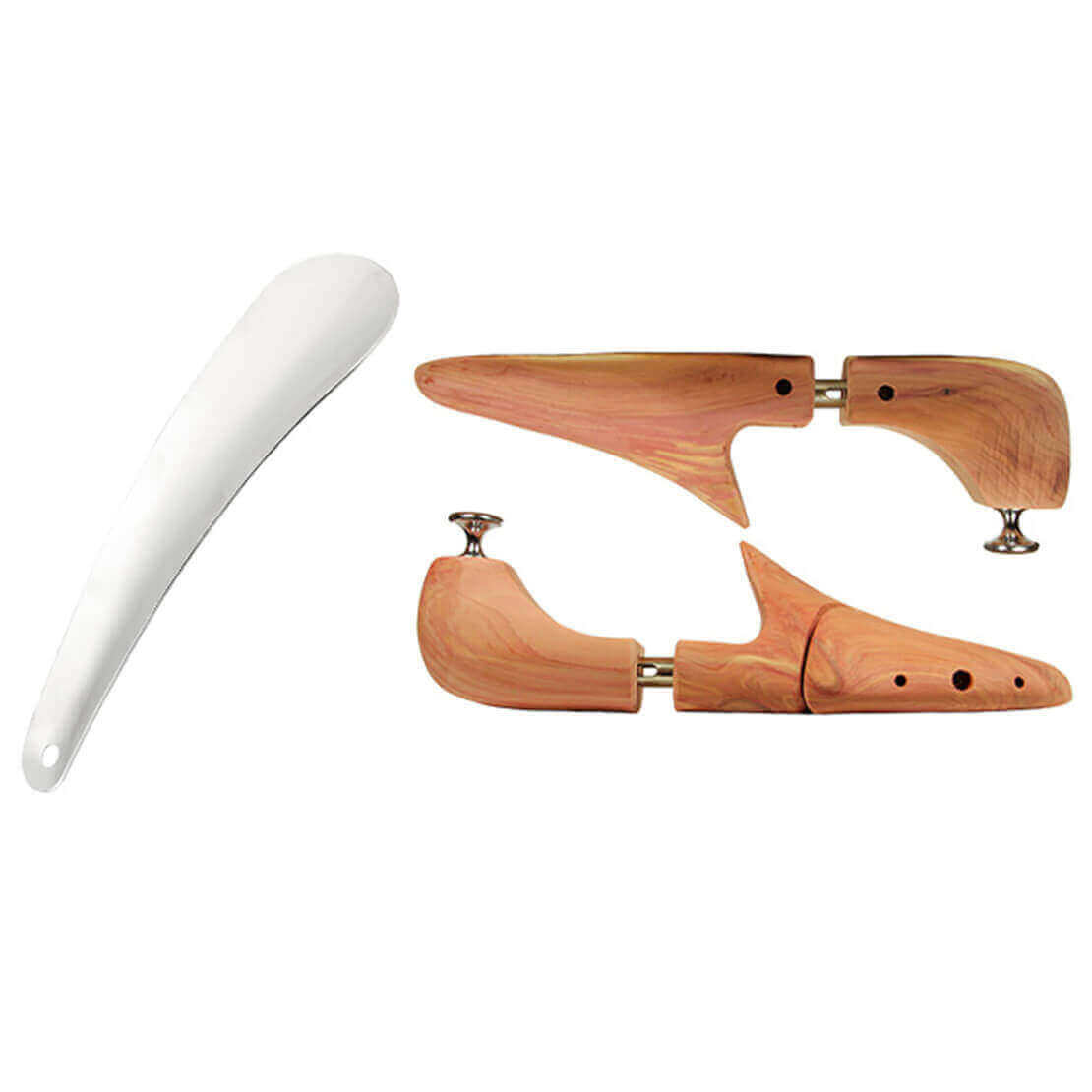 SHOULD THE SOLE BE PROTECTED?
For gum/rubber soles like sneakers you don't have to do anything, the sole is already designed to wear properly, that's its role.

The same goes for the heel. The rubber part is a consumable that you can use without a problem, taking care not to go beyond. You will need to have this item changed at your cobbler before damaging the heel.

For shoes with leather soles, we are tackling a big debate: protective soles, not protective soles, just toe plate, protective soles, and toe plate?

To help you in your choice of protection, we indicate the two unique reasons that could push you to keep your sole bare:

1 - The pleasure of the leather contact with the ground when you walk

2 - The desire not to alter the assembly of your shoe with the addition of new elements

All the theories like the hypothetical modification of the stiffness of the shoe, the lack of breathing for the sole, a possible noise related to the toe plate, etc ... are not valid if you call on good cobblers.

For those who wish to delay or avoid costly resoling, there are 2 levels of protection.
See the products used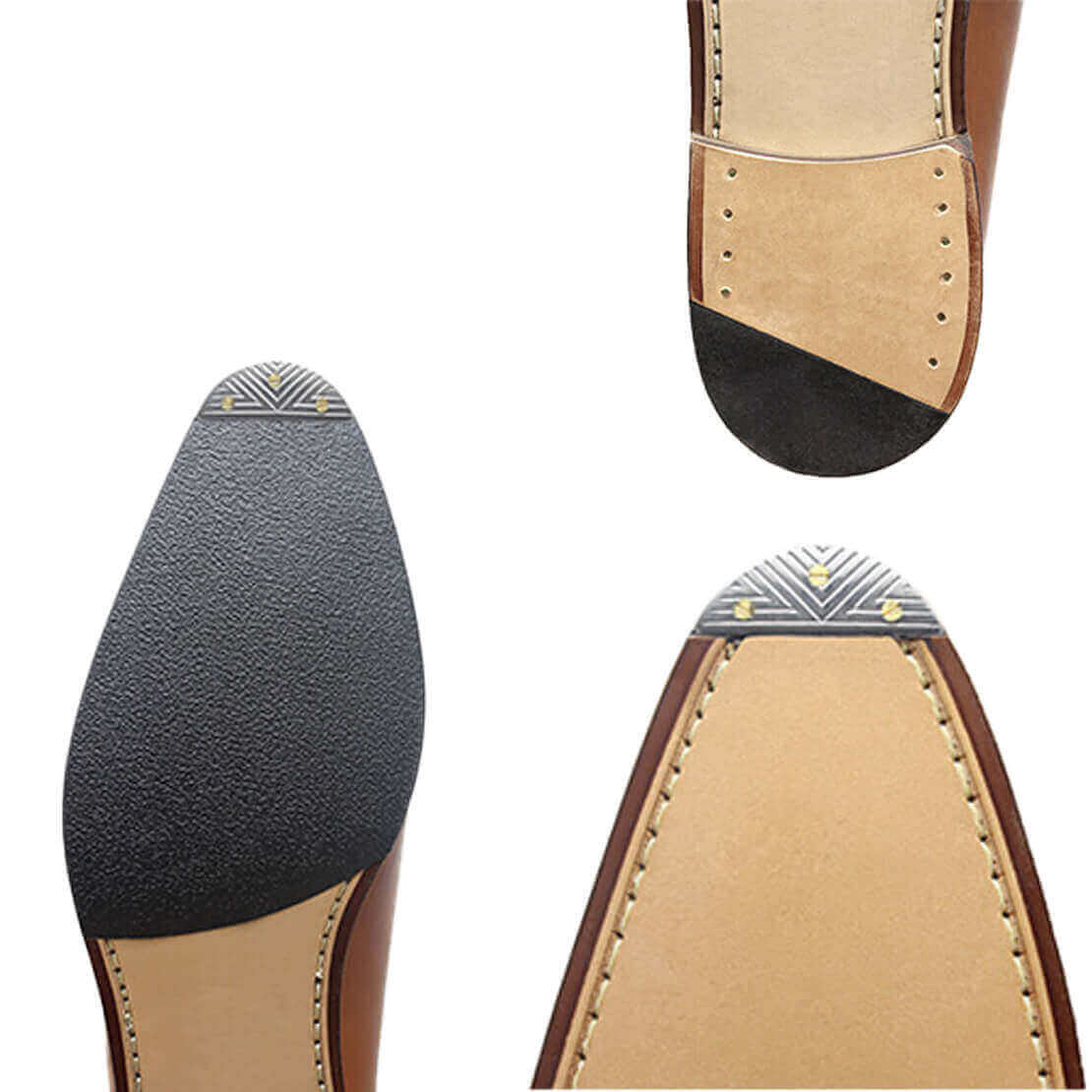 TOE PLATE
The first level of protection is the fitting of toe plate.

They must be embedded in the extension of the sole so as not to make noise when you walk, and must be fixed by brass screws so as not to damage the sole. Avoid nails that go through the entire thickness of the sole and turn inside out.

As the front of the sole is more exposed to knocks and snags, this part wears out faster: the iron helps strengthen this sensitive area. This will wear the sole more evenly and resoling will be delayed for several months.
See the products used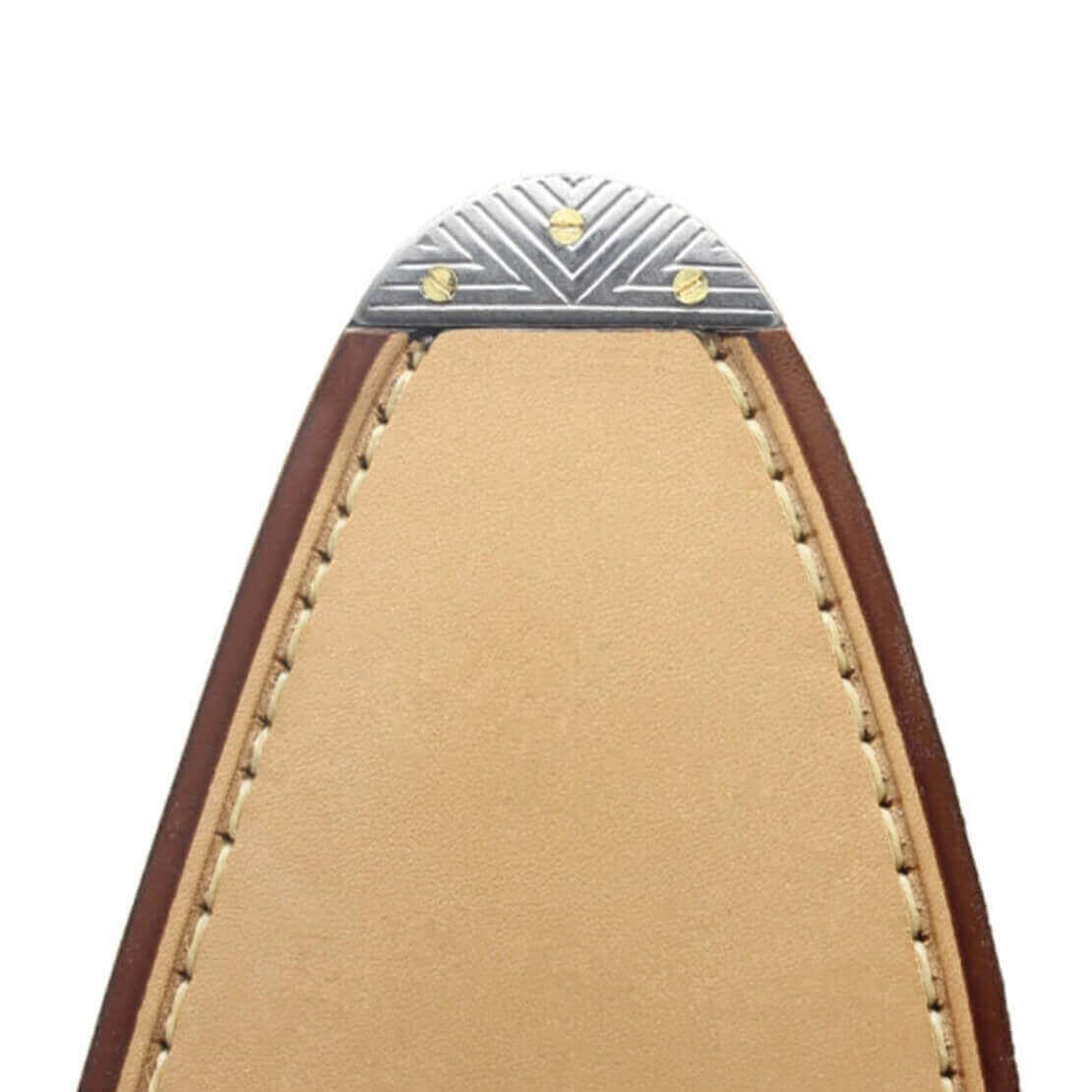 COMPLETE PROTECTION (PROTECTIVE SOLES + TOE PLATE)
The second level of protection, which we recommend, is the installation of protective soles + toe plate.

We remind you that there is no need to "break in" the sole before fitting these protections as long as you call on good cobblers.

The toe plate must be embedded in the extension of the protective soles so as not to make noise and the protective soles must be correctly integrated into the sole with a rounded cut so as not to create new points of flexion.

Be sure to equip your shoes with soft rubber protective soles. Avoid the first prices which could modify the stiffness of the sole.

This protection makes it possible to completely avoid resoling, an expensive operation which weakens the shoe if it is repeated too often.

Note: a few shoemakers have recently offered protective soles that are already integrated. They are often fitted before sewing and cannot be changed. This type of assembly does not replace the installation of complete protection and is more like a rubber sole requiring resoling after wear.
See the products used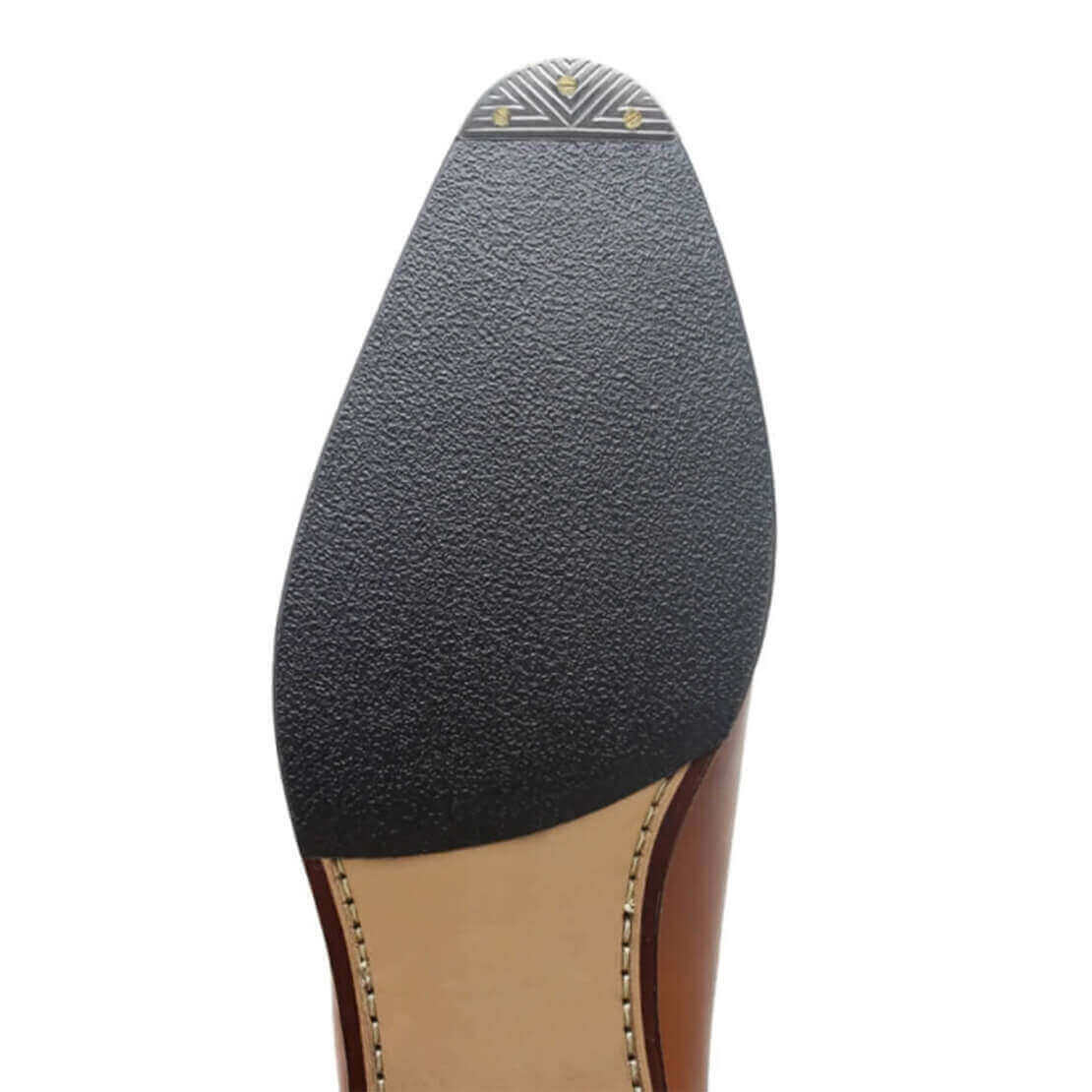 THE FIRST SHOE CARE
A new pair of shoes is rarely maintained or waterproofed. Without this protection your new pair can get stained quickly and will be more sensitive to snags.

Our advice to avoid the first irreversible accidents: carry out an initial maintenance of your shoes even before the first wearing.

For leather shoes: complete leather care (see lesson).

For suede and sneakers: you can content yourself with the protection step with waterproofing.

This will not prevent your shoes from getting dirty, but during the next maintenance, the cleaning step will be hassle-free and you will not have an indelible stain.
See the products used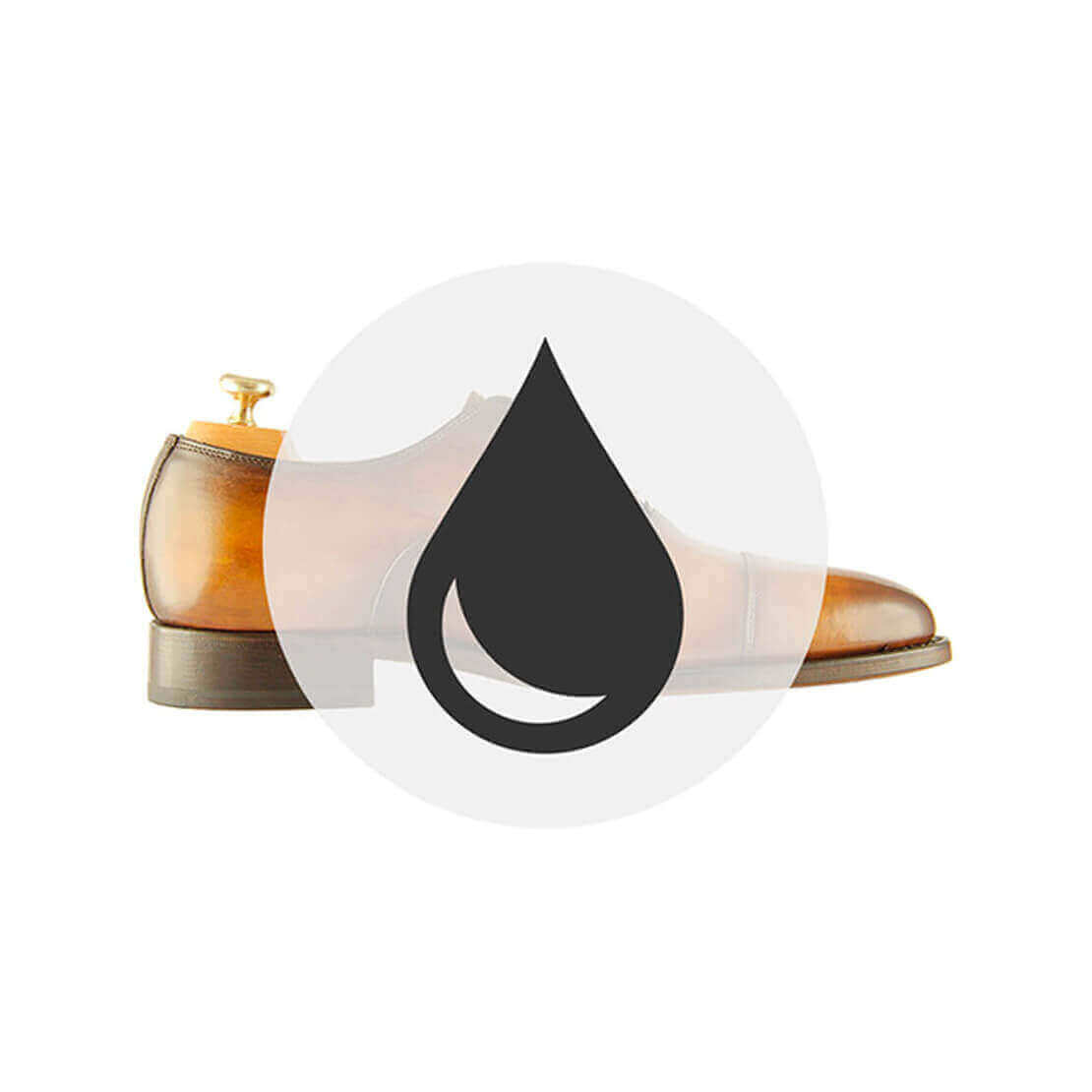 Products used.
Our users can't live without it! Find here the essential best-sellers, recommended by our community.