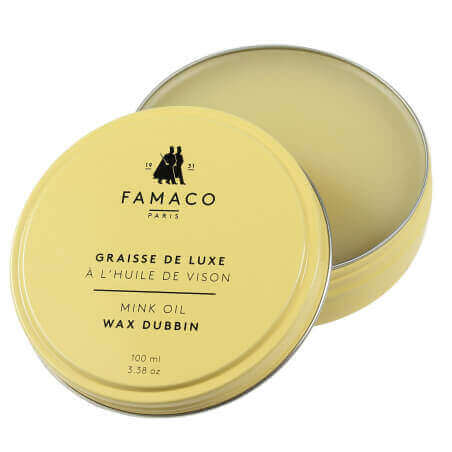  
Mink Oil Wax Dubbin
Allows you to maintain your greasy and robust leathers, its colorless format allows the use of the product on all your leather colors. This product complies with the Monsieur Chaussure quality charter.
Details
This product is
Tested . Checked . Approved
You may also like.
Here are our recommendations that you may need in addition to this product to ensure optimal results.
Description.
Be sure to clean and dust your leather before using the product.

Place the product on the leather in small quantities, then, using a chamoisine or a brush, make small circular movements to make the product penetrate. We advise you not to overload your leather with this product, which would relax the material.

Let the product dry for about 12 hours before handling your leather piece again.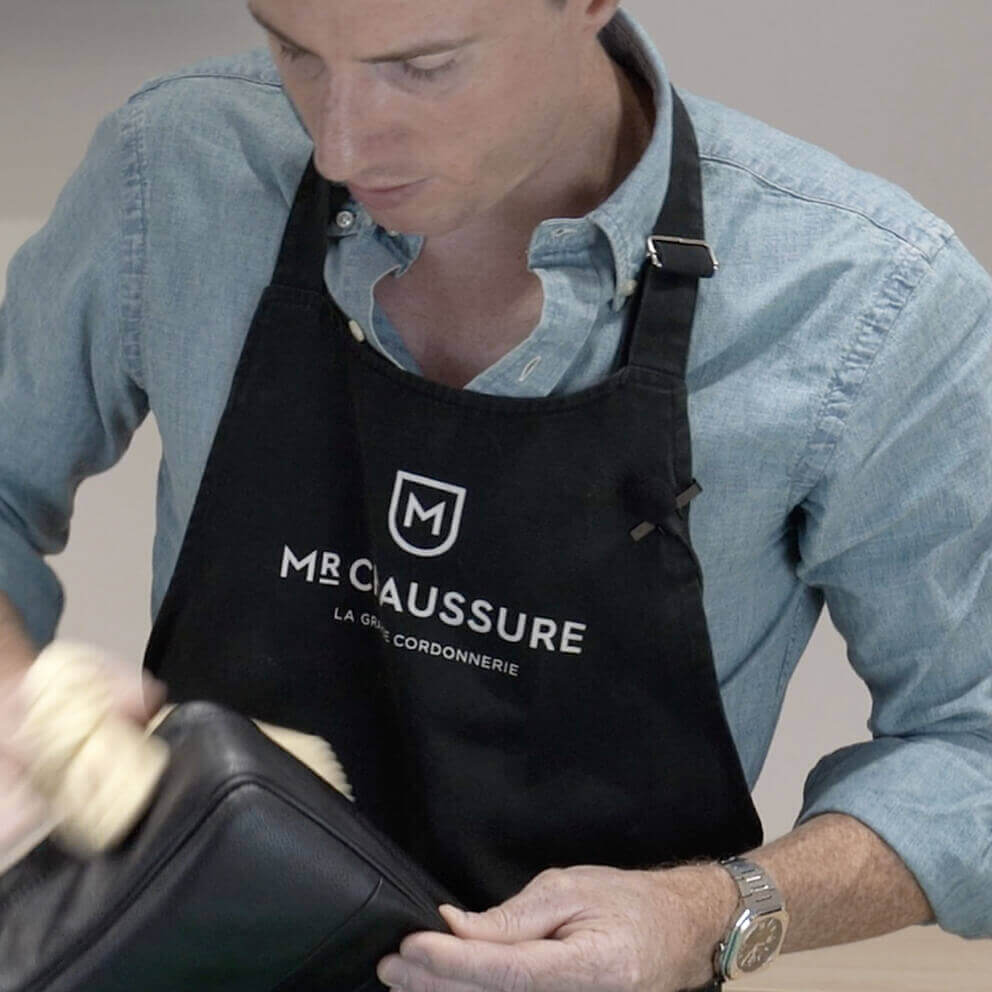 1 review / 5 stars
The rating for this product is 5 out of 5 stars.
We collected nearly 1 reviews from verified buyers.
Jack G.
Verified buyer
Rathcoole, Aug 04 2023
Icing on the cake
I recently had the pleasure of discovering Monsieur Chaussure, and I must say, it has been an absolute game-changer for me and my beloved shoes! This website offers a remarkable selection of shoe care products and accessories that have transformed the way I maintain and protect my footwear. First and foremost, the range of products available is truly impressive. Whether you own leather shoes, suede boots, or even high-performance sports shoes, Monsieur Chaussure has got you covered with their extensive collection. From premium leather cleaners to specialized sneaker protectors, I found everything I needed to keep my shoes in tip-top condition. What sets Monsieur Chaussure apart from other shoe care websites is the exceptional quality of their products. Having tried various brands in the past, I can confidently say that the products from Monsieur Chaussure are a cut above the rest. Not only do they effectively clean and protect my shoes, but they also seem to enhance their overall appearance, leaving them looking as good as new. In addition to their outstanding products, the website's user experience is top-notch. It's easy to navigate, making it a breeze to find the right products for your specific shoe needs. The checkout process was smooth, and my order arrived promptly, well-packaged, and in perfect condition. The customer service team was also very responsive and helpful, addressing any inquiries I had promptly and courteously. Monsieur Chaussure truly understands the value of well-maintained shoes and their impact on a person's overall style. Since using their products, I have received numerous compliments on the impeccable condition of my shoes. I now feel more confident stepping out in any setting, knowing that my footwear is in excellent shape, thanks to Monsieur Chaussure. In conclusion, I cannot recommend Monsieur Chaussure enough for all your shoe care needs. With their exceptional products, excellent customer service, and commitment to quality, this website has earned its well-deserved 5-star rating. Whether you're a sneaker enthusiast or a classic shoe connoisseur, give Monsieur Chaussure a try, and you'll be amazed at the difference it makes in preserving and enhancing your favorite pairs.
Details.
Find all the details for the product:
Mink Oil Wax Dubbin.
For more information on the use of this product you can consult the associated tutorials
Colour range :

All Colours

Category :

Care Products

Materials :

Oiled Leather

Type :

Jar

Volume :

100 ml

Use :

Hydrating & Recoloring

Quick Access :

The Workers' Choice

Weight :

0,122 g

Length :

8,6 cm

Width :

8,6 cm

Height :

2,6 cm