How to clean a very dirty beige sofa?
The sofa is a place of life, where we lounge, eat, play. It is the center of life in a house. And it gets dirty just as quickly.
You will discover here all the gestures to adopt to take care of your fabric or leather sofa and that it lasts decades in the same condition as when you bought it.
Return - Guides & advices
See the products used
This advice file reads in
6 min
Don't listen to grandma's tricks
From clay stones to baby cleansing milk or even products for horse saddlery, you will find an anthology of tricks from the most common to the craziest. All of them are harmful to preserve your sofa from the marks of time and not very effective against dirt. If you follow them, you risk damaging the leather of your sofa. Your sofa may lose its soft touch, and become dry, cracked, rough, or sticky.

Here we explain step by step how to clean your beige leather sofa, especially if it is very dirty!
How to clean a leather sofa
Remove dust, crumbs and other residues
Before you start using products to clean your sofa, you need to remove the dust. Your first reflex would be to use a vacuum cleaner. You can do it on the structure of your sofa but especially not on the leather of your cushions. The powerful suction of the vacuum cleaner will leave marks on the leather of your sofa, marks that cannot be removed.

To make it easier, you can remove all the cushions from your sofa to dust them one by one. To do this, you'll need a scraper. The bristles of the scrapers are made of boar bristles. Boar bristles are also used for hair brushes. Allows you to remove dust and residue without scratching the leather. The bristles are soft to slip into the seams. Where crumbs love to hide.
Which products for which situation?
Now that it is dust free, you can apply cleaning products to your leather sofa.

We offer several types of cleaning products for different situations.
Deeply clean your leather sofa
Let's start with the deep cleaning. We are here in the case where your beige sofa is very dirty, at the limit of cracking because of the dirt that chokes the pores of the leather. A possible solution: the cleaning foam descaling!

You'll need to shampoo your leather once, or even several times. Take a scraper and apply a generous amount of foam to the brush. Now scrub vigorously over the entire surface to be cleaned. As mentioned above, the brush does not scratch the leather so it is safe to scrub your sofa leather. We advise you to insist on the seams, and the grooves. Where the dirt tends to embed more easily.


The foam, initially white, will become gray as it mixes with the dirt and removes it. The pores of the leather are freed. Make several passes until you get an almost white foam.

The advantage of this cleaning product is that it is unnecessary to rinse it! Wipe off the excess foam with a microfiber towel. And boom, you have a clean sofa.

For this type of cleaning, we recommend doing it at least once a month or once every two months. The cleaning foam can also be applied to fabric sofas, including beige sofas.
Leather sofa cleaner products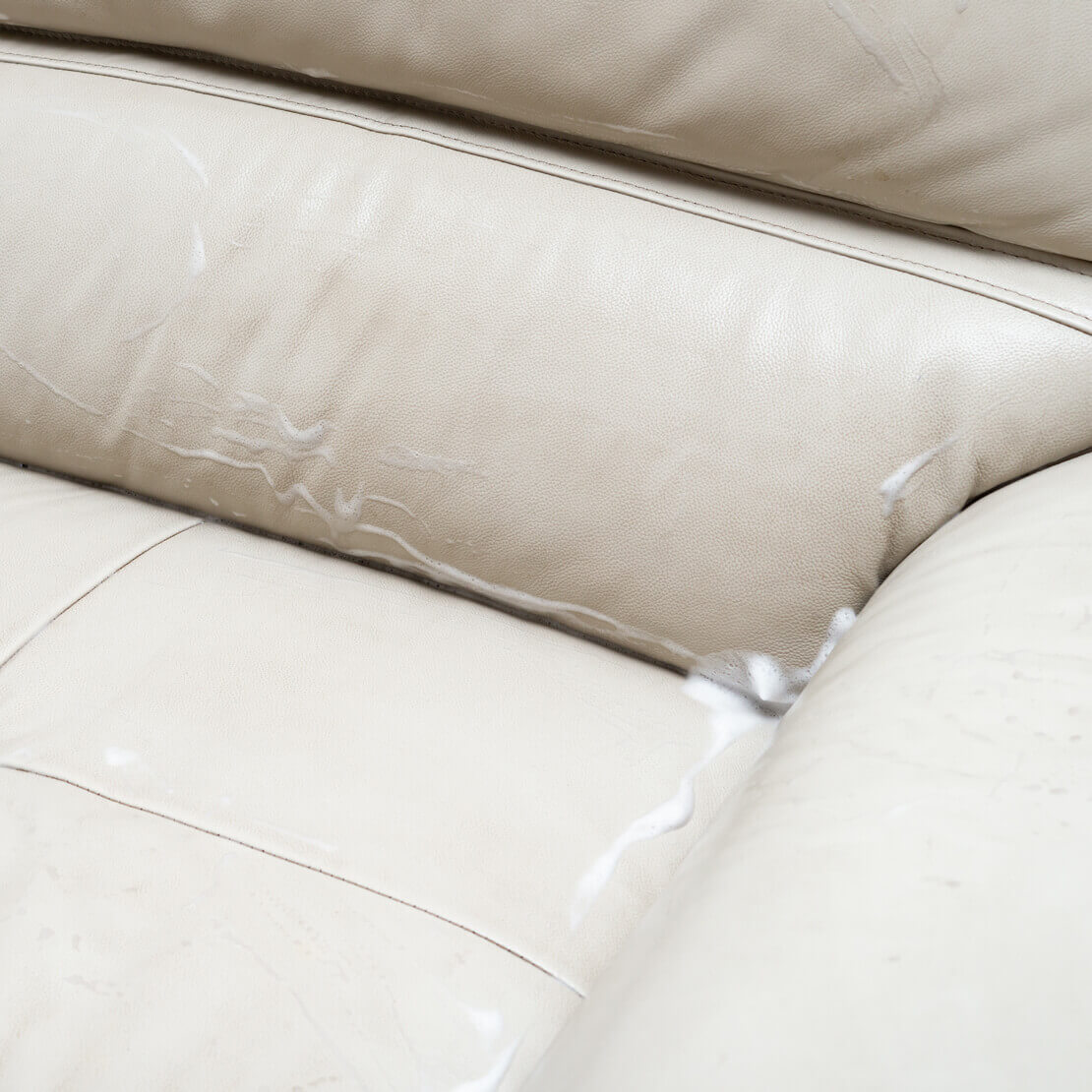 Regular cleaning of your leather sofa
Here we are in the case, where your beige sofa is not very dirty. It just needs a quick cleaning between two deep cleaning sessions. This is a cleaning that we recommend to do once a week. It's a quick way to remove the little stains of everyday life, the fruit juice from breakfast or the piece of chocolate from the movie that accidentally fell between two cushions during the evening movie.

For this case, Bōme's solvent-free gel cleanser is ideal! It's applied to a clean chamois and then you can rub it directly onto your sofa leather. The gel also comes to dissolve the dirt and the chamois comes to tackle it rather than smear the dirt. The chamois is thicker and has a tighter weave, which gives it a great absorption capacity unlike other less absorbent fabrics. In just a few passes, you'll have a clean sofa.

Wipe off any excess gel with your chamois. The gel does not leave a greasy feel or alter the color of your beige sofa.
Nourish and protect your sofa
This last step will preserve your sofa from time and marks.

Provide yourself with the protective gel. The protective gel is always solvent-free. It is enriched with cedar oil. Cedar oil helps to nourish the pores of the leather. It leaves a light lipolytic film. This film makes it easier to dissolve stains during future maintenance.

Take a clean chamois and add the protective gel to it. Spread the product over the entire surface to be protected.

And that's it: you're done!

Monsieur Chaussure's last tip, if your beige sofas are new, protect them! You only need to do this step before cleaning after a few uses.

Translated with www.DeepL.com/Translator (free version)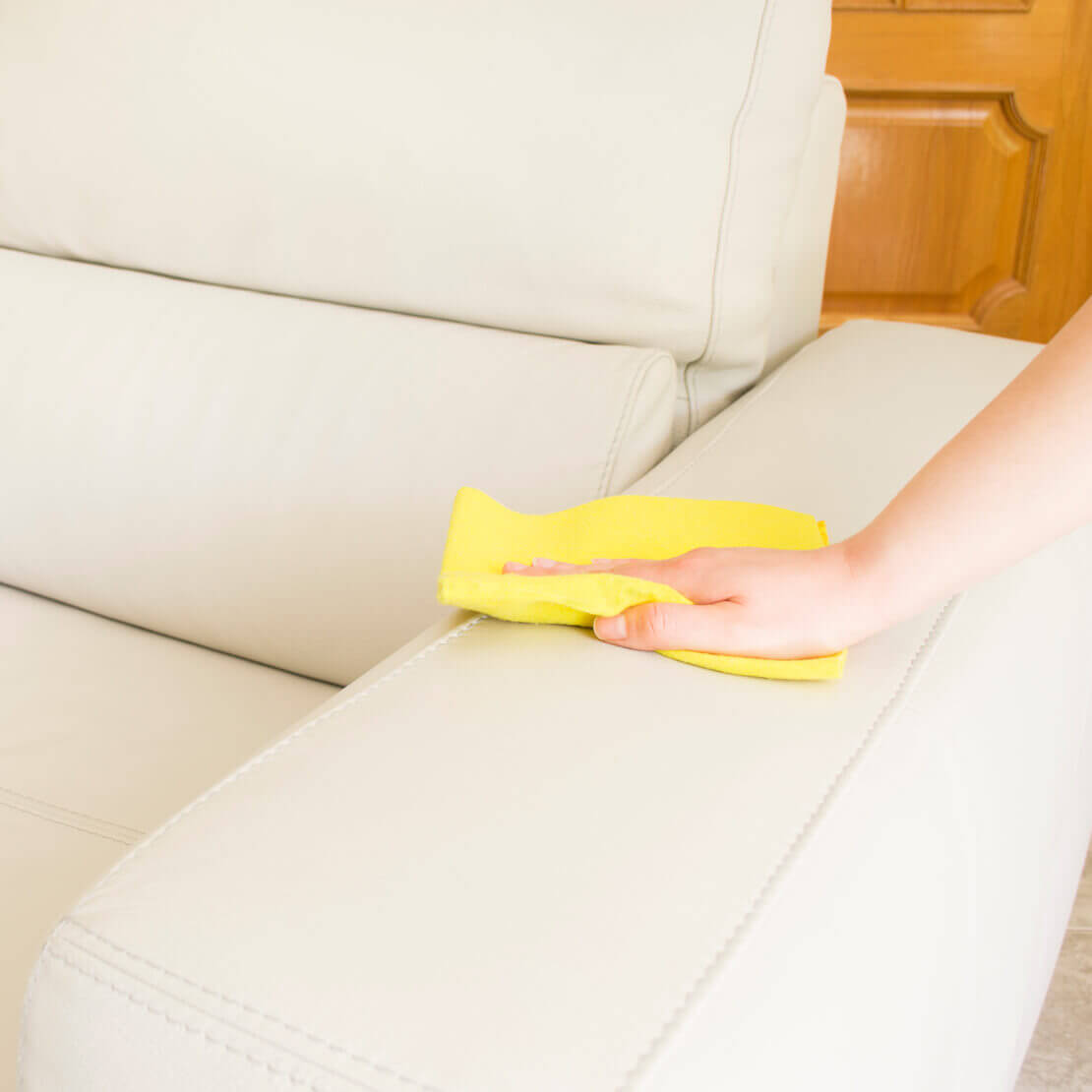 Products used.
Our users can't live without it! Find here the essential best-sellers, recommended by our community.