How do you clean a white leather sofa?
Un canapé en cuir blanc est un incontournable dans les salons. Son éclat peut être maintenu avec quelques gestes simples.
The white leather sofa is a classic in the world of interior design. We explain how to clean it and keep it white.
Return - Guides & advices
See the products used
This advice file reads in
6 min
Introduction
A white leather sofa is an excellent choice. Leather guarantees long-lasting seating and, when finished in white, it gives your interior a modern, elegant touch.

Despite its many qualities, a white leather sofa has one major drawback. Its brilliant colour is easily soiled and dull. So it needs special care to keep it looking like new for many years to come. But there's no need to worry! We'll show you how to clean even the dirtiest white leather sofas.
Tip 1: Dust off your white leather sofa
Dust is the white sofa's worst enemy. Not only does it make it dirty, it also makes it dull and brittle by clogging the pores in the leather. If you want to clean your sofa effectively, remember to dust it from top to bottom first. There are several accessories you can use to do this.

For example, a vacuum cleaner is essential for cleaning a sofa. However, we advise you to use it only on the structure of the furniture and not on the surface or cushions. The power of the vacuum cleaner could leave indelible marks on the leather or even damage it.

To dust the surface and cushions of your sofa, you'll need a special accessory such as a fine boar bristle brush. Both soft and supple, it is ideal for removing grains of dust and getting to the bottom of the ribs without damaging the leather.

A soft, clean polishing cloth can also be effective for cleaning leather, but not just any cloth. Look for chamois models that are specially designed for cleaning leather.
Clean a leather sofa
Tip 2: Clean your white leather sofa
Once you've removed the dust and dirt from your sofa, it's time to clean the leather itself. When properly cleaned, leather becomes softer and shinier.

We recommend using a leather cleaner at this stage to avoid the risk of damaging your beautiful sofa. There's a wide range of products to choose from, including gel and foam cleaners. Of the two, gel cleaners are best for regular surface cleaning.

Simply apply a small amount to a clean cloth. Gently massage the leather with the gel soaked cloth to dissolve the dirt. Repeat the process, massaging the leather more vigorously to remove any remaining dirt.
Clean a leather sofa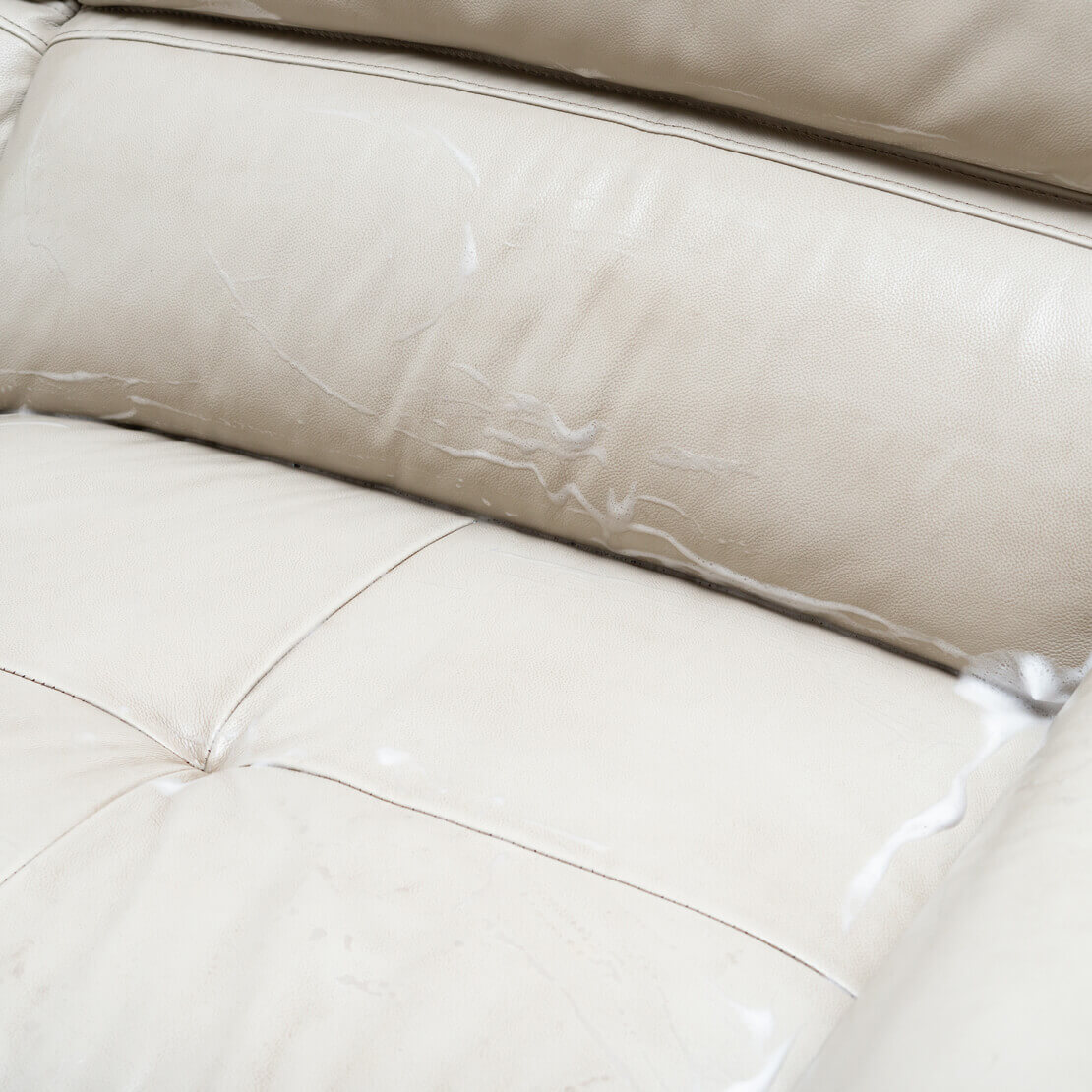 What should I do if my white leather sofa is very dirty?
To get rid of embedded dirt on your white leather sofa, you need to use products that absorb greasy, dry or acidic stains. If they are not removed over time, they will accelerate the ageing of the leather.

For a thorough cleaning of your white leather sofa, use a foam cleaner. Apply it to a Bōme scrubbing brush and use it to scrub the sofa vigorously in circular movements. Repeat until the foam is dark in colour. This means that the surface of the sofa is still dirty. When the foam is white, stop scrubbing and use a clean, absorbent cloth to remove the foam.

This stage is completed by drying the leather of your sofa. You should avoid using heat. Heat can dry out the leather, causing it to crack and lose its suppleness. It is best to wipe with a microfibre cloth and leave to dry in the shade for a few minutes.

If you want to clean a white leather sofa properly, you should avoid aggressive chemical products. Beware of bleach or ammonia, which will dry out and discolour the leather. Bleach can also yellow your leather. The same applies to certain accessories, such as paper towels and scouring pads, which can cause permanent damage to the surface of the sofa.
Clean a leather sofa
Tip 3: Protect your white leather sofa
Protecting your white leather sofa means nourishing and moisturising it to make it look like new again. There are several solutions available in paste, cream, liquid or spray form.

Monsieur Chaussure recommends protective gel. It is recommended for nourishing leather while preventing stains from becoming embedded thanks to a protective film. It also makes the next cleaning easier.

Once the sofa is clean, add a small dose of the chosen solution to a soft cloth and rub the entire surface with it. Then leave the product to work for a few minutes before wiping off any excess with a clean cloth. Leave the leather to air dry.
Clean a leather sofa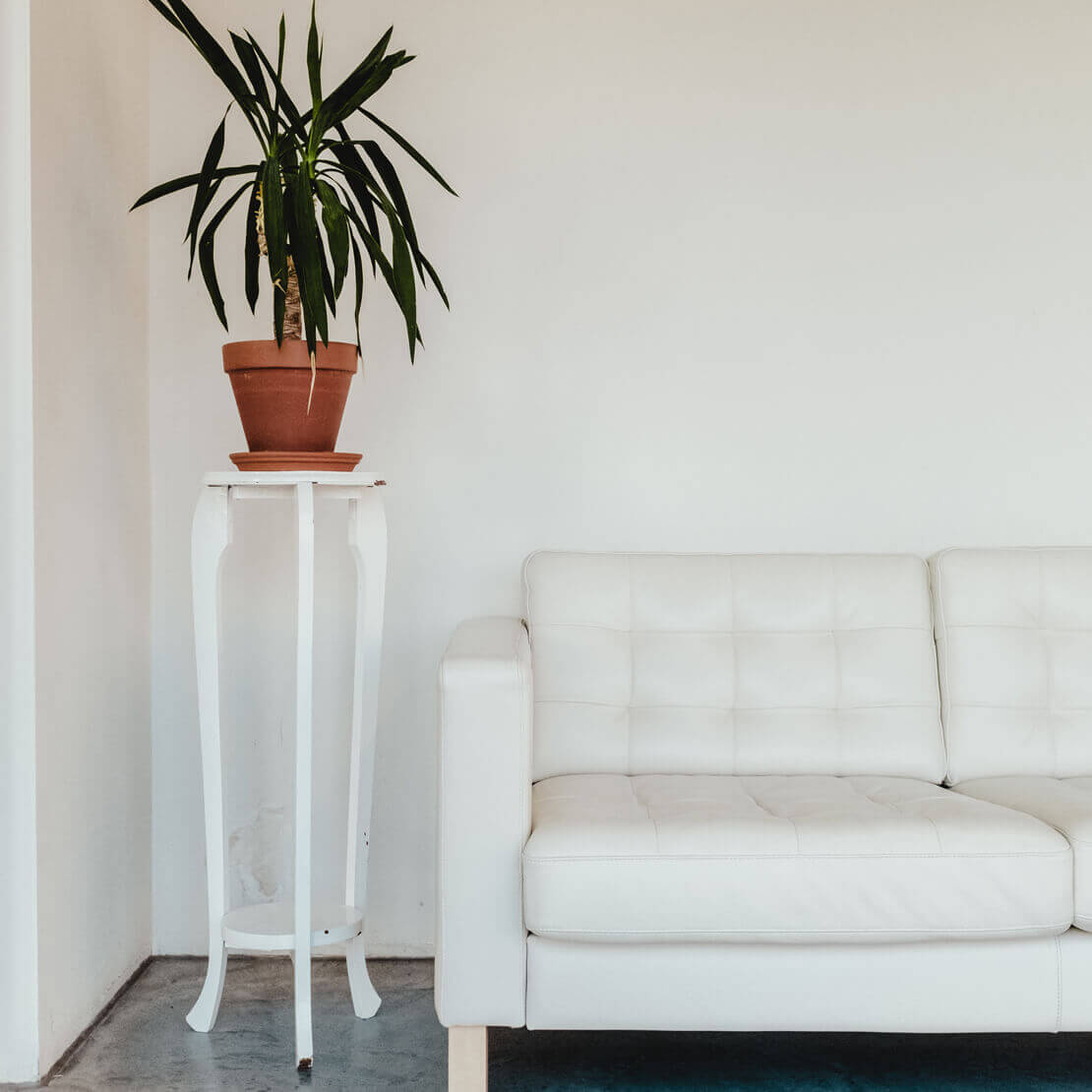 Conclusion
Leather is a natural material that requires regular care, even more so when it is white. This colour both benefits leather and makes it more fragile. It leaves dust and stains more visible, making the leather quickly dull and aged.

Fortunately, cleaning white leather is not difficult when you have the right products and accessories. Foam, gel, milk, brush or soft cloth... The choice depends on how dirty your leather is. In any case, it is recommended that you thoroughly clean your white leather sofa at least once a month, and at least once a week if you clean it regularly. With this frequency, you can be sure of preserving its condition for as long as possible.
Clean a leather sofa
Products used.
Our users can't live without it! Find here the essential best-sellers, recommended by our community.