History of the Hermès Kelly bag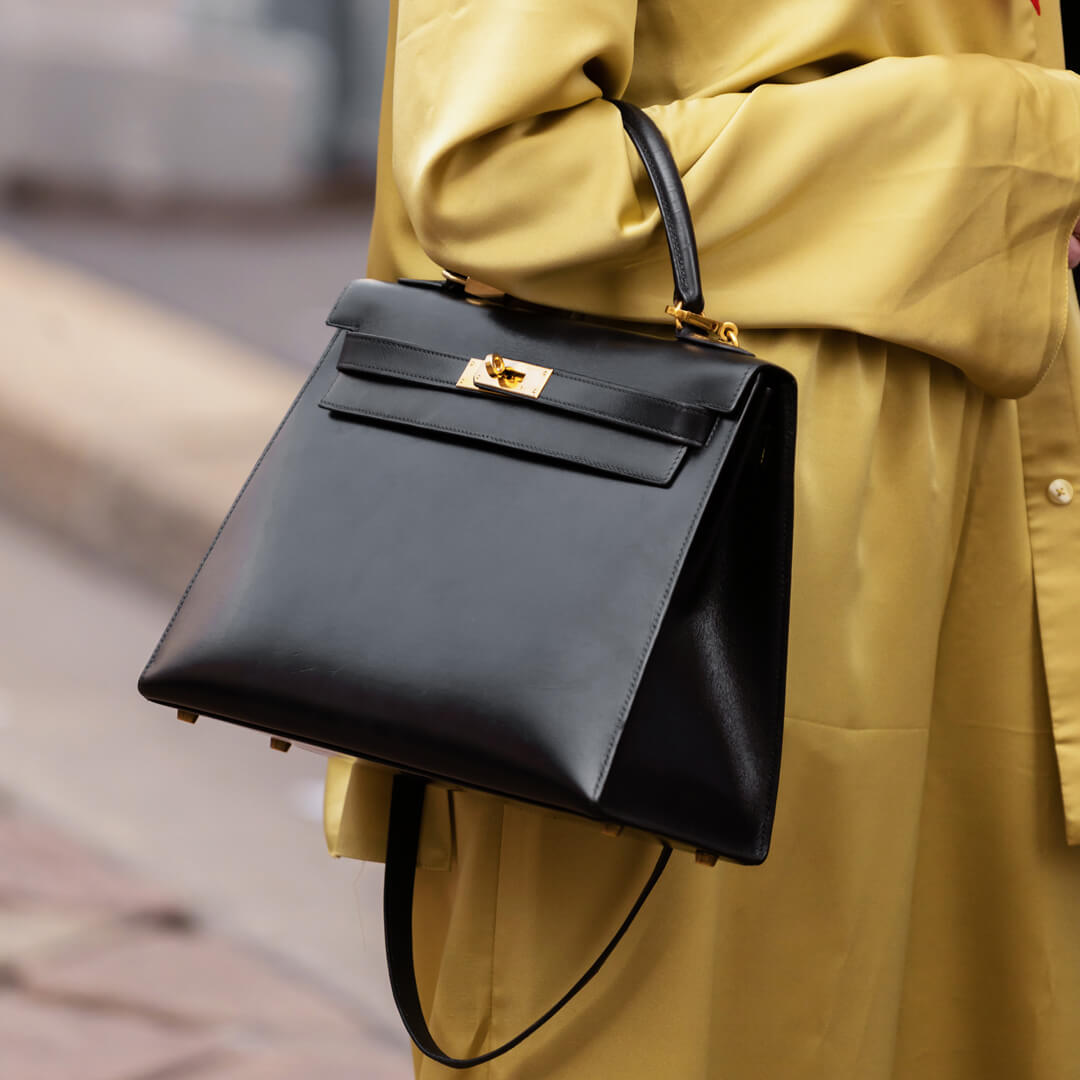 We reveal the history of the legendary Kelly bag by Hermès.
From its creation to the present day, the bag has gone through a number of different stages. Here are a few tips on how to care for your bag.
Return - Decodings
See the products used
This advice file reads in
6 min
The Kelly bag, an iconic Hermès piece
The Kelly bag is one of Hermès' signature pieces. Sober, elegant and refined, it embodies grace and femininity.

A must-have in every woman's wardrobe, many fashionistas consider it a collector's item in its own right. But where does this legendary bag come from? Here's a look back at the history of the Hermès Kelly bag!
Origins of the Hermès Kelly bag
The history of the Hermès Kelly bag goes back a long way. Its origins date back to the end of the 19th century, to 1892 to be precise. Even if, at the time, this women's handbag did not yet bear that name. The founder of the luxury house, Thierry Hermès, developed the "Haut à Courroies" bag. Far from its current aesthetic dimension, this first version had a very pronounced practical aspect. In fact, it was a large dispatch bag designed to carry equestrian equipment.

But things took a completely different turn a few years later, in 1935. Robert Dumas-Hermès, Thierry Hermès's son-in-law, took the radical decision to revisit the leather bag.

First, he changed the general shape of the model, opting for a much more feminine trapeze cut. Then he substantially reduced the size to make it more practical and better suited to everyday use. The result is clear: this women's bag is a hit with consumers. Its chic yet discreet design adds a touch of luxury and refinement to any outfit.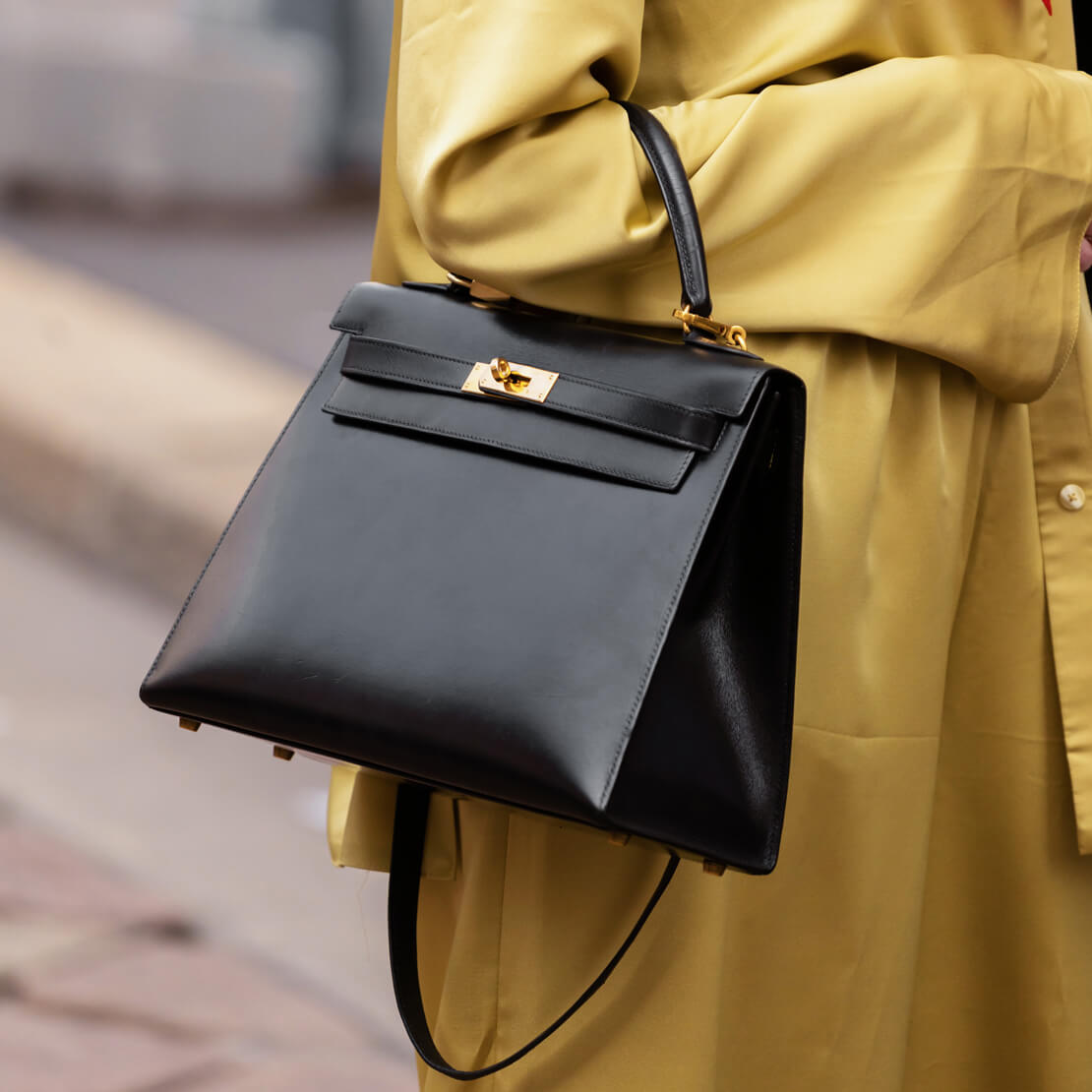 Princess Kelly and the Hermès bag
Robert Dumas's pretty leather bag enjoyed modest popularity for almost 25 years. However, a landmark event changed the history of the luxury handbag forever.
Star actress Grace Kelly joined the film crew of Alfred Hitchcock's 1954 movie "The Hand in the Snare". She was given a Hermès bag to complement her character's style and fell in love with it. She never parted with it, even off the set. All this could have gone unnoticed, but it did!

Two years later, the Hollywood actress married Prince Rainier III and officially became Princess of Monaco. Over 30 million people watched her wedding live on television. She undoubtedly became a world-famous figure. In 1958, Grace Kelly was photographed leaving the plane, her trusty Dispatch bag placed in front of her belly to conceal her pregnancy.

The iconic photo made the front page of every magazine. The Princess of Monaco was the epitome of elegance and glamour, dressed in her sublime coat, white gloves and sunglasses. Even the Dépêches bag was in the spotlight. Its popularity soared that Hermès decided to rename it "Kelly" in 1977.
Kelly bag assembly and specifications
The Hermès Kelly bag is characterised first and foremost by its iconic design. It has an elegant trapezoidal shape, from 15 cm to 50 cm, with leather straps that cross to close. But it's the pretty little padlock that gently secures the leather bag that makes it instantly recognisable. Beautiful, practical and functional, the model sold in Hermès boutiques is a timeless addition to any woman's wardrobe.

The refinement of the Kelly bag is not limited to its aesthetic appeal. The materials used in its manufacture also exude luxury. It's available in a wide range of premium materials, including lambskin, crocodile leather, ostrich leather, grained calf leather and Clémence bull calf leather.

So everyone will be able to choose the ideal bag to personalise their outfit, or the one that suits them best. You can easily wear it for any occasion. What's more, they come in a variety of shapes and colours.

But that's not all! This little bag is the result of unique expertise. It usually takes 4 years to get a made-to-measure model. A craftsman works 18 to 20 hours to make a single piece by hand.

What's more, you can trace the origin, name of the craftsman and year of manufacture of each handbag using its hallmark.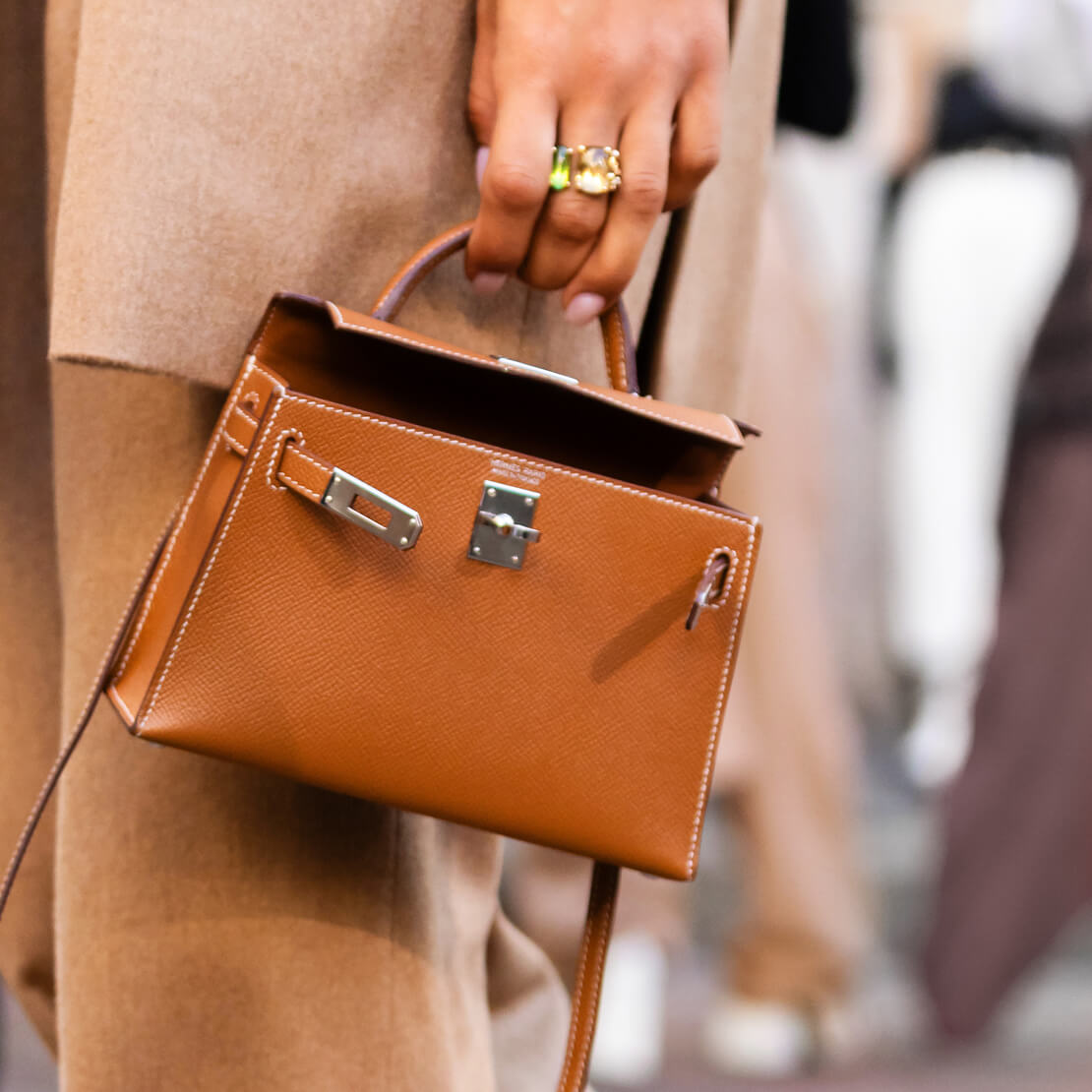 Variations of the Kelly bag
Jean-Paul Gaultier's creative influence at Hermès was undeniable in 2004 and 2006. This French fashion designer breathed new life into the classic Hermès kelly bag. He came up with daring variations such as the kelly clutch bags: Mini Pochette Kelly and Kelly long. The appearance of these mini-bags proves that the legendary leather bag is capable of adapting to trends while preserving its heritage of refinement and sophistication.

In addition to the variations resulting from the collaboration with Jean-Paul Gaultier, other versions of the luxury brand's small handbag have also appeared. The Kelly Lakis, for example, has an external zipped pocket that enhances its functionality. The Kelly Porté Épaule, meanwhile, offers an equally elegant alternative for those who prefer a shoulder bag to the traditional handbag.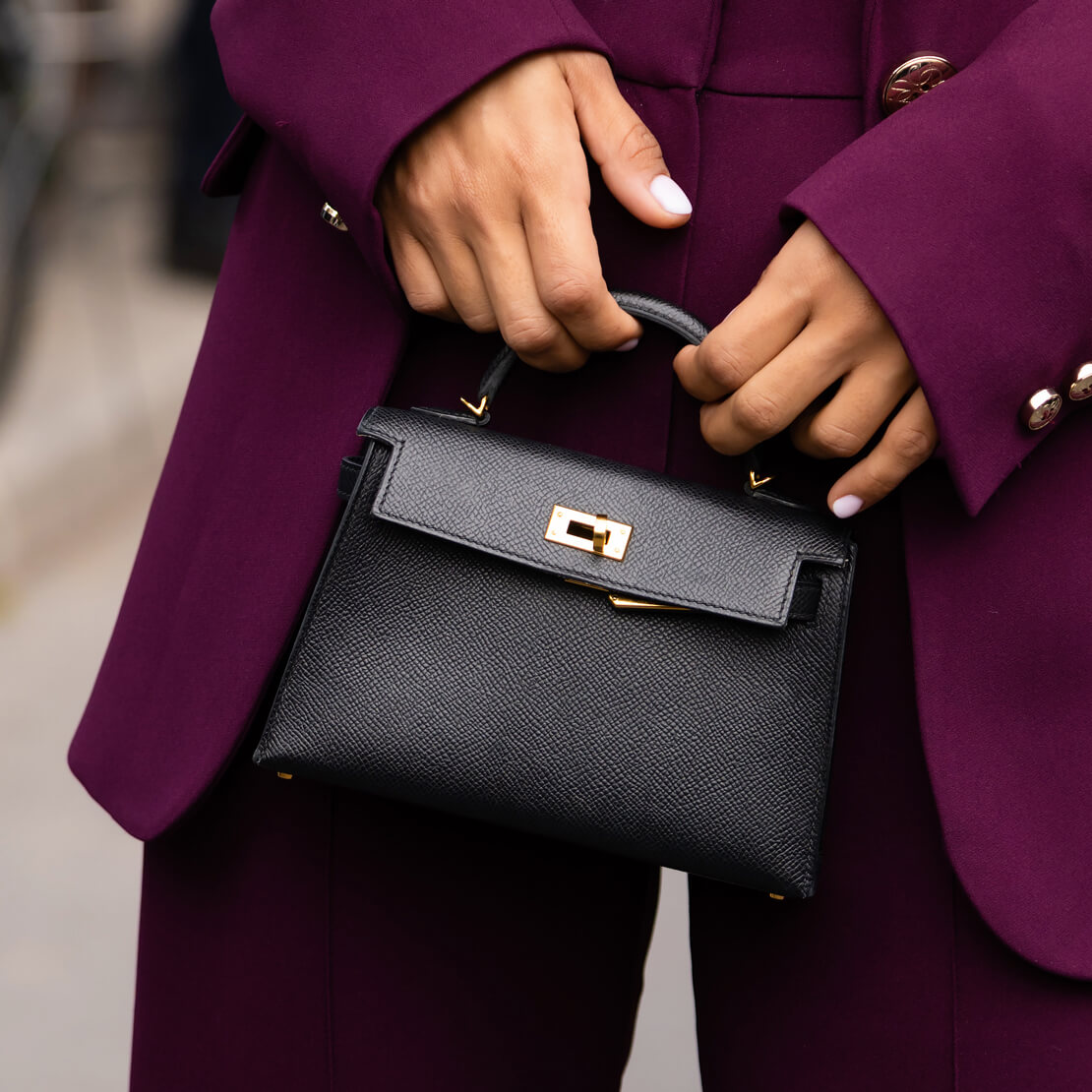 A few tips for looking after your Hermès Kelly leather bag
A kelly bag is a collector's item that's worth investing in. It's essential to look after it at least once a month to preserve it and extend its life. But how do you clean a leather bag? Follow these 5 steps to make sure you get it right:
Remove dust using a scraper, i.e. a small, bristle-studded brush (preferably boar bristle). Avoid synthetic materials at all costs as they can damage the leather.
Clean with a special leather goods cleaning gel and chamois.
Renovate the colour (optional) using a special leatherwork renovation milk.
Nourish with a nourishing gel to keep the leather supple and prevent colour transfer during renovation.
Protect the leather bag with a special leather goods spray protector and a chamois cloth. In this way, it will regain its suppleness while being less exposed to the risk of cracking, crazing, chapping, etc.
Clean your leather bag
Products used.
Our users can't live without it! Find here the essential best-sellers, recommended by our community.