How to maintain your leather jacket?
Guides & Advices
Leather Goods
Your leather jacket needs the same attention as your bags and shoes to keep its original shine and feel.
Although machine-washing your denim or cotton jacket is advisable, it is forbidden to do so with your leather jacket or blouson. You risk damaging it irreversibly. The leather of your jacket requires cleaning and renovation with specific products. Discover Monsieur Chaussure's method to keep your leather jacket as long as possible.
Return - Guides & advices
See the products used
This advice file reads in
5 min
Taking care of your leather jacket is key
Regular maintenance of your leather jacket is necessary for the leather to age optimally. A complete cleaning involves several steps and takes a few minutes to perform.

Once a month is enough, and you will double the life of your jacket! Here are a few rules to follow to change the life of your jacket:
RULE 1: WATERPROOFING BEFORE THE FIRST PORT
As soon as you leave the store, it is imperative to protect it. It is very simple, you just have to spray some protective spray on the whole jacket. Don't forget to close the pockets and unbutton the snaps of your perfecto so you don't miss any areas.

Cover your jacket with a protector then spread it with the Bōme chamois. As you spread it out you form a light film of protection. This film will act as a barrier against rain and stains. They won't stay embedded during your next full leather jacket maintenance.

You can apply the same advice to your leather jacket.
RULE 2: CLEAN THE COLLAR AND THE ENTIRE JACKET
To properly apply all the products mentioned, it is necessary to make slow and circular movements to cover all the areas to be treated.

Let's start by washing the collar of your leather jacket, take the Bōme scraper and pass it over the entire area. Pay particular attention to the seams, creases where dust likes to creep in.

Repeat this step on the entire leather jacket. We recommend insisting on the bottom of the sleeves, around the snaps and where there are seams.

After dusting the entirety of your jacket, you can apply the Bōme cleaning gel with the chamois. If your jacket has never been cared for, apply several coats of cleaner until you have a nearly white chamois. The gel is solvent-free and will not damage the leather or alter the feel by drying it out, for example. This cleaning product can also be applied to leather jackets.

From here, you have two options:
A single simple maintenance including dusting, cleaning, nourishing the leather and protecting it.
A renovation with the application of a milk renovator to repigment your leather jacket.

For the classic maintenance, after cleaning you apply a small amount of nourishing gel on a clean chamois. Massage the leather until the product is absorbed. Use a small amount to avoid saturating the leather. You then finish by applying the protective spray to protect the jacket, and keep it intact as long as possible.

For the renovation, you apply a milk renovator of the color of your jacket before moving on to the step of nourishing your jacket or blouson. Apply a drop of milk to a clean chamois and apply the product in circles. By making circles, you will deposit a light layer of colored pigments on your leather. Continue until you have covered the entire leather of your jacket. You can lightly insist on the areas where there is friction and wear creases like the sleeves, and the collar.

After applying the renovation milk, you can go back to the classic maintenance steps: the nourishing gel and the protective spray. When you apply the nourishing gel, you will have the impression that you are removing the color you just put on.

Don't panic! This is not true, you are just removing the excess that has not been absorbed by the leather. You can apply several thin coats of nourisher to remove the excess and fix the pigments in the leather.

You can see several renovations done in our workshop on our Instagram account.

And there you have it, you have just completed a cleaning and renovation of your leather jacket.
How to clean leather jacket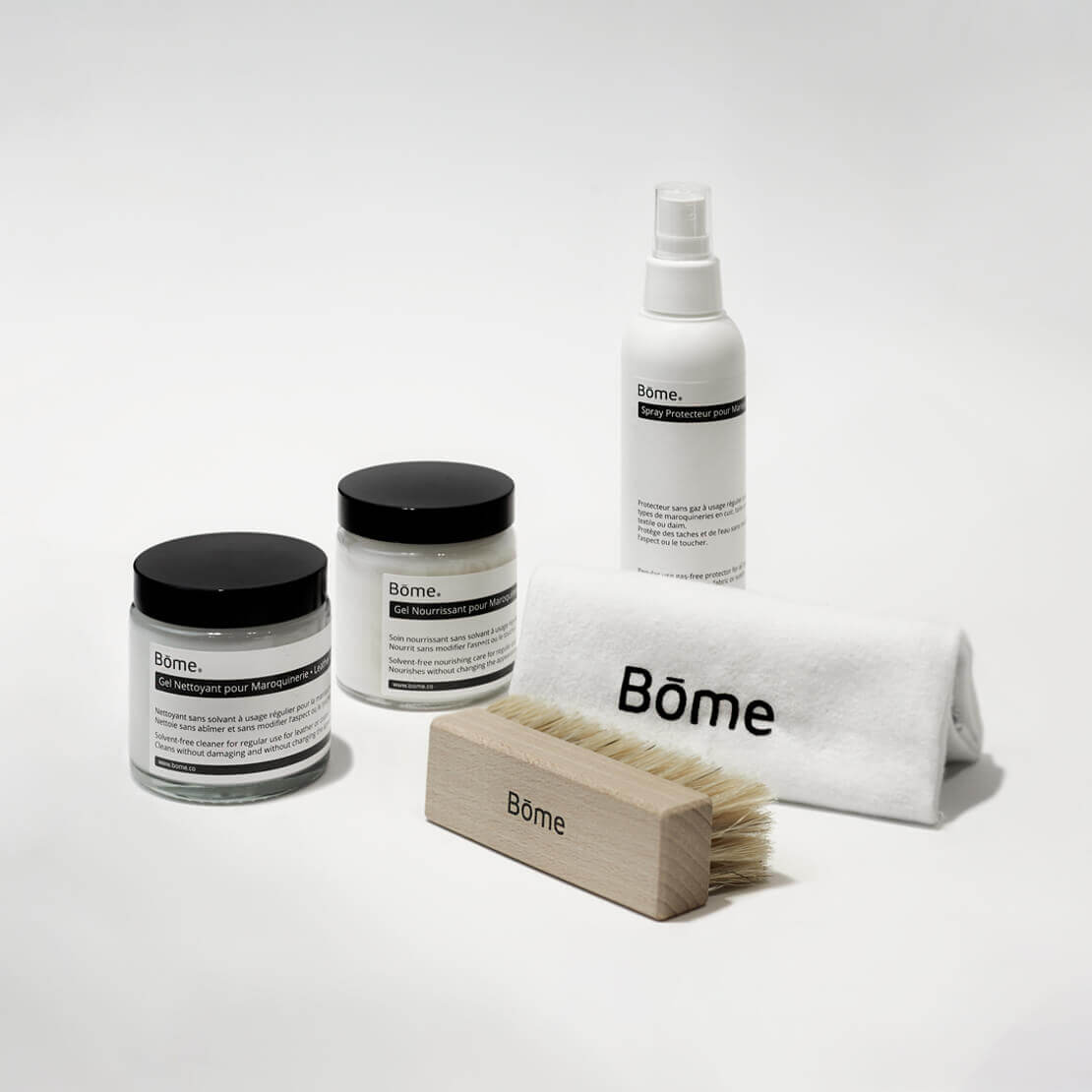 RULE 3: REMOVE GREASE STAINS
In case you have accidentally stained your jacket with grease, there is a solution to remove it.

Apply Terre de Sommières on the stain as soon as possible. Let it sit for several hours. After a few hours, use the Bōme scraper to remove the excess.

Next, we recommend that you perform a renovation of your entire jacket, focusing on the stained area. Thus, the stain will fade and you will find your jacket almost in its original state.
Stain remover
RULE 4: KEEP YOUR LEATHER JACKET IN GOOD CONDITION
Vous avez réalisé un entretien ou une rénovation, vous n'allez pas rouler en boule votre veste et la jeter dans votre armoire. Nous partageons avec vous nos derniers conseils pour bien ranger sa veste et blouson en cuir.

Tout d'abord, et vous le savez sûrement déjà, vous pendez votre veste systématiquement sur un cintre. Ce geste tout simple permet de conserver la forme de votre veste.

Ensuite, votre veste n'aime pas trop la chaleur, l'exposition au soleil, l'humidité. Nous vous recommandons donc de la ranger dans une armoire quand vous ne la portez pas. Et au moment de changement de saison, on la met sur un cintre et dans une housse pour l'hiverner avant de la sortir l'année prochaine.

Il faut aussi penser à protéger votre blouson de la poussière, du soleil et des saletés dans une housse lorsque vous ne le portez pas sur une moyenne ou longue durée.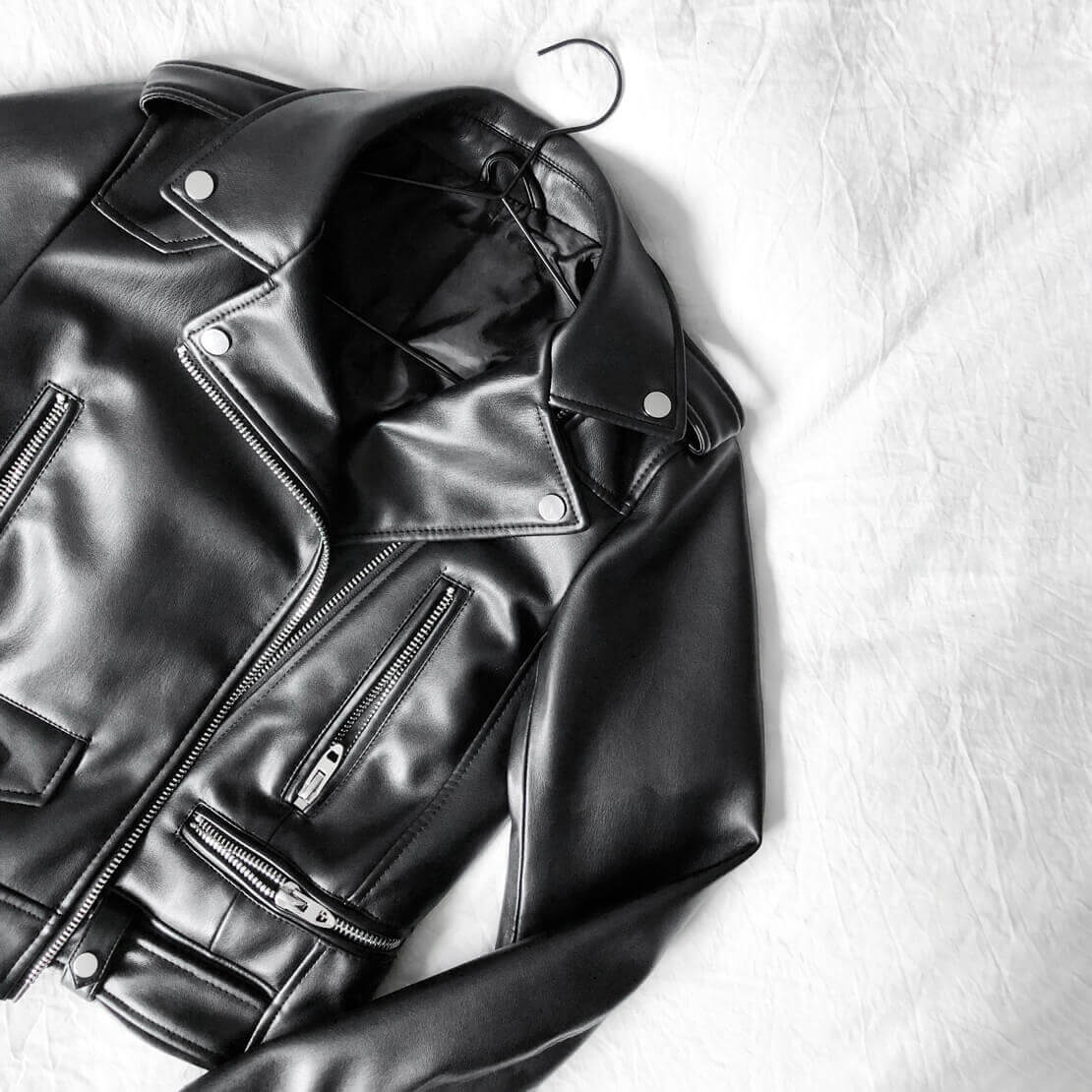 YOUR PERSONALIZED DIAGNOSIS
The advice given in the article is suitable for all leather jackets, lambskin, and imitation leather. If you would like a personalized diagnosis, contact our team directly from our website.
Products used.
Our users can't live without it! Find here the essential best-sellers, recommended by our community.