Should you waterproof your leather shoes?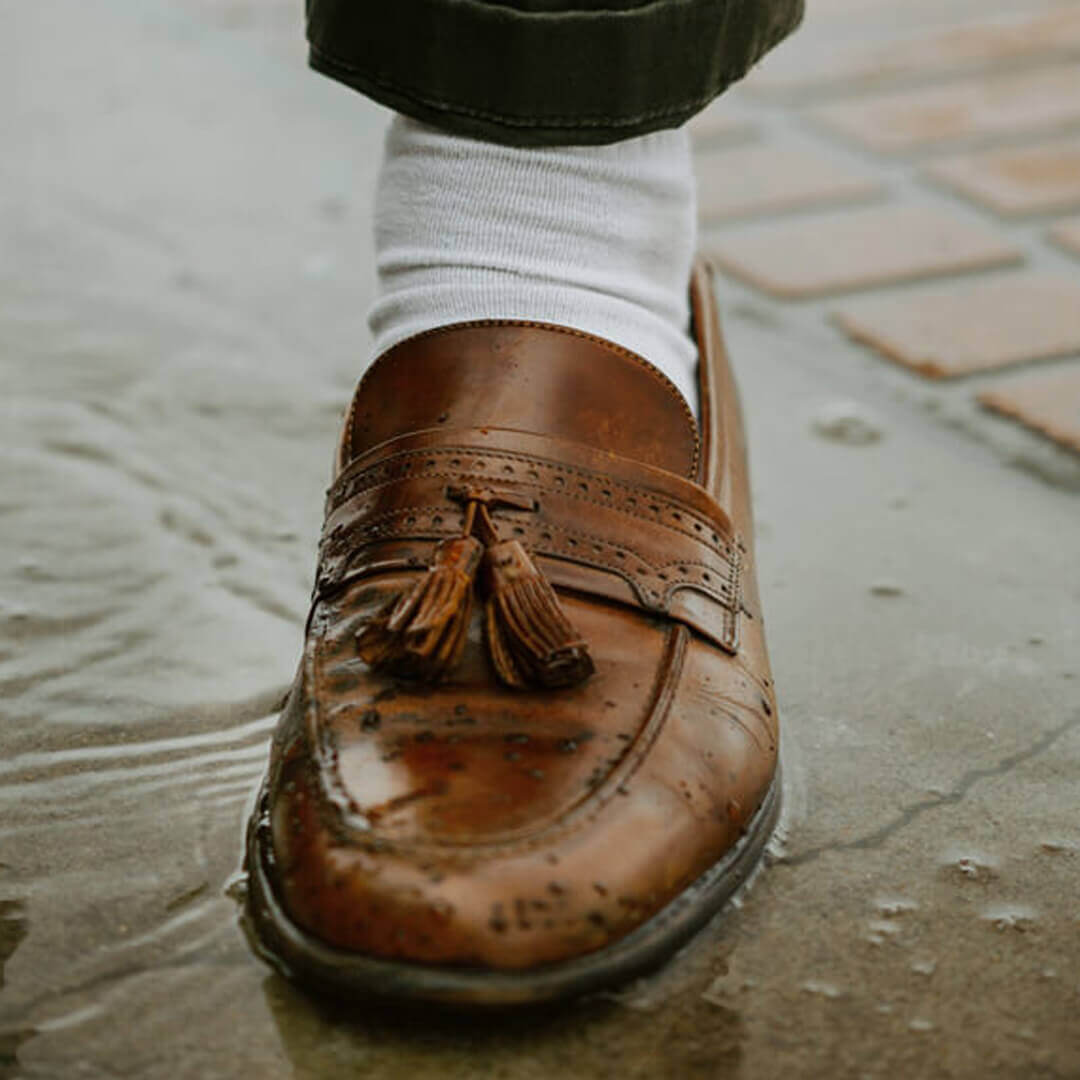 Your leather shoes are particularly vulnerable to rain, their greatest enemy.
Moisture can cause a range of problems, from stains and discolouration to mould and mildew. Find out how to protect your footwear.
Return - Decodings
See the products used
This advice file reads in
4 min
Why waterproof your leather shoes?
It's best to protect your leather shoes before they come into contact with moisture and dirt. Protect your shoes with our tips to keep them looking like new. Protect your beautiful shoes from the elements.

When the weather turns bad, your shoes are at risk of moisture and dirt. To ensure they last as long as possible, we strongly recommend that you waterproof them before using them outdoors.

We recommend that you protect them from moisture. Water in itself is not necessarily a problem for leather, as there are several stages in the production of leather. However, water carries dirt that will stain your shoes for a long time. Constant contact with water can also deform smooth leather and leave moisture marks.

Here we explain how to waterproof your shoes and which product to use depending on the material of your shoes.
Waterproof your leather shoes
For leather shoes, we recommend the use of shoe polish paste. Shoeshine paste is applied to smooth, grained leather. Known for making your shoes shine, shoe polish remains on the surface. Shoeshine paste does not penetrate, so it stays on the surface, preventing water from seeping through and dirt from getting into your shoes.

It leaves a light protective film that protects against all types of external aggression. Dirt stains the polish but not the leather, which can be easily removed for future care.

Shoe polish paste is applied to all your shoes with a palot brush. To activate it, rub with a polishing brush. This will activate the protective properties of the beeswax.

Some articles suggest using a waterproofing spray on leather. We do not recommend this as waterproofing sprays can leave white rings on your shoes. That's why our shoemakers do not recommend this method, however tempting it may be.
Waterproof leather shoes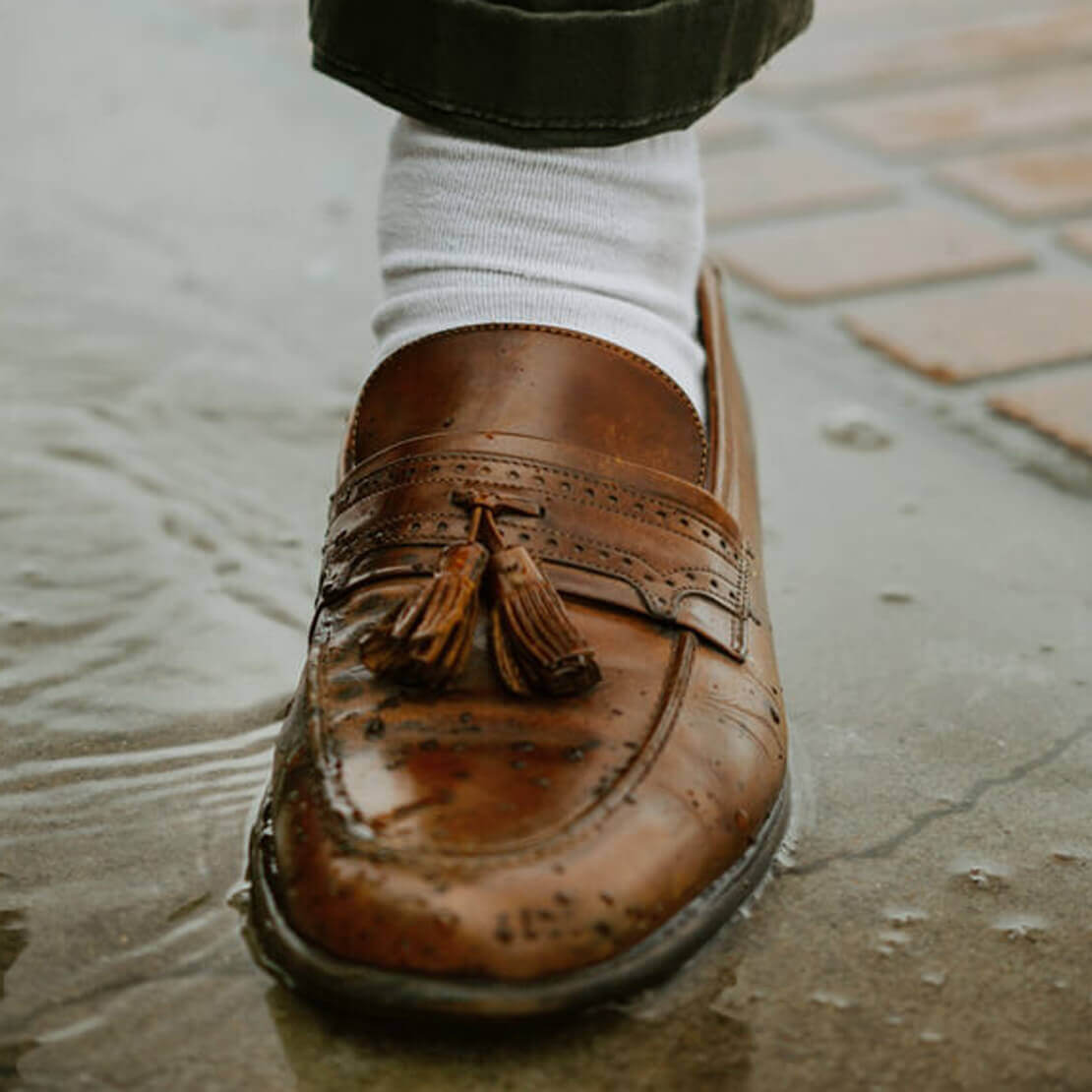 Waterproof your suede shoes
Unlike leather shoes, waterproofing sprays are highly recommended for suede shoes. They can be used on suede, nubuck and calfskin shoes.

Traces of moisture, water and dirt are more visible on suede shoes, especially light-coloured shoes. The waterproofing spray protects them from external aggression.

Its unique formula coats each suede pile with a protective film to keep out moisture and dirt. You'll see water and other liquids slide off your shoes without leaving a trace.

Dirt settles on the surface and is not absorbed by the suede. This means that dirt can be easily removed for future maintenance.
Waterproof Products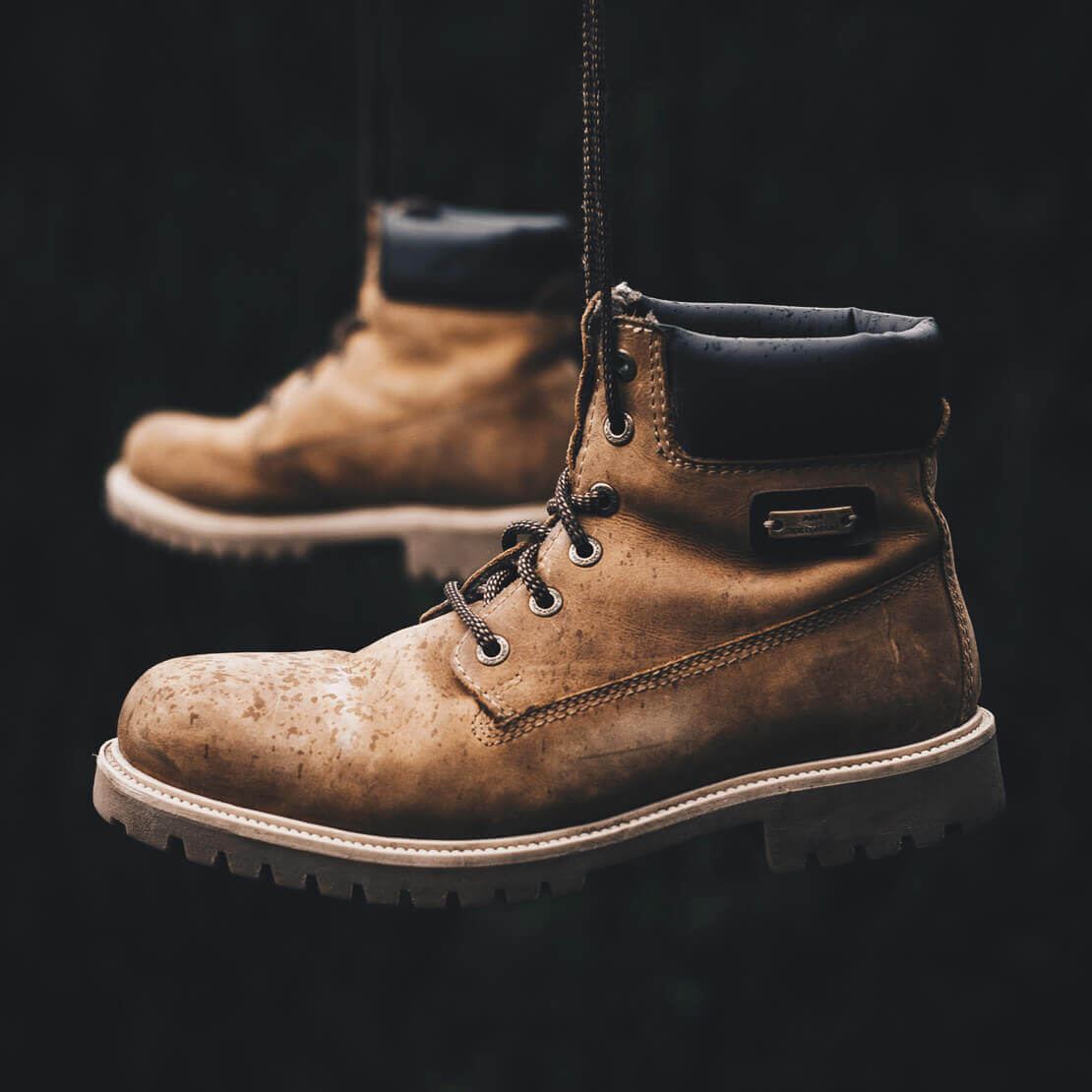 Waterproof your leather and suede sneakers
To maintain the beauty and durability of your leather and suede trainers, it's important to waterproof them regularly.

Unlike leather shoes, leather trainers can be waterproofed. We recommend using a waterproofing spray on all your trainers.

This product forms a thin protective barrier over the entire surface of your trainers, preventing water, stains and dirt from penetrating the leather or suede. This not only prolongs the life of your shoes, but also keeps them in perfect condition, even in wet weather.

You can spray the waterproofing spray 20cm away from your trainers. Make sure you cover the entire surface of your trainers for maximum protection.

It's important to remember that waterproofing is not a one-off operation, but an ongoing process that can be repeated several times between cleanings. It's up to you to decide how often, depending on how you use your trainers and the weather conditions they are exposed to.

This will ensure that the protection remains effective and keep your footwear in excellent condition.
Waterproof products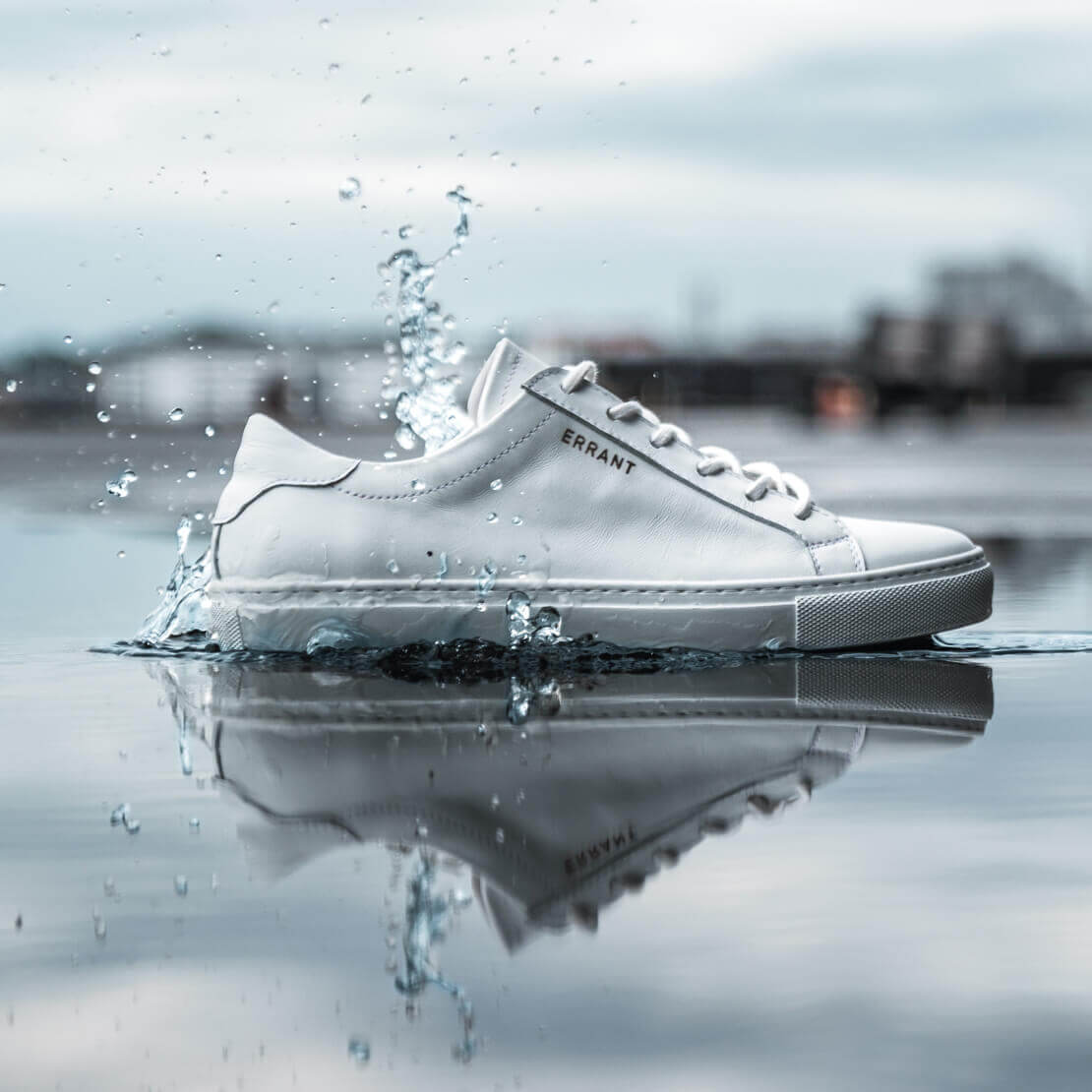 Protect and care for your leather shoes
Waterproofing is always the last step in shoe care. It should not be neglected as it provides overall protection for your shoes. Waterproofing protects the beauty of your shoes, maintains them and prolongs their life.

If your shoes get wet on a rainy day, here are a few tips on how to dry them without damaging them.

Firstly, place them in a dry place away from direct heat. We recommend using unvarnished red cedar shoe trees for your shoes. Red cedar shoe trees are said to absorb moisture and therefore prevent the growth of bacteria.

If your shoes have leather soles, dry them on their sides to allow them to dry completely. The soles also need to dry so that they don't form and affect your walking comfort.

Leave them in this position with the shoe trees for about three days to dry completely, both inside and out. We advise you not to touch them during this time. You should then clean them using the Monsieur Chaussure method to remove any moisture stains.
Clean your leather shoes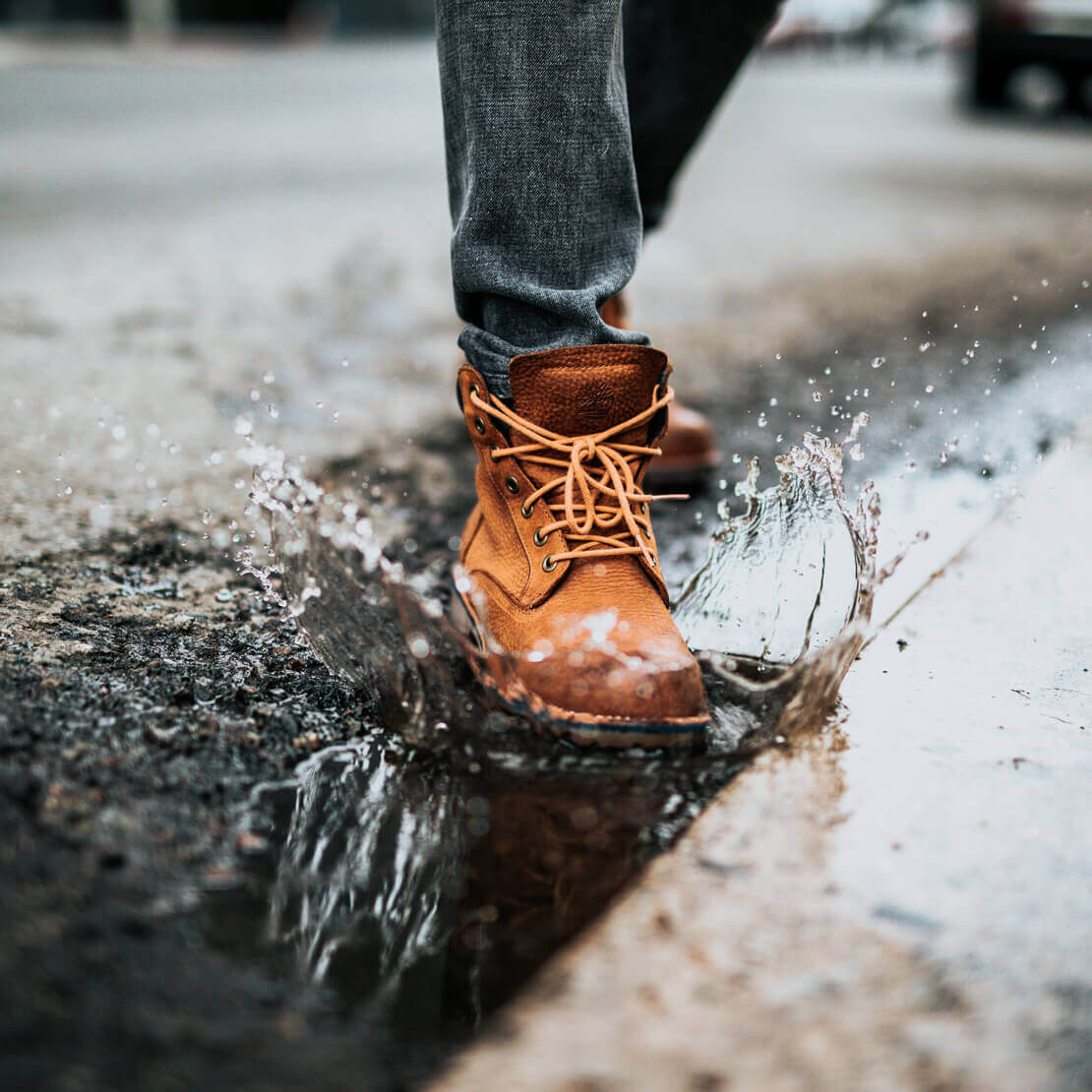 Products used.
Our users can't live without it! Find here the essential best-sellers, recommended by our community.