Renovating your car's leather interior
This advice file reads in
4 min
Why renovate your car's leather?
Leather is a highly resistant material, often used in car upholstery. Whether your leather is pigmented with a covering film or has a more natural finish, it's not uncommon to notice color defects over time. Your vehicle's leather needs regular special care to maintain its aesthetic appearance without signs of wear.

Caring for and renovating your car's leather extends the life of your seats. In addition to extending the life and saving money, you'll also keep your car's leather interior looking its best.

Renovating your car seats, and your car's leather in general, can be done in just a few steps.

Discover our tips for restoring color and shine to your car's leather seats and concealing signs of wear.
leather car repair
Know your leather before restoring it
In order to carry out the different stages of a car leather restoration, we invite you to carry out a test to find out the nature of your leather.

To carry out the various operations successfully, you first need to know the nature of the material.

You can carry out the test on a discreet part of your car upholstery, such as an armrest or the inside of your steering wheel.

There are two types of leather: pigmented leather and natural leather. Pigmented leather is covered with a film to make the surface waterproof. Natural leather, on the other hand, has no protective film.

To tell the difference, you can spread a drop of water over the surface. If the leather absorbs quickly, then it is natural leather. If it absorbs slowly or hardly at all, it is pigmented leather.
leather car repair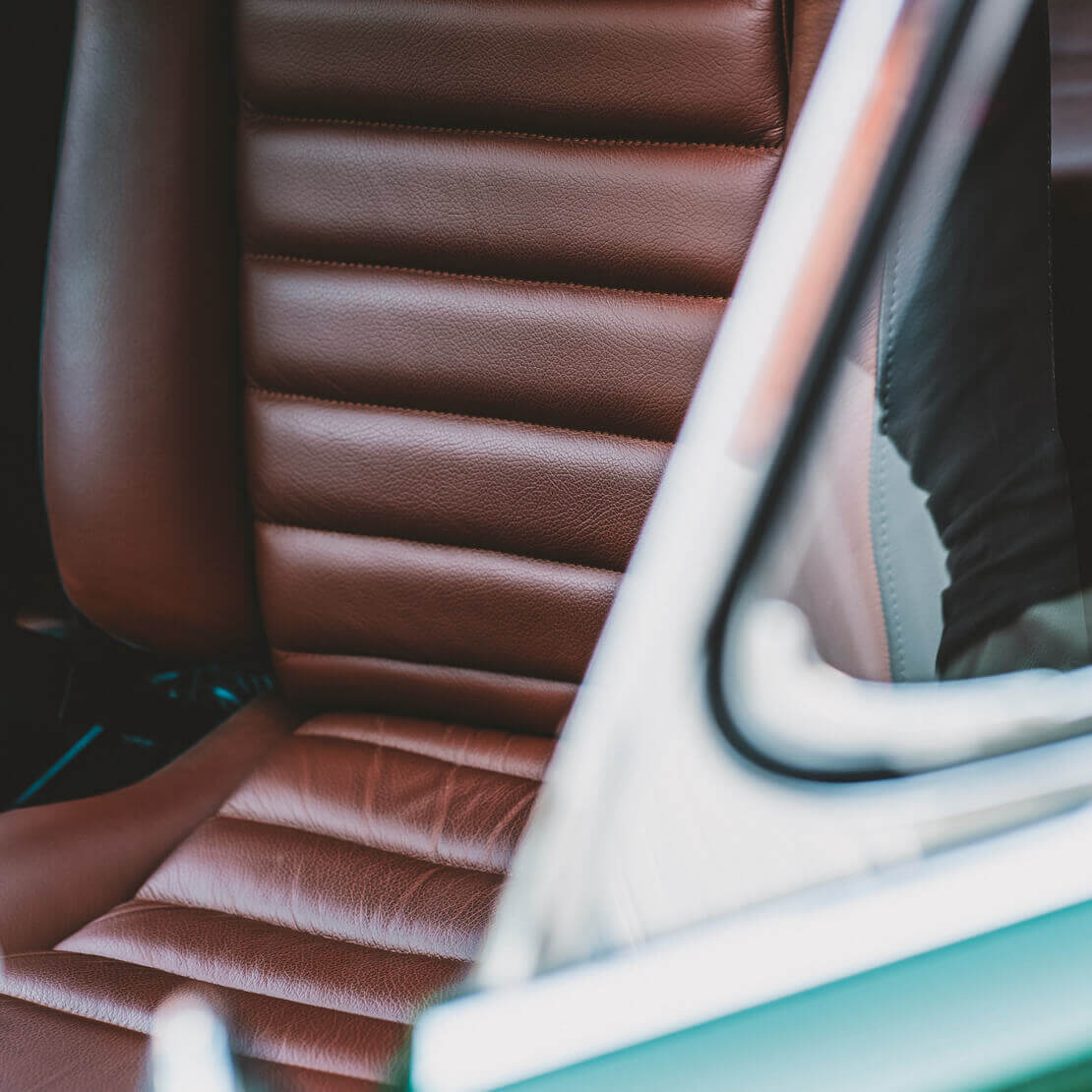 Carry out a thorough cleaning
Before renovating the leather interior of your car, we recommend that you thoroughly clean the leather. The cleaning should be done with a solvent-free product to avoid altering the feel of the leather. I

The cleaning foam with its natural active ingredients cleans the pores of the leather thoroughly without altering its feel or appearance.

To do this, use Bome car upholstery cleaning foam. Apply it to the area to be cleaned, then scrub with the boar bristle cleaning brush. The foam will mix with the dirt to loosen it. Wipe with the microfibre towel. Your leather is now bare and ready for renovation.

There is another form of regular maintenance mentioned in our video tutorial. You can consult it in our "guides and advice" category.
leather car repair
Renovate the leather on your car
Imperfections can result from wear and tear of the pigmented film in the case of pigmented leather, or from discolouration of the leather itself for more natural finishes.

To correct these colour defects, there is an effective solution: the use of a coloured renovating milk. This will restore your car seats and upholstery to their original appearance.

This product is specially designed to restore the colour of the leather or the degraded material. To avoid any risk of colour transfer, this operation should be carried out between the leather cleaning and protection phases. To restore the leather on your seats, you'll need a microfibre cloth to apply the product in thin layers. No need for a hairdryer to dry the product or a leather sanding pad after renovating the leather.

The aim of Bōme's renovation milk is to dye the leather without altering its original look, suppleness or feel.

In the case of pigmented leather, the renovating milk works by colouring the exposed surface, providing an even, revitalised colour.

To apply the renovation milk, start by taking a small amount with your chamois, making sure to choose a shade that matches that of your car upholstery. Apply the Bōme Renovating Milk to the areas to be treated and gently massage the leather to ensure optimum absorption of the product.

Remove any surface residue of the renovation milk using a clean part of the chamois. Then protect the leather with the protective gel from the same range.

By including this leather renovation step between cleaning and protection, you will not only ensure effective correction of colour defects, but also a neat, long-lasting finish.

So, by following these simple but essential tips, you'll preserve the beauty and integrity of your car's leather, ensuring a comfortable and stylish driving experience.
leather car repair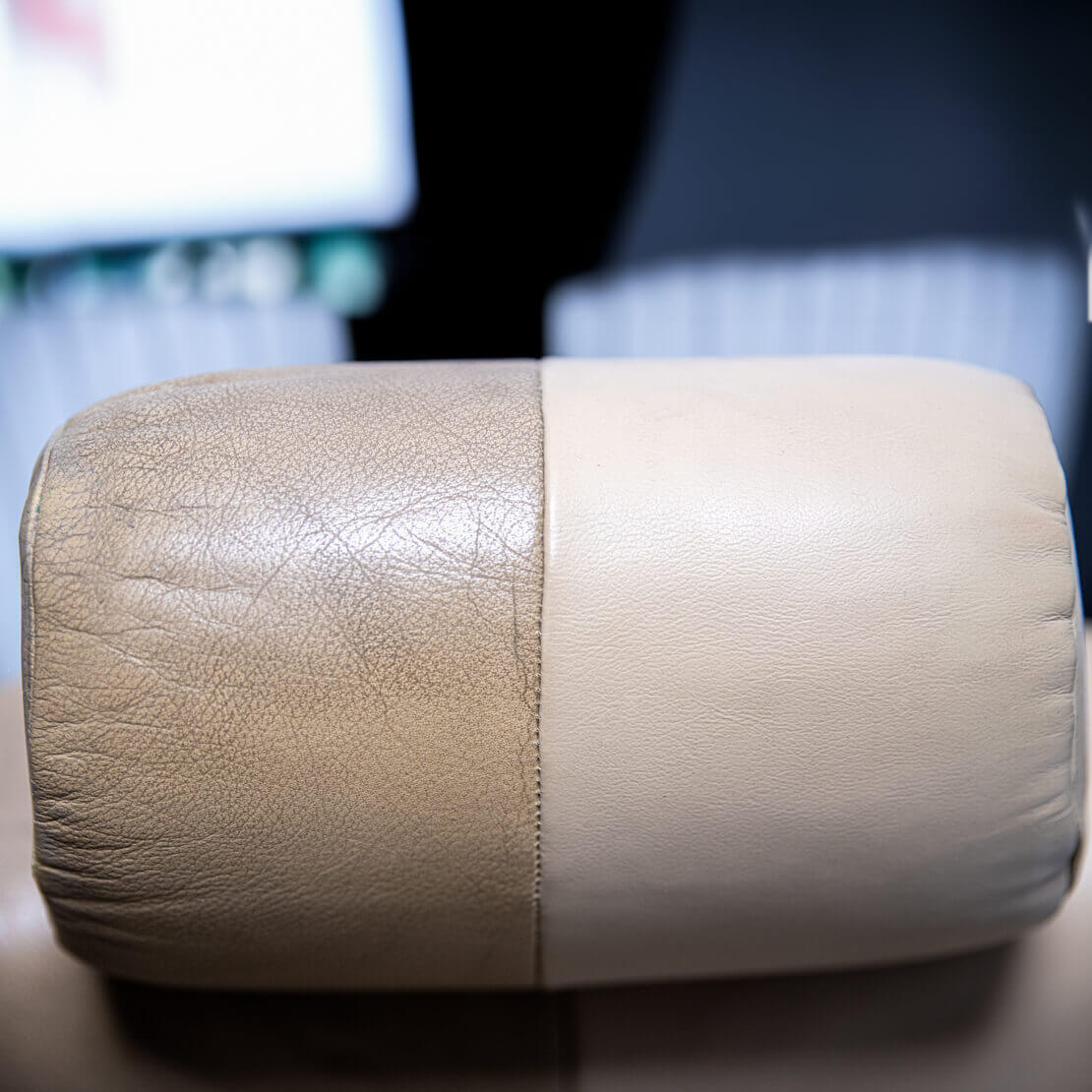 To make your car leather renovation last
The solution: care for your car upholstery! To prolong the life of your leather car upholstery, we invite you to consult our guide.

Our guide comes with a complete kit for caring for car leather.
leather car repair
Products used.
Our users can't live without it! Find here the essential best-sellers, recommended by our community.