Leather for car upholstery is a material that deteriorates with time and lack of care.
Here you will find out how to clean your car seats. This will preserve the leather of your car upholstery and keep it looking as good as new.
Return - Guides & advices
See the products used
This advice file reads in
5 min
Introduction
Caring for your seat leather is essential for your comfort. Car seat leather is tough, but it also needs regular care. Unmaintained leather becomes greasy over time and needs to be cleaned.

In some cases, it can even harden and crack. Discover the tips for cleaning the leather of your car seats. In our article, we present you with a tutorial with products linked to simple gestures to clean and protect your car seats from dirt.

You will not find any tips using detergents, washing-up liquid or white vinegar, which can damage your car's leather.

All the products presented here can be used on leather, imitation leather or skai seats.
1st step: dust off!
The dust that collects on your seats clogs the pores of the leather. Dirt stays on the surface and makes the leather sticky. Add to this the wear and tear of everyday driving and your seats will become dull and discolored. They can also crack over time.

If your car's leather seats are cracked, they need to be refinished. We have covered this in another article.
Step 2: Clean the car seats!
The number one enemy of your seats is dirt from outside. Our jackets and handbags collect dust and dirt that we deposit on our seats without realising it.

Then there is the wear and tear of daily use. Wear and tear comes from the friction that occurs every time you sit on the seats. And your leather seats will quickly become dull.

To prevent this, use a solvent-free seat cleaner. Bōme Cleaning Gel is a cleaning product made with natural ingredients. It contains no solvents. Its formula respects the leather and your skin.

The absence of solvents allows regular use on your car seats. It can be easily stored in the glove compartment with a polish coton.
How to clean leather car seats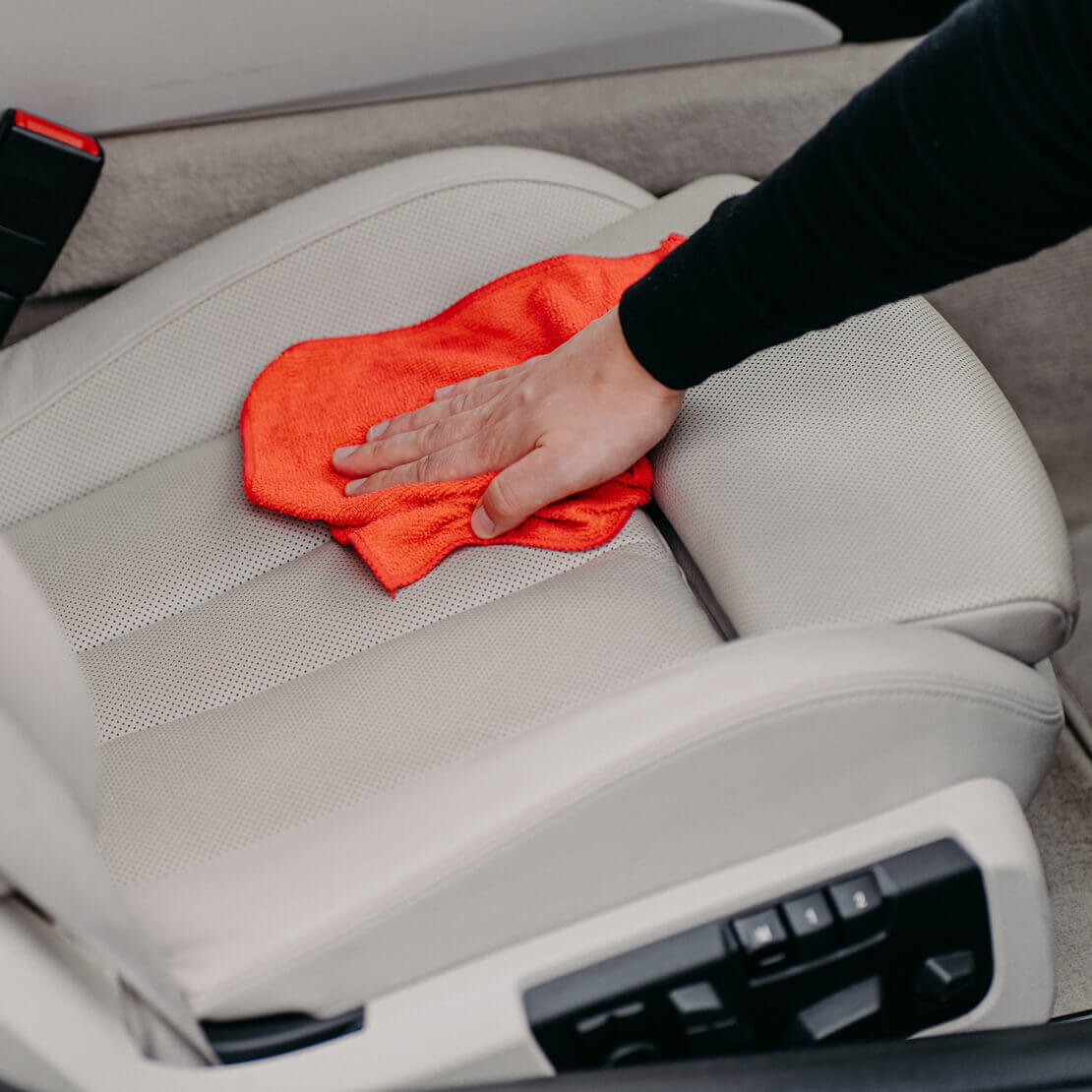 Our application guide for the cleansing gel
Apply a small amount of cleaning gel to a clean chamois. Scrub the seat vigorously. Our advice: use circular movements to cover all the areas to be cleaned.

Pay particular attention to the seams and folds where dirt tends to hide. You can repeat this process as many times as necessary until you have an almost white chamois.

Under the action of the cleaning gel, the dirt will disincrust and be captured by the chamois. There is no need to rinse afterwards.
Leather car seat cleaner
Step 3: Protect your seats!
To complete the treatment, we always recommend the application of the Protective Gel from the same range.

The purpose of the Protective Gel is to leave a light, non-greasy film. It also protects the color of your leather seats.

This film prevents dirt from getting into the pores of the leather. This will make future cleaning quicker and easier.
Discover the renovation
So if you don't take the necessary steps to clean and care for your seats, you run the risk of color and texture degradation and wear and tear over time.

Leather reconditioning is therefore essential to keep your leather seats looking good and lasting. We invite you to read our article on reconditioning your car's leather to find out more.
Leather color restorer
Keep the discovery
As you have discovered in this article, maintenance is a philosophy of life. Taking care of your possessions independently of each other helps to keep your everyday life free of the marks of time.

If you have fabric car seats, you should use the cleaning foam from the same range.

The Monsieur Chaussure team will be with you every day to make your chores a real pleasure.
Products used.
Our users can't live without it! Find here the essential best-sellers, recommended by our community.