Cleaning and protecting white leather trainers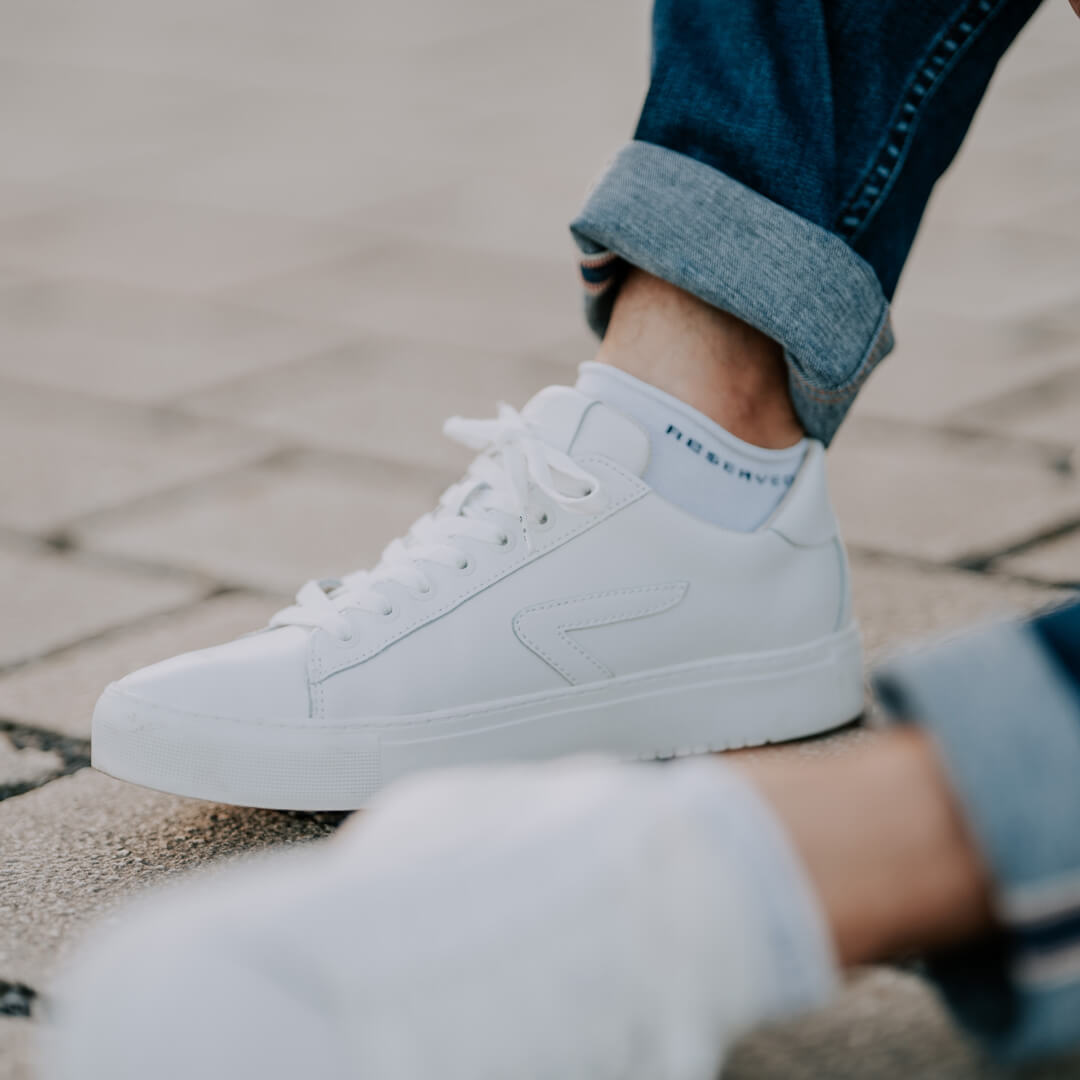 Guides & Advices
Sneakers
Restore the radiant white of your white trainers in 5 easy steps.
A must-have in your wardrobe, the white leather trainer goes perfectly with all your smart and casual outfits.
Return - Guides & advices
See the products used
This advice file reads in
4 min
A whiteness that's hard to keep
White clothes and white leather trainers are an essential part of our wardrobe. They can be used to break the rules with a chic outfit or for casual style. The radiance of white is the essence of a successful outfit, adding a touch of freshness and sophistication to any occasion.

However, keeping these pieces immaculate is not always an easy task. Over time, they can lose their lustre and become dull.

Discover our tips for keeping them looking as good as new. If you follow our advice, you won't need a washing machine or a toothbrush to keep your trainers as white as ever.
Clean your sneakers
Tip 1: Use red cedar shoe trees
We don't often think about it, but shiny white shoes with creases make a sloppy outfit.

To avoid this, use Red Cedar shoe trees between each wear. Shoe trees stretch the leather and slow down the appearance of wear marks. Stretched leather retains its original shape longer and smoothes out creases, making them less noticeable.

Red cedar also has significant absorbent properties. It absorbs moisture and perspiration after a day's wear to keep your feet dry.
Shoes trees in tree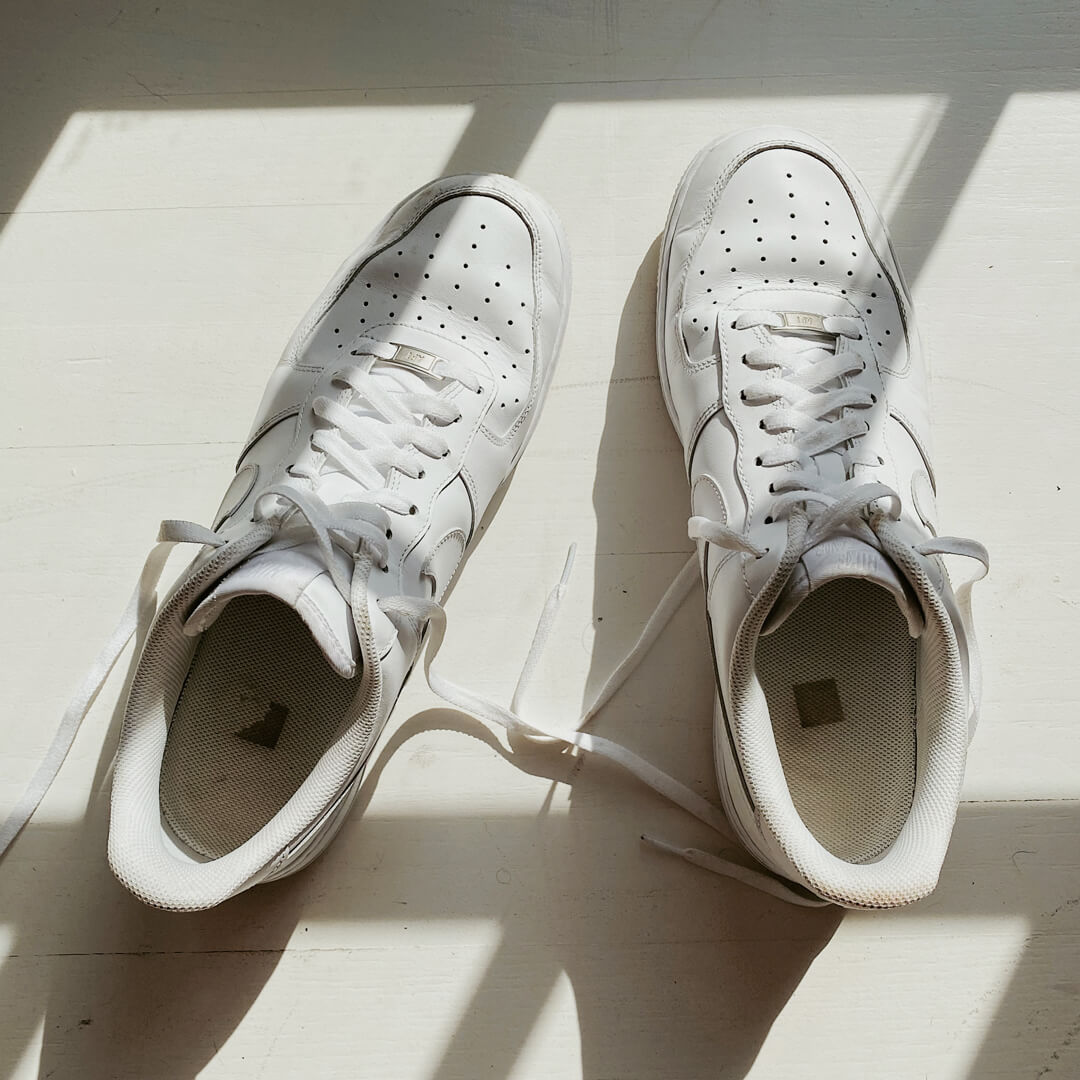 Tip 2: Clean the soles of white leather trainers
The soles are also white or cream and get dirty quickly. To clean them, use pure sneaker cleaner with the sole brush.

The combination of the two removes dirt quickly and leaves no residue. The sole brush is both stiff and flexible. The hard side removes dirt. The soft side allows the bristles to slip into the shapes and nooks of the sole.

The Monsieur Chaussure insole brush is designed not to scratch the sole, so you can scrub hard without risk.
Clean white trainers
Tip 3: Clean the upper of your white trainers regularly
Before you start cleaning your white trainers, dust them off with the universal brush. This will remove surface dirt in a few strokes.

Depending on the degree of soiling, we recommend 3 types of cleaner for cleaning white trainers: liquid, foam and gel. The cleaners contain natural ingredients that are not aggressive. You won't find white vinegar or bicarbonate of soda in the formula. Both can damage the leather of your white trainers.

The liquid cleaner can be used straight or diluted in water. It is recommended if your white leather trainers are very dirty. The pure cleaner will thoroughly remove dirt from the leather.

The foam cleaner is recommended for regular maintenance of your white leather trainers. The foam mixes with the dirt to remove it. It turns from white to grey when rubbed with the sneaker cleaning brush.

Both cleaners are rinse-off. Wipe off any excess with a microfibre cloth before proceeding to the next step.

Cleaning Gel is the ideal cleaner for white leather trainers. Specially designed for white leather trainers such as Veja. Apply directly to the trainer with a cotton pad.

The gel formula dissolves with each application, mixing with the dirt and trapping it. The mixture of gel and dirt is absorbed by the cotton pad, leaving no trace on the shoe.

Cleaning white trainers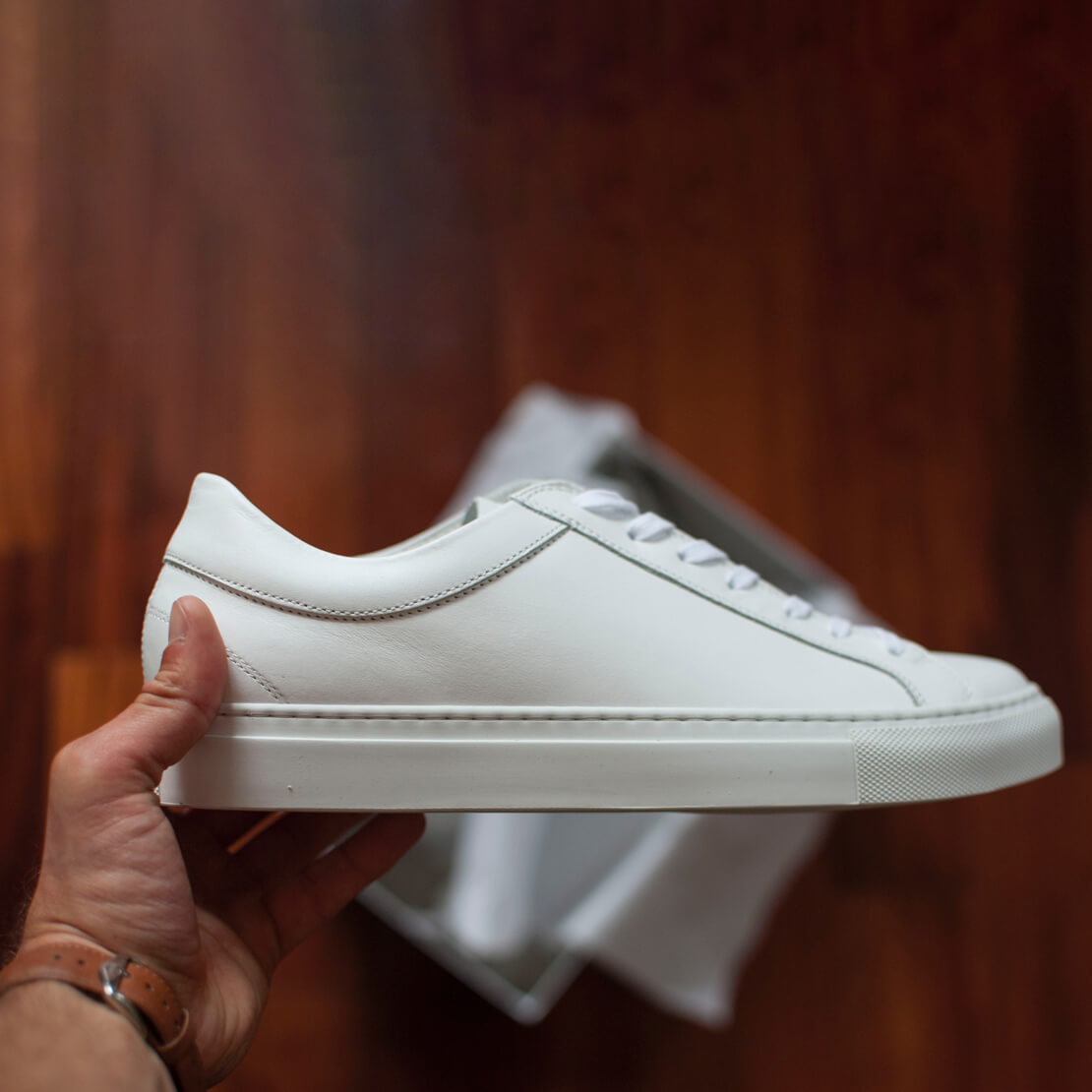 Tip 4: Renew your white trainers (optional)
This step is optional. It depends on the condition of your white leather trainers and how white you want them to be.

After cleaning, your leather trainers will be clean. Some areas may be slightly scratched or worn from rubbing against the laces or your clothes. You can use a white sneaker renovator to re-pigment the scratched areas.

The renovator will fill in the scratches and harmonise the white of your leather trainers. After applying it, we recommend you wait a few moments for it to dry before protecting it.
Cleaning white trainers
Tip 5: Protect your white trainers
Protect your white leather trainers to keep them looking as good as new for longer. This is important for their care.

When you apply a quality waterproofing product, it creates an invisible barrier that covers the leather of your shoes. This barrier offers protection against the elements, such as rain and snow, but also against dirt and stains.

As a result, dirt - be it dust, mud or even juice - will tend to slide easily off the surface of the upper without penetrating the leather.

Thanks to this protection, your white trainers will keep their shine and cleanliness for much longer. This extra protection will allow you to wear them with pride in all conditions. So don't neglect this crucial step in preserving the beauty of your white leather trainers.
Cleaning white trainers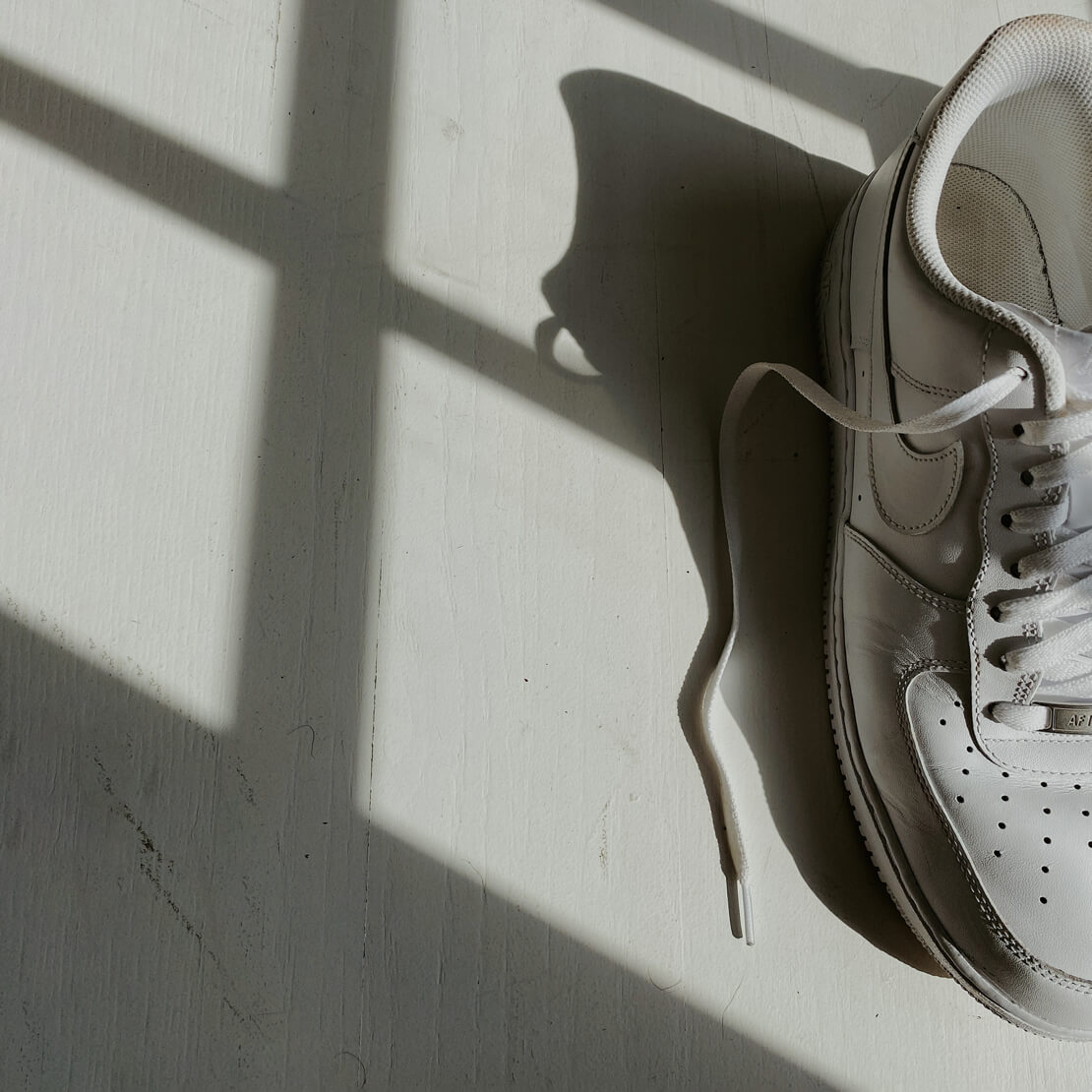 Products used.
Our users can't live without it! Find here the essential best-sellers, recommended by our community.