Guides & Advices
Sneakers
The iconic white color of the pair is its strength and weakness, as it is complicated to keep bright.
Today, it is a reference in the world of sneakers. Everyone has adopted it, man or woman, to accompany all of their outfits. Whether casual or corporate, Stan Smiths never leave your side!
Return - Guides & advices
See the products used
This advice file reads in
4 min
An iconic white
Its iconic white color requires special care. Washing your Stan Smiths regularly is necessary to keep the white shining and in good condition! Here are our tips:
How to clean white sneakers
Tip 1: Do not machine wash them
Even though you are wearing them, washing your sneakers in the washing machine is forbidden. You take the risk of damaging your washing machine and your sneakers!

Of course, leather is resistant, but it remains fragile and can be damaged if you use the wrong products. All your detergents, including the most delicate ones, contain active ingredients that are aggressive to leather. Their formulas contain detergents and sequestering agents. The latter increases the effectiveness of detergents. A deeply damaged leather is an unrepairable leather, even with the best shoe polish creams.

Therefore we recommend using products without solvents. Products that also contain natural active ingredients are much less abrasive.

Moreover, as you already know, there is no special shoe program on the machines. Your favorite 30° or 40° program for your jeans will deform the shape of your shoes, making them bigger for example.

And a deformed shoe is a shoe to give away! Don't take the risk of irreversibly damaging your Stan Smiths.
Tip 2: Wash your shoelaces
You have two options: wash them or replace them.

If you just need to wash them, it's easy! Take a bowl, and add a dose of Monsieur Chaussure sneaker cleaner and a dose of water. Soak and scrub your laces, leaving them to soak while you clean your Stan Smiths.

Once the washing is done, take your laces out of the bowl and wipe them with the Mister Shoe sneaker towel. And there you have it, white laces again! Now you can put them back on your Stan Smiths and hit the streets with them.

In case you need to replace them, you can discover our special selection of laces for Stan Smith at the end of the article. White ones to keep the iconic style and colored ones to bring a touch of originality.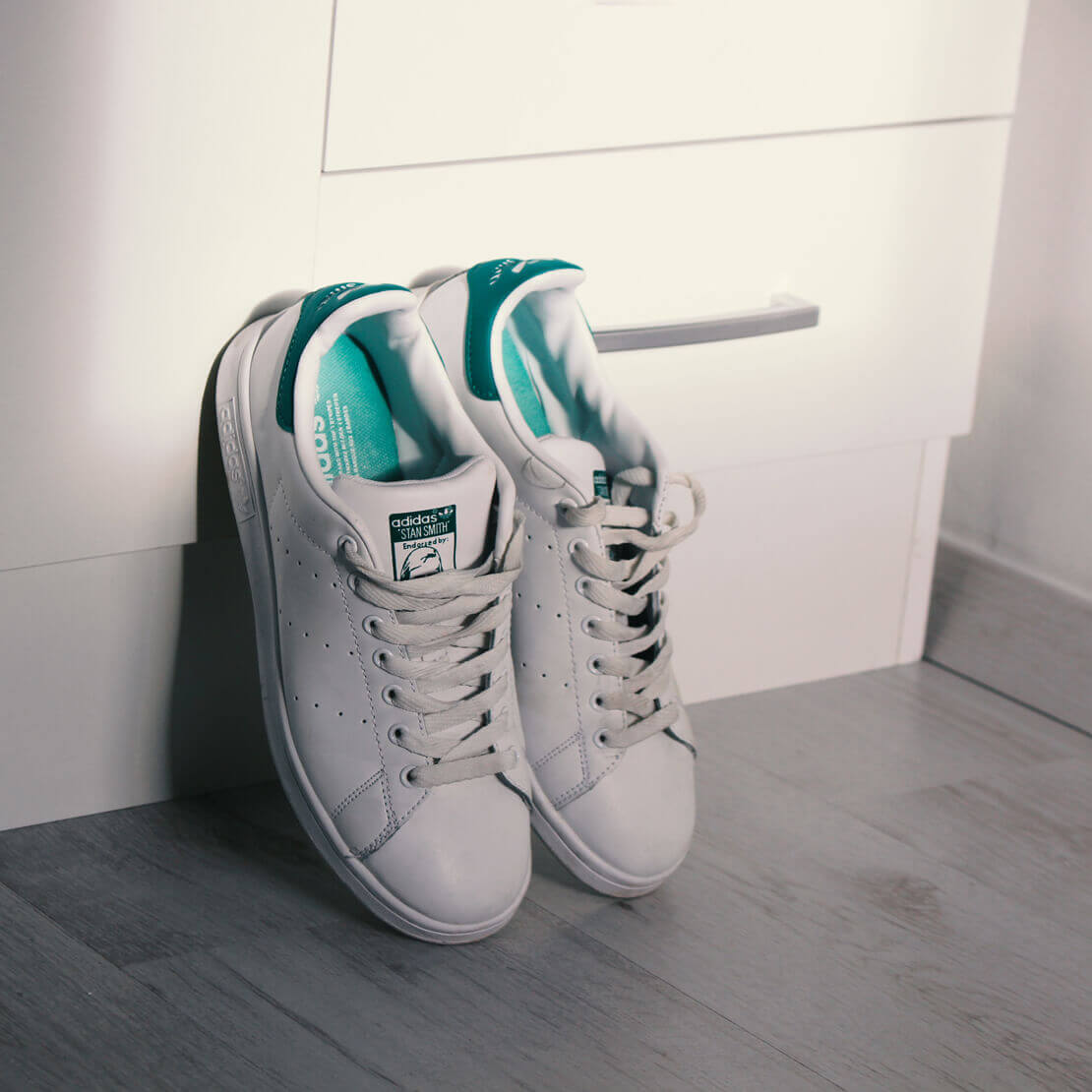 Tip 3: Clean your Stan Smiths
First of all, put shoe trees in your Stan Smiths. This is the very first step to a good cleaning. The shoe trees tighten the leather of your sneakers so that they keep their original shape. The best part is that it removes bad odors. You won't be ashamed to take off your Stan Smiths in public!
Shoe tree
Now let's talk about cleaning and maintenance...
Start by cleaning the sole. To do this, you need the sole brush. Its polypropylene-based bristle provides enough stiffness to properly remove the soles without damaging them. Apply the liquid cleaner or foam directly to the bristles. Then you can rub the sole vigorously without risk of scratching it.

For regular cleaning of your Stan Smith, you can use the sneakers and sneaker cleaning gel from Monsieur Chaussure This product was designed by our team, especially for Stan Smith or Veja sneakers!
Its formula contains no solvent and has a vegetable base to respect the leather, our skin, and the environment. In parallel, its gel texture is easily applied with a chamois and does not require rinsing. The perfect product for express maintenance.

For deeper cleaning, at least once a month, it is recommended to shampoo with Monsieur Chaussure's liquid or foam cleansers.
Both cleaners allow you to thoroughly remove the dirt accumulated on the leather of your Stan Smith. The coconut oil in the formula nourishes the leather so that it keeps its original feel.

After dusting your Stan Smiths with the Monsieur Chaussure Universal Brush, apply the cleaner of your choice to the brush. Scrub vigorously on the top of your Stan Smiths, called the upper. The white foam should turn gray as you go along, trapping dirt and residue. After several passes on the stem, remove the foam with the sneaker towel.

Your pair of Stan Smiths is now clean and shiny!

Before wearing them again, don't forget to apply the last tip to keep them shining as long as possible.
Sneakers cleaner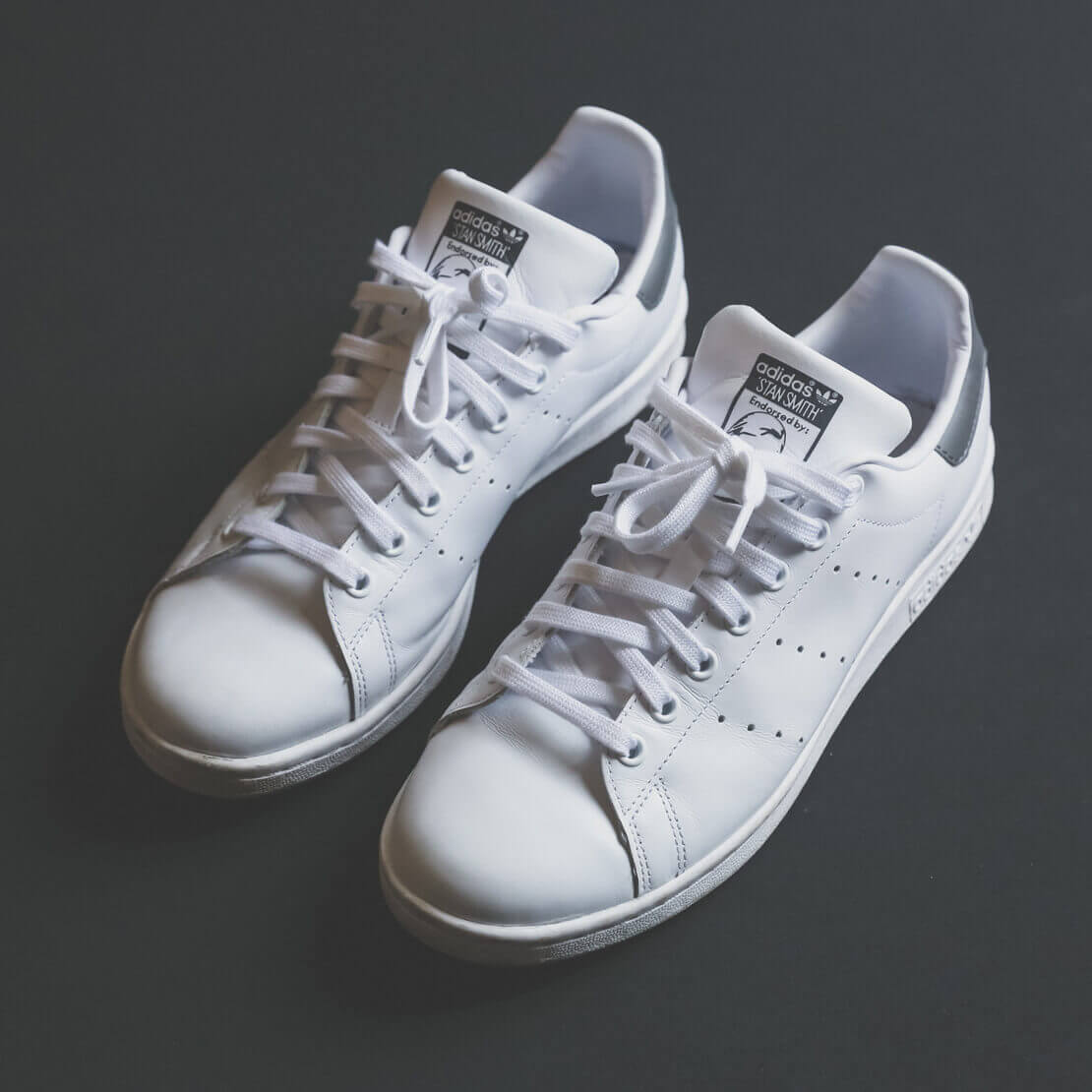 Tip 4: Protect your Stan Smith
Now that your pair of Stan Smiths is fully washed and white again. Want to keep it for a long time? Then step right up, and we'll tell you how.

Our secret: Monsieur Chaussure Waterproofing!

And yes, it's that simple. Spray a generous dose of waterproofing on all your sneakers. It's resistant to the weather, stains, etc. They slide off the leather without sticking to it. Plus, stains are easier to remove during your next maintenance.

You can see how effective our waterproofing is on our Instagram account.
Waterproof shoes
Products used.
Our users can't live without it! Find here the essential best-sellers, recommended by our community.