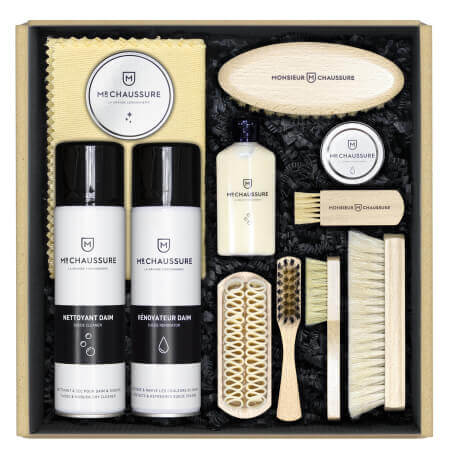  
Leather & Suede Shoe Care Kit
Complete care kit containing 13 pieces of the best products selected by our workshop manager to carry out a complete, meticulous and careful maintenance of leather and suede or nubuck shoes. All the products in the kit are made in France.
Details
This product is
Tested . Checked . Approved
13 products in this kit.
Kit composed by our workshops so you don't forget anything! Find here the care products and accessories that make up this kit.
How to use this product.
Allows you to carry out the complete care of leather and suede by following each step detailed by the founder Monsieur Chaussure in the associated video tips. To improve the quality of shoe care, shoes should be placed under shoe trees, preferably of red cedar, to keep them in shape and dry.

A perfect gift for yourself or for any shoe lover. This kit can be completed with the Monsieur Chaussure waterproofing spray for the care of suede to protect the suede longer and for the leather of the creams and coloured pares of your shoes.

In the leather and suede care kit, you will find:

- The white scraper to start all the maintenance of your leather or suede shoes in order to remove the dust accumulated on your shoes.
- The Monsieur Chaussure chamois to apply all the leather care products with precision and delicacy.
- The cleaning milk, the essential ally loved by our customers to remove the old layers of shoe polish from the leather.
- The colourless shoe polish cream is suitable for all shades of shoes. It allows to nourish the leather in depth to fight against its fast drying and thus to increase the conservation.
- The yellow wax polishing paste brings shine to the whole shoe under the effect of the shining brush and intensifies the nuances of all the colours of your shoes.
- The palot brush, like the chamois brush, allows you to gently apply your polishing products to your smooth leather.
- The welt brush to maintain the hairy thread of your shoes.
- The buffing brush, to be used as a last step in leather maintenance to shine the leather and make the shoe look like new.
- The suede cleaning spray for deep cleaning on suede combined with the scraper brush.
- The crepe brush to polish certain parts of your suede shoes that mark easily, such as the tongue or the heel with the friction of trousers.
- The brass brush to find the velvet touch of the suede.
- The colourless renovator compatible with all the colours of your shoes to nourish and protect before waterproofing your shoes.

Storage advice: to avoid losing a product, the Monsieur Chaussure teams advise storing them in a box. The box offers optimal storage conditions because it protects them from heat and humidity.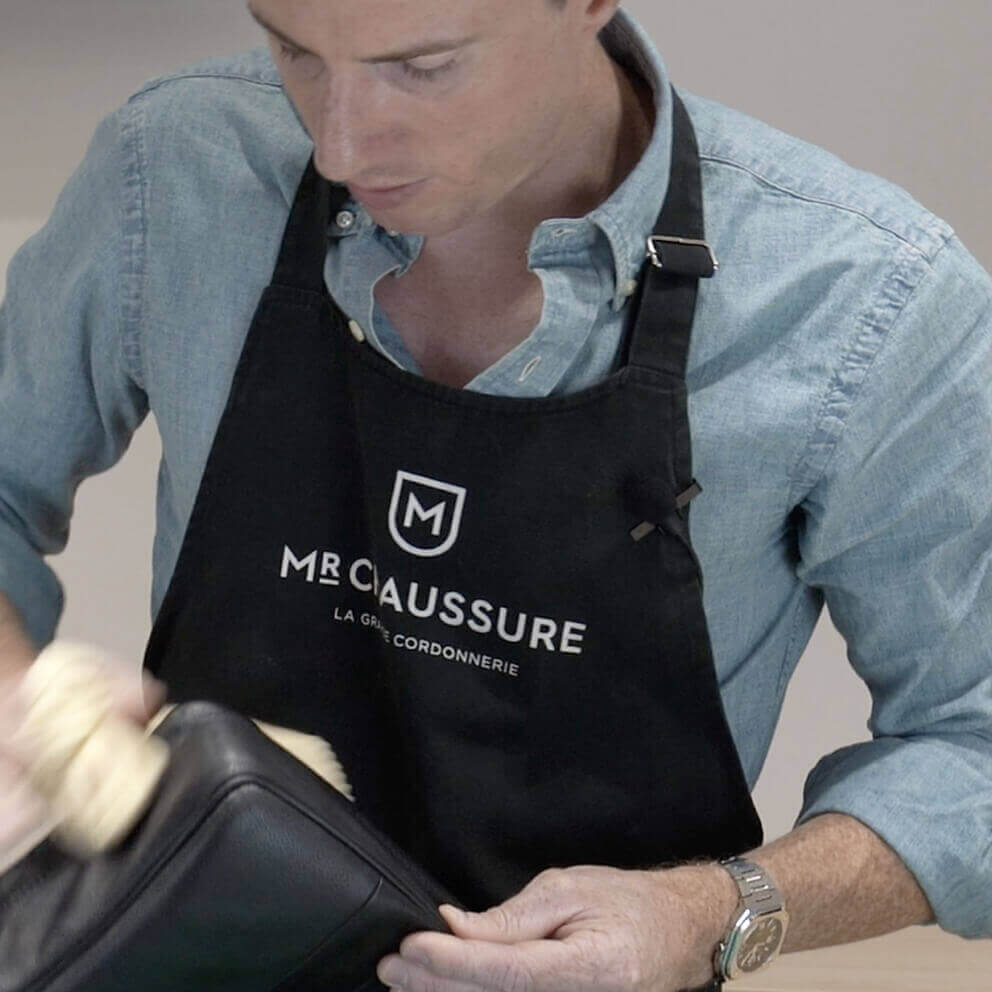 Details.
Find all the details for the product:
Leather & Suede Shoe Care Kit.
For more information on the use of this product you can consult the associated tutorials
Colour range :

All Colours

Category :

Shoe Care Kits

Materials :

Leather / Suede

Use :

Kit / Multiple

Quick Access :

Bestsellers